It is often a topic of conversation among women young and old about how to dress warm and cozy through the cold winter months without your boyfriend or husband complaining that you look dumpy and out of style in old sweatpants and sweatshirts. Have you considered wearing a onesie pajama? You may be thinking babies and toddlers right now unless you you are in on the latest fashion trend of all-in-one-pajamas. Teenagers, college students and women of all ages have caught on to the craze and are enjoying the comfortable and warm trend in pajamas while looking cool. Just add socks and you are good to go. And dont forget  men. There are many fun styles and designs that men are wearing too. Many of the styles for both men and women have front pockets and hoodies, which makes them that much more  stylish. Even my teen son has a pair and he is definitely up to date on current fashion trends. There are styles to suit everyone from cutsie, to collegiate, to clubbin'. Just look at these styles below for an excellent range of all in ones. There is a Coach look, Headphones, Neon Hearts and Varsity Style!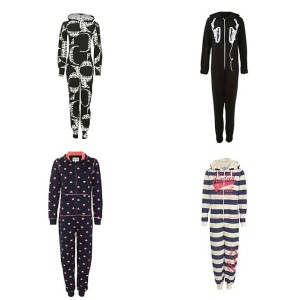 For the past two years some of the big chain stores near our home have carried them at the beginning of the winter and the season and were sold out within the first few weeks! The juniors department, women's department and yes, even the men's department were sold out right away! And why wouldn't they? These pj's are a really great idea! I like that they are so cozy and that they are not risque so I can still answer the door or walk around in front of my kids' friends without being worried about impropriety.
Luckily my mother in law shopped early this winter and gave us each a pair for Christmas. My grade school son got a sports theme and my teen got rocket ships. I lovethis Aztec design with the hoodie. I like that I could wear this outfit with any color of thick warm socks and it would look cute.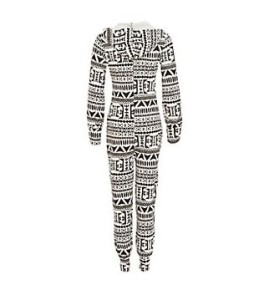 My son had the good idea to color them in with fabric markers and I think this is excellent! Perhaps next year I will give these as holiday gifts with a set of Fabric Markers so the adults have something fun to do on Christmas morning while the children are all playing with their new toys. Isn't this such a cute DIY project? Maybe I will have the kids pre-color some for the grandmas so that they get a nice customized gift to enjoy while lounging around inside on the holiday with a cup of coffee and the grandchildren.
Want to do something Fun And Fashionable? Have a pajama party and be sure to wear a cute all in one style! You can request that everyone come in onsies too. How fun would that be?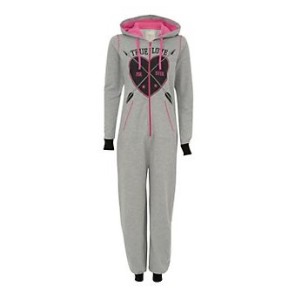 * I wrote this post in association with New Look because of their reputation for current style and fashion trends for men, women and teens at affordable prices.  All photos for this post are credited to New Look. My ideas and opinions are my own and may not agree with yours.