When it comes to fashion, fall is a fantastic time to try something new. With cooler temperatures sweeping over, and the nights drawing in, there is a good chance you have already started planning some cozy ensembles to fend off the chill. Fall/Winter runways are always a spectacle to be enjoyed, with the latest trends wowing the f-row. So, whether you are looking for some new office outfits, or a fresh fall party look, let's discover 3 fabulous fall fashion trends to try now.
Get Wild for Animals Prints
Animals prints are well and truly here to stay this fall. Gorgeous designs adorned with leopard print, zebra stripes, and even snakeskin have soared in popularity in recent times and have been reinvigorated with a ferocious twist. Pops of neon and crimson detailing reign as king of the fashion jungle, and multiple prints can even be styled together to create a head to toe look. The more prints the merrier.
Want to embrace the animal print trend but do not know where to begin? Why not invest in a classic leopard print skirt from this site that can take you from the office to the club in a pinch. Simply pair a leopard print skirt with a muted black t-shirt or blouse and black boots to ensure the details roar. You can even swap out your flats for a pair of your favorite heels to dress up this iconic animal inspired number.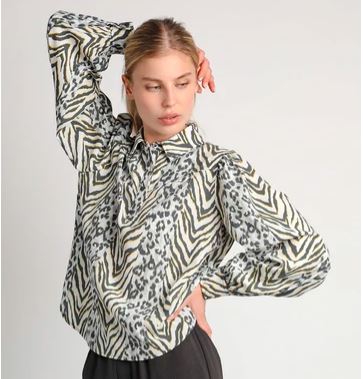 Go for Gold in High Shine Metallica
Jewel toned metallics are a fall wardrobe staple that can be styled up or down depending on the occasion. Glossy gold satin is everywhere this season, so be sure to stand out from the crowd by finding a shade that complements your skin tone. If you have fair skin, shades of amber, bronze and nude will add a touch of sparkle while making sure your natural beauty shines. Shimmering silver shades are the perfect pairing for darker skin and will ensure all eyes are on you. If your skin has a medium tone, then gold is your best friend and will warm up your complexion.
Furthermore, this fall consider taking a dip into 24k waters and slip into a gilded gown or golden pantsuit to turn every head in the room. Worn with confidence and a sparkling smile, an entire metallic look is guaranteed to turn heads. However, if you are too afraid to go all the way, never fear, some glossy bronze bangles or even a slick of mirrored nail polish can give your outfits a rich and contemporary finish.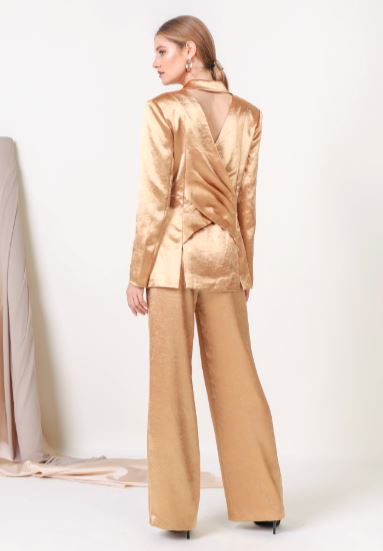 Crushing on Velvet
As one of the most fancy and versatile fabrics out there, velvet can elevate even the most basic of pieces into a garment worthy of the runway. Additionally, when worn in the right way, velvet can look chic and elegant. For example, a romantic crushed velvet dress in dark colors such as burgundy, midnight blue, or jet black can curate an image of drama and sophistication, perfect for any fall party.
Velvet can be worn on top as a blouse or blazer, or on the bottom as a pair of wide legged pants. When paired with muted accessories and other understated pieces, velvet can provide your ensemble with an abstract sheen that works well in sumptuous high fashion looks as well as more casual ensembles. The 90s revival is continuing to inform everything from haute couture, to high street, so invest now in a quality velvet purchase that will stand the test of time.
Embracing fall fashion trends is a great way to make sure your closet is filled with exciting pieces that make the shorter days and cooler temperatures worthwhile. Never be afraid to try something new, and always aim to invest in classic pieces that you will want to wear again and again.
Looking for more fun clothing to spice up your fall wardrobe? Take a look at this blog post for some statement jewelry and accessories inspiration.