Zion National Park has some of the most scenic trails in the world, but it is famous for more than just its hiking. From horseback riding to cycling, Zion offers a wide variety of experiences sure to add a unique dimension to your vacation. Below is a list of things to do in and around Zion National Park that will diversify and add excitement your trip.
Ranger Talks
Most people who visit Zion, unfortunately, understand little about the park's geology, history, and wildlife, but taking the time to teach yourself about the various aspects of the Park will make your experience at Zion more profound.
To help educate those who visit, the National Park Service provides daily activities in which you can learn about the beauty of the Park by riding, walking, or sitting down with a ranger. There are also a number of youth programs that are available.
Horseback Riding
Horseback riding is an incredible way to explore the Park, and it allows you to see much of Zion without the physical demands that hiking and backpacking require. Horses are allowed in designated trails in the Park and on even more outside of Park limits. Park Services allow you to bring your own horses and even provide an overnight camping option for those with stock animals, but certain regulations apply. Or consider looking into guided tours, which can be found both within and outside of the Park boundaries.
Cycling
The Zion Canyon Scenic Drive is a two-way highway that provides those traveling on it with awe-inspiring views. And while driving your car through the canyon is still an incredible experience, cycling through Zion provides an even more upfront and personal view of Zion's majestic cliffs.
Bikes are allowed on the side of the road, and with exception to the Zion-Mt. Carmel tunnel can be ridden through the 28-mile length of Zion Canyon Scenic Drive. Bike rentals are available at the Zion Lodge and in various places in Springdale.
Canyoneering
Zion is well known for its incredible slot canyons that boast high walls, running streams, and green flora. While hiking is required to get to and from almost any canyon, rappelling can add an adrenaline-filled memory to your Zion trip that you will not regret.
Canyoneering is a technical sport, and should not be attempted without prior experience or appropriate gear. Many of the canyons in and around Zion require wetsuits, and a permit is required to go canyoneering within the Park limits. Guide options for canyons outside of the park are available, and going with a guide is a great way to get introduced to the sport.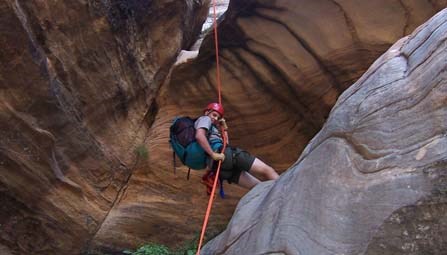 Jeep Tours
Jeep tours provide adventurers with a thrilling and fast way into the backcountry. Tours can be combined with other activities such as hiking, canyoneering, and photography. Jeep tours provide adventure to the whole family and allow people to see multiple destination locations in a day or less. Off-road vehicles are not allowed within Park limits, but guided jeep tours are available outside the Park, where the views and hikes can be just as incredible.
Even excluding hiking, there is so much more to do in Zion than is listed above (for example, tubing down the Virgin River, photography, rock climbing, and star-gazing). Whatever you love doing, there's a good chance you'll find it at Zion.