Finding and giving the right kind of gift to a gentleman can pose a bit of a dilemma. All the different gadgets and gear out there can make the search feel like an overwhelming task. One idea that seems to never go out of style in men's gift-giving is a timepiece. It is a practical and thoughtful item that is sure to please any man in your life.
Among the available choices in watches, there is wide variation in styles, quality, and price. With so many options, it may be helpful to know about the different kinds of watches and their features. Read on to find out about the various functions of different types of watches and which one may be just the right gift-giving option for the man in your life.
Dive Watches
Dive watches are designed for use underwater and feature water resistance at different depths. One example is the Luminox men's Navy SEAL watches made for just this application. This model of Luminox timepieces has undergone strenuous testing to earn acceptance among military members.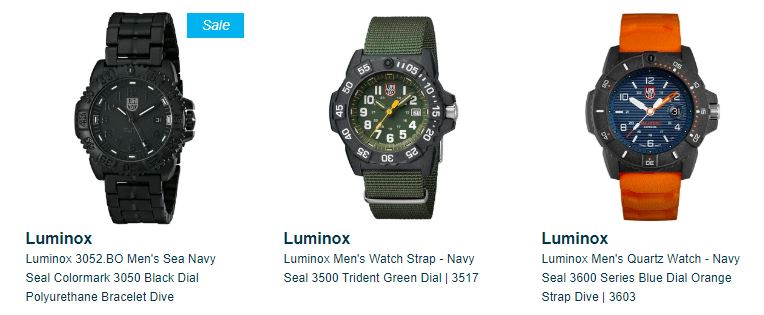 Automatic Watches
Automatic watches feature a self-winding mechanism. These timepieces have a mainspring that is rewound by the natural movements of the wearer. It is a common type of watch offered by almost all brands.
Chronograph Watches
Chronographs are watches that include a timer or stopwatch. This feature is useful for many applications. It is often used by runners or for timing various processes in a work environment where timing down to the second or split-second is critical.
Digital Watches
Digital watches come in different configurations. The term 'digital' usually means that the hour and minute of the watch are displayed as numbers rather than with the classic minute and hour hands pointing to the time of day. Some digital watches also feature the minute and hour hand but always display the time in a format of "00:00:00" (HH: MM: SS) on the face of the watch. A handy feature of some of these watches is the ability to choose between 12-hour and 24-hour format for display.
Smartwatches
Smartwatches are designed to interact with today's electronic digital technologies. They vary in features, with many offering notifications for electronic mail or text messages. Other functions may include tracking of key health metrics like steps during the day or sleep hours. More advanced models even include the ability to make phone calls or take pictures.
Hopefully, this article has equipped you with information that will simplify your choice of the right timepiece to give as a gift. Any special guy in your life is sure to appreciate and cherish a watch that will help him keep track of and manage his time.