*This is not a sponsored post. Our family loves playing Blokus together and I want to share it with you! This post contains affiliate links to purchase the Blokus game.
I recently wrote about games that improve your memory and I found another one that does just that! This game called Blokus is so fun! Right now my 12 year old son and I play it every single day, but when my older kids come over we all play together too. Blokus is great for the family because it can be altered to play with younger children but kids as young as 6 or 7 would probably get the hang of it with some practice. It is not just a kids game though, and tournaments with grown ups would be super fun as well! Here is more about the game.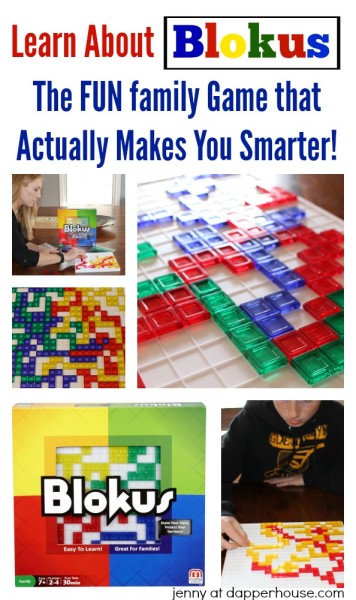 Blokus:
is a strategy game from Mattel
challenges spatial thinking
has won awards Such as "Game of the Year"
endorsed by Mensa for promoting healthy brain activity
requires logical thinking, spacial thinking and strategy
is super duper fun
The goal of the game is to play as many of your pieces on the game board as possible. The person with the least amount left at the end of the game is the winner and whoever has the most loses the game.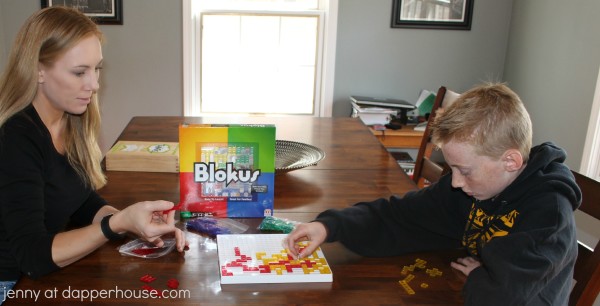 The rules are that your pieces can not touch together on any sides, but must touch at any corner. This allows players to interlock pieces and build their own lines through each other. The strategy is to play your own pieces without getting blocked, while blocking others so they can't put down their pieces. Once there are no more spaces or plays available, the game is over.
Two players can play each other with only two colors, but often times my son and I will each play two colors as though four players were on the board.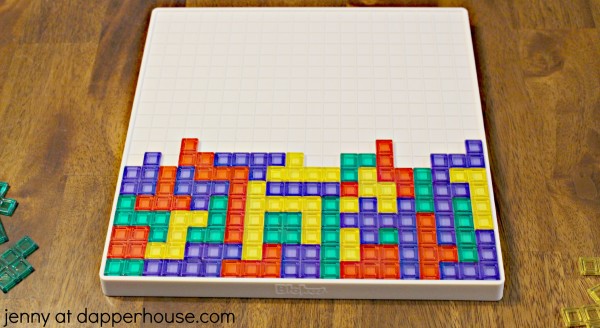 TIPS:
For younger children or kids that have a hard time understanding how to play, you can simply take turns putting your pieces down in an interlocking fashion similar to the game tetris. This is lots of fun too and good for one person play.
Store the pieces sorted into individual bags to save time and keep track of the pieces!

Have you played Blokus before?
What other games do you love to play with your family?