A pool resurfacing company says, living in a home with a pool can be incredibly fun, full of happy moments that will last a lifetime. But, if you don't take proper security measures, a pool can be a dangerous place for children and pets alike. No doubt, everyone fears the yearly reports of pool-related drownings in the news. To keep your pool safe so that every member of the family can enjoy it without fear, consider implementing the following precautions.
Purchase A Net
A quality pool net will hold up to 400 pounds, keeping your children and pets safe. It stretches completely across the pool so that children are prevented from accidentally falling in. The positive of pool nets is that they adequately protect your family from drownings, but they do take a while to install and remove. So if you use your pool often, or year round, a pool net may not be the right choice for you.
Surround Your Pool With A Fence
An effective fence designed for pool safety will keep young children and pets safely away from the perimeter. Make sure the fence you buy is explicitly designed for pools. This will ensure your fence is the proper height and comes with unlocking mechanism only much older children and adults can manage to open.Fences may be more expensive than pool nets, but they are a simple safety solution that's particularly useful for a home with small children and pets. Experts such as Simpson Fence Company can assist you in finding a suitable fence around your pool that enhances the landscape and provides the security you need. If you don't have children in your home but need to keep your pool safe for when family comes to visit, a net may be a more cost-effective choice.
Have A Pool Alarm Installed
Pool alarms are highly effective for alerting you in the event someone is near the pool when they shouldn't be. This method of securing your pool is especially useful if you worry about pool access when you're away from home, or at night during slumber hours. There are a few different types of alarms available, which you can buy separately or in combinations.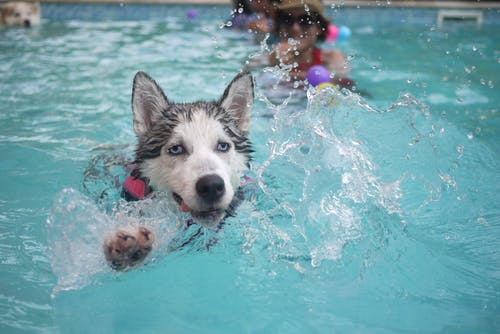 Pool Immersion Alarms
Pool Immersion alarms will sound if a sensor-equipped bracelet is submerged in the pool. This option requires the members of your family you worry about wear the sensor. This sensor-based system is an excellent option for a household with pets, but not necessarily for children.
Subsurface Detection or Surface To Wave Detection
With Surface To Wave detection, an alarm sounds when waves are generated as a result of submersion. With Subsurface detection, an alarm sounds when pressure change in the pool water occurs as a result of a submersion.
Gate Or Door AlarmsIf your pool fence isn't as secure as you would like it to be, you can have an alarm installed on either the gate to the pool or the door leading out to your pool area or pool deck. An alarm will sound any time the door or gate opens. This method of pool alarm is particularly useful for those who need to have some safety mechanisms around their pool before any threat of submersion can occur.