This shop has been compensated by Collective Bias, Inc. and its advertiser. All opinions are mine alone. #MeijerCoffeeCreamerBundle #CollectiveBias
Most of you know that I was born and raised in Arizona and lived there until my 30's when we moved to Illinois where my husband took a new job. In Arizona the skies so big that they stretch out forever from one mountain range to the other.  In Illinois there are so many trees that you can barely see a sunset and to see the sky you have to look up. We moved in the summer when the trees were full of green leaves. It was really pretty, but I felt like I had to duck my head or that I was in a fishbowl sometimes because I felt restricted unable to see the sky unimpeded from horizon to horizon. Most of all, I was in shock that I could no longer see the sunsets because the trees blocked all the beautiful colors. It was a huge lifestyle change and one I thought I could not live with. But then the summer started to fade into fall with chilly temperatures and the kids going to new schools. I was used to the scorching heat at this time of year in Arizona so to get bundled up in the mornings and enjoy a warm cup of Folgers Classic Roast Coffee with International Delight® cream was a treat that warmed my soul and made me less homesick.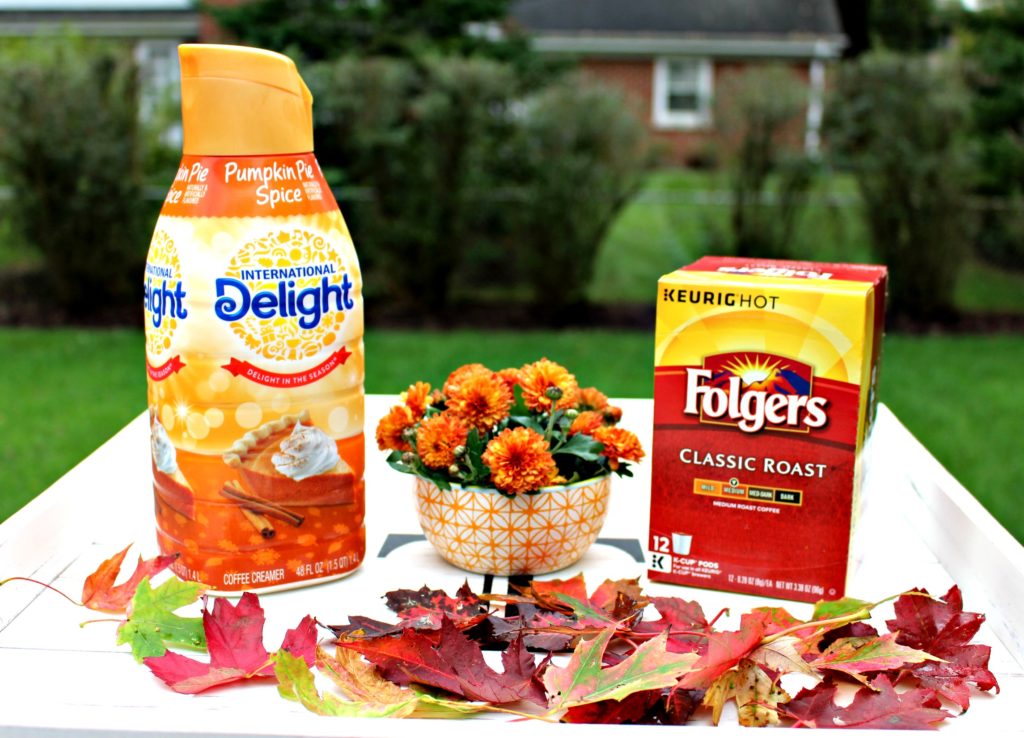 I missed the cactus and the rock terrain from my hikes in the desert, but the crisp air on my walks in Illinois were refreshing. Then the leaves changed and I realized that this was my payback for missing the colors bursting through the sky during the desert sunsets. Now all around me everywhere I looked were the most gorgeous colors of the sunset represented in the fall leaves changing from green to vivid reds, warm oranges, bright yellows and even some purple and maroon as well. Since I grew up in the desert, I had never seen fall leaves except for on movies and photos so now standing in the trees with colors every where and leaves falling all around me like a ticker tape parade, I realized that I was in heaven. I was creating new memories and new traditions here in the Midwest and I felt comforted.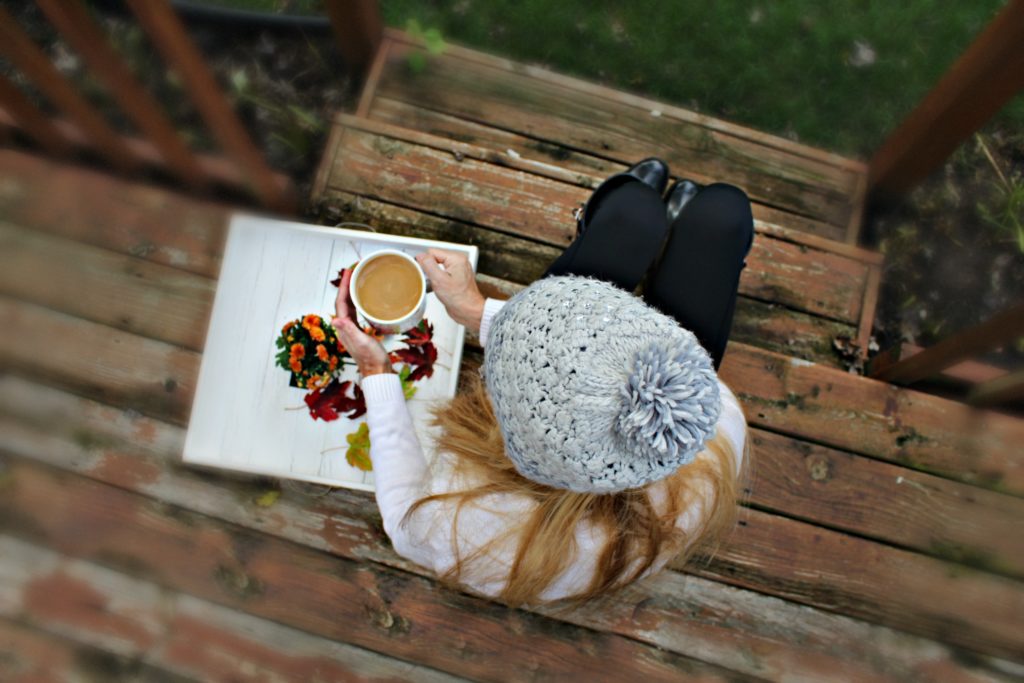 I would make my Folgers coffee paired with International Delight® creamers and take walks all the time. I had traded rattlesnakes for squirrels, rocks for grass and sunsets for fall leaves. I was making new traditions that made this new place feel like home.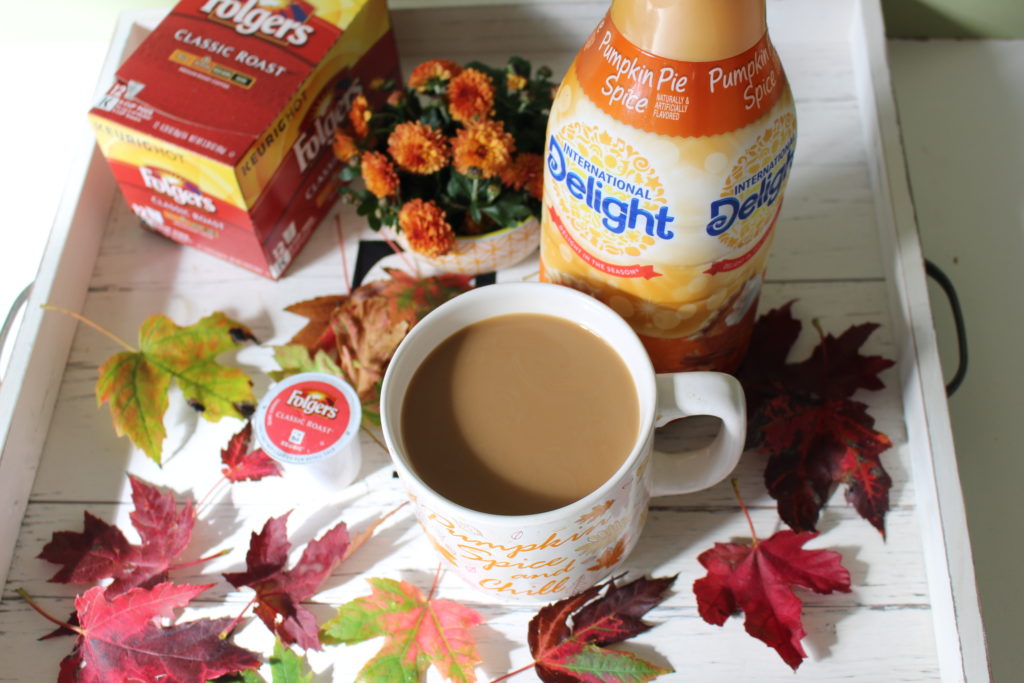 I have been here for 12 years now and I still feel the magic and contentment every fall. This year I am really enjoying a traditional Pumpkin Spiced Latte. I don't need fluff or frills, just tradition and good flavors.
Here is my recipe for a Simple and Traditional Cozy Pumpkin Spice Latte.
First, I start with Folgers K-cups because Folgers has been a part of lasting traditions since 1850. It's a comfort that fills each day with optimism and inspiring energy, a timeless ritual that awakens our senses with Folgers' rich coffee aroma and consistently satisfying taste.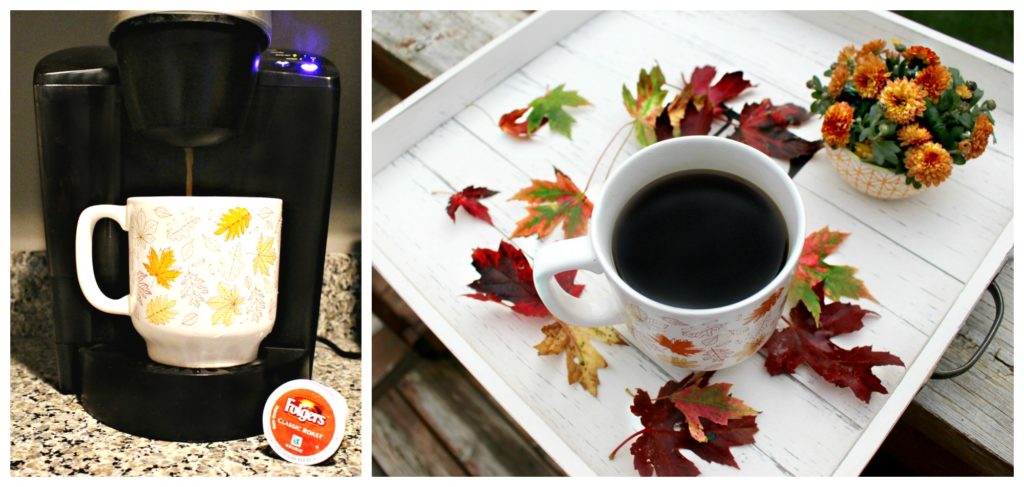 Second, I pour in some International Delight® Pumpkin Pie Spice creamer because it is the perfect creamy swirl of seasonal spice flavors inspired by pumpkin pie like cinnamon,, nutmeg,  ginger and all spice.
I love watching the rich flavors swirl around in my mug. (It is part of my fall coffee tradition.)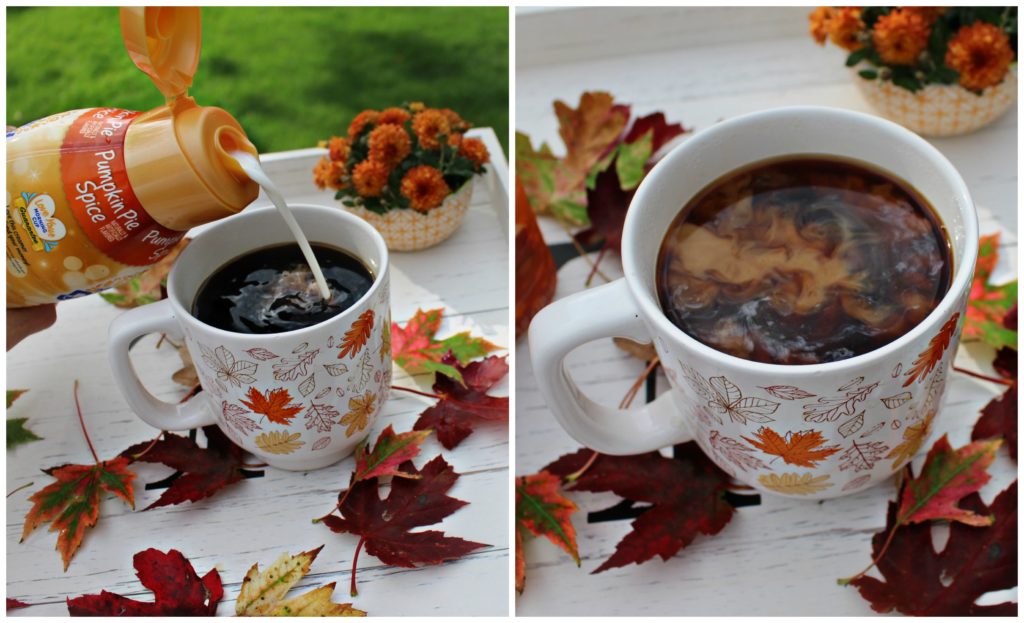 After I bundle up my coffee & creamer for fall, I bundle up myself with boots, hat and a cozy sweater.
Then, I sit outside and enjoy the morning rich with color and nostalgia of autumn.
TIP: You can add whipped cream and sprinkle with a bit of cinnamon too, but I like mine simple and cozy.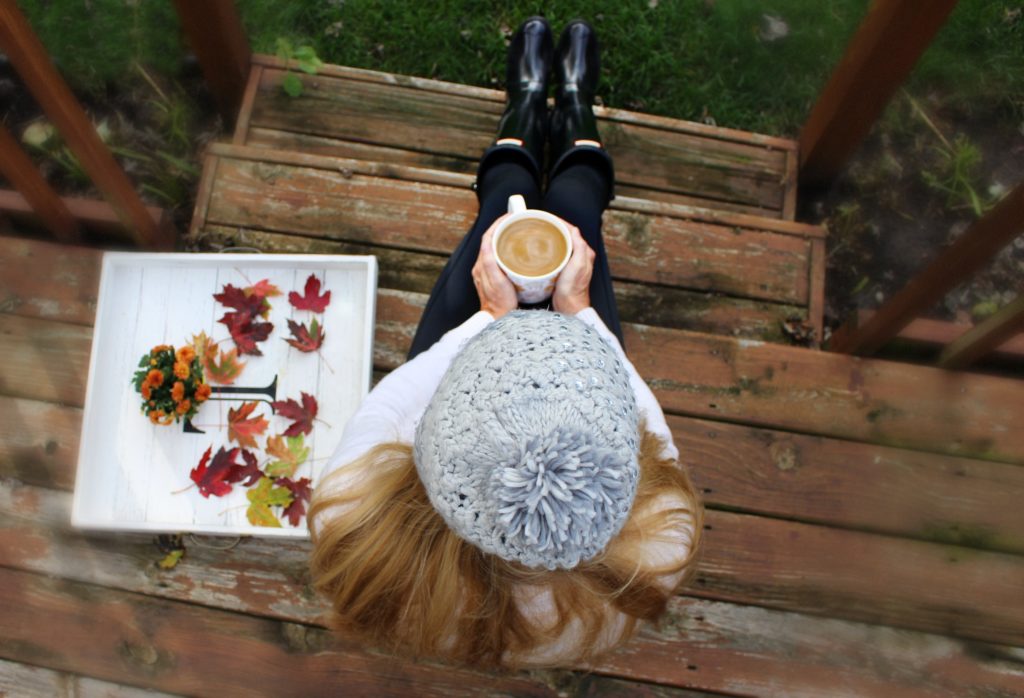 Look at all of the Meijer "mPerks" offers below to keep fall traditions brewing with delicious coffee and cream parings
$0.75 off any Folgers coffee product (excluding Instant) – offer valid 10/15 – 11/1
5% off any Dunkin' Donuts product – offer valid 10/15 – 12/2
$1.50 off 2 International Delight 32 oz. Creamer products – offer valid 10/15 – 11/11
$1.50 off 2 International Delight 48 oz. Creamer products – offer valid 10/15 – 11/11
$1.50 off 2 Land O Lakes® Creamer products – offer valid 10/15 – 11/1
To save over $5 on Meijer coffee & creamer products, click here.
I shop at Meijer. You can find the Folgers Classic Roast K-cups in the coffee aisle and the International Delight 48 oz. Pumpkin Spice Creamer in the dairy section. . .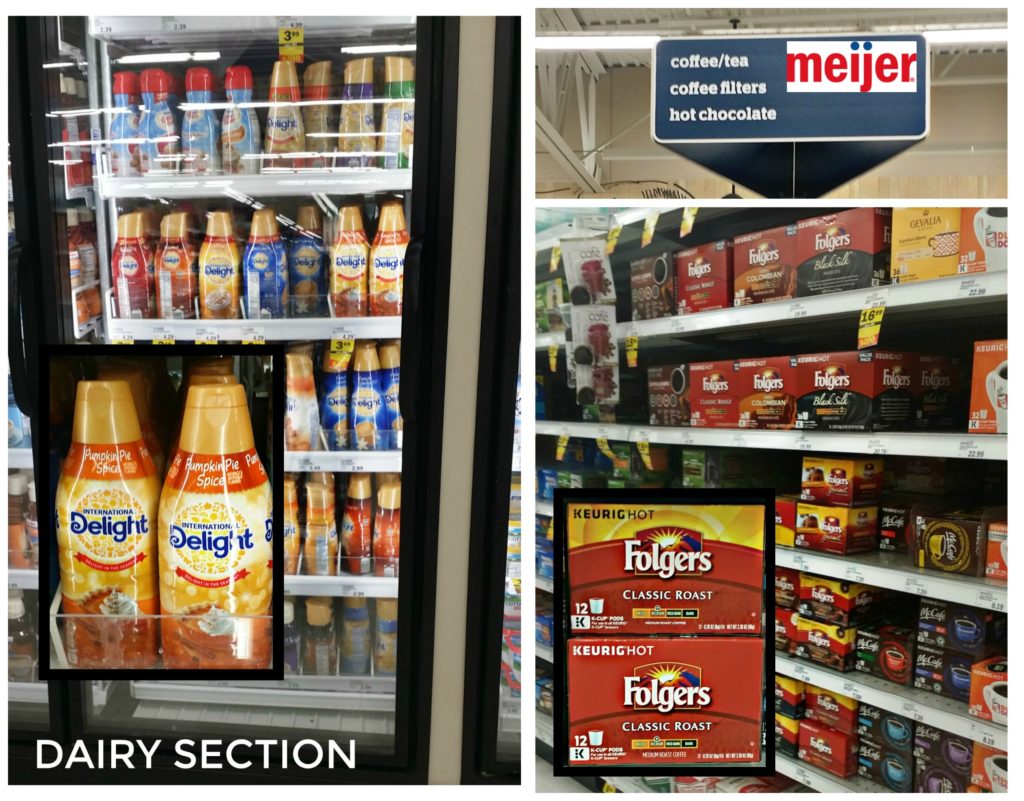 Do you have traditions and flavors that remind you of fall?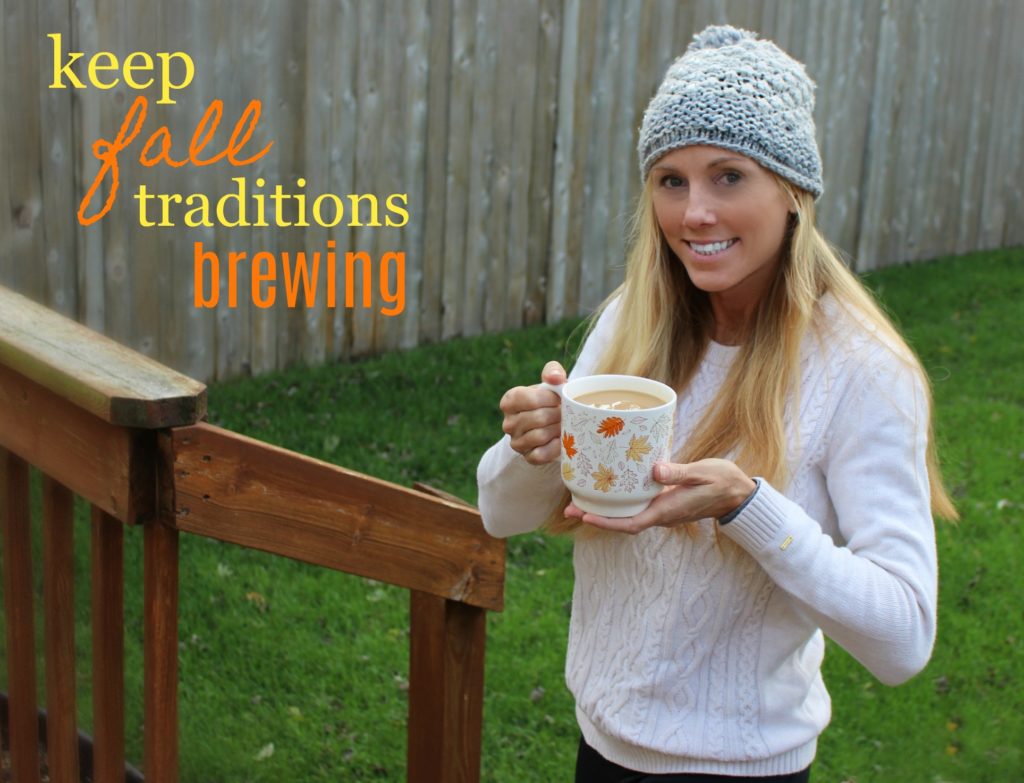 Pin this for later. . .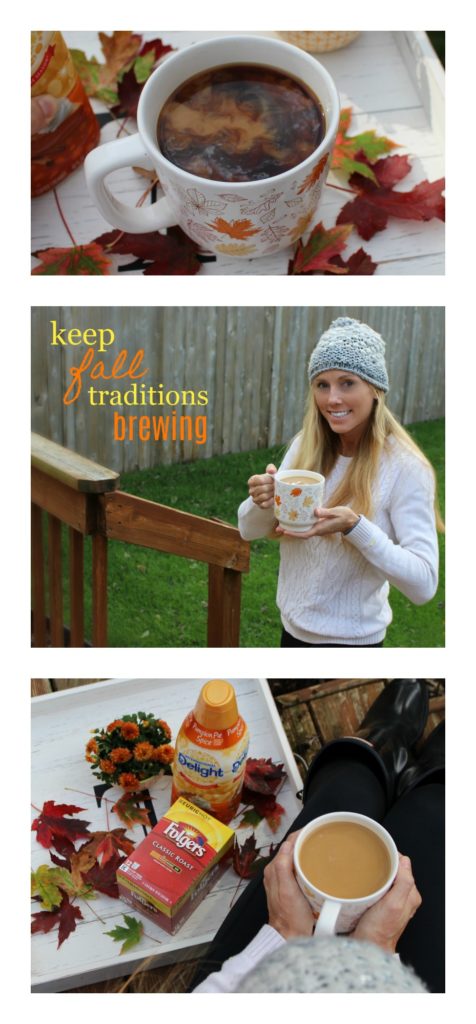 LET'S GET SOCIAL!
Folgers:
International Delight:
Jenny at dapperhouse: