This shop is part of a social shopper marketing insight campaign with Pollinate Media Group® and Purina One, but all my opinions are my own. #pmedia #ONEDifference http://my-disclosur.es/OBsstV
I heard about the 28 Day Challenge from Purina One and decided to give it a try. We were not having any issues with Reese's current food, but I was curious to learn if switching brands would actually bring about the positive changes being promised. Reese is around seven years old and as a responsible dog owner I have to consider health issues that arise with age. Dull coat, dry skin, lack of energy and dental health are just a few. Purina One uses natural ingredients and scientific knowledge to create the perfect food to nourish our dogs. I want that for Reese.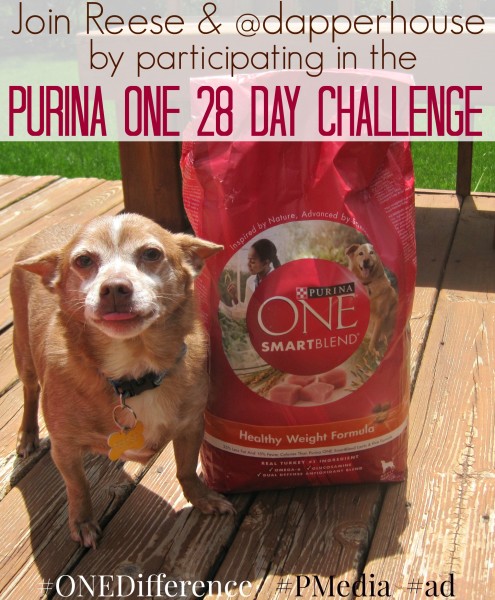 At first I was really scared about changing Reeses food because he has been on the same food for over a year and I did not want him developing digestion issues. But the ingredients are top notch so I knew he would do great!
First it was the taste. No matter how sedentary Reese is at any given time, he will jump up, run around and spin in circles when we mention that it is time for him to eat. After his very first taste of Purina One Healthy Weight Formula he did a lot of licking his lips while standing near the bag. It is SO CUTE! And he does this funny thing where he looks at the top of the bag and down at his bowl and up at the bag and down at the bowl over and over.

Next I noticed that he did have more energy. Usually when I put Reese outside in the yard for some personal time, he smells around a little, lifts his leg on a few things and then stands like a statue at the door waiting to be let in. It was exciting to see this week that he is spending more time exploring around the house, snapping and jumping at butterflies and rolling around in the grass. (Seriously, do they add a secret ingredient to the food that causes an old dog to act like a puppy?) Now that he is going to be more active, weight will not be an issue so I can change him to the Vibrant Maturity Formula or Small Bites Beef and Rice.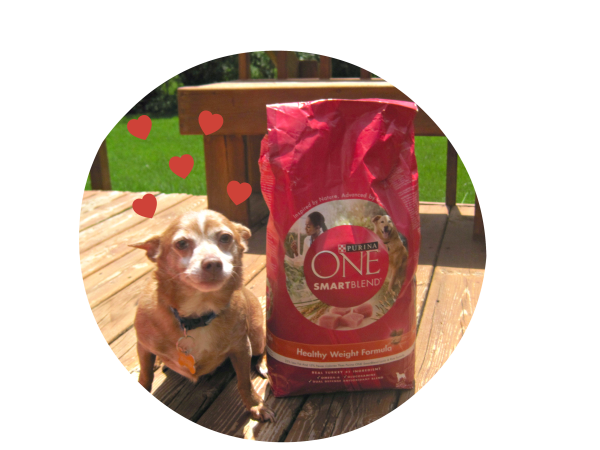 According to the Purina One Challenge website I can expect to see some more changes like a brighter coat, healthier skin and better oral health.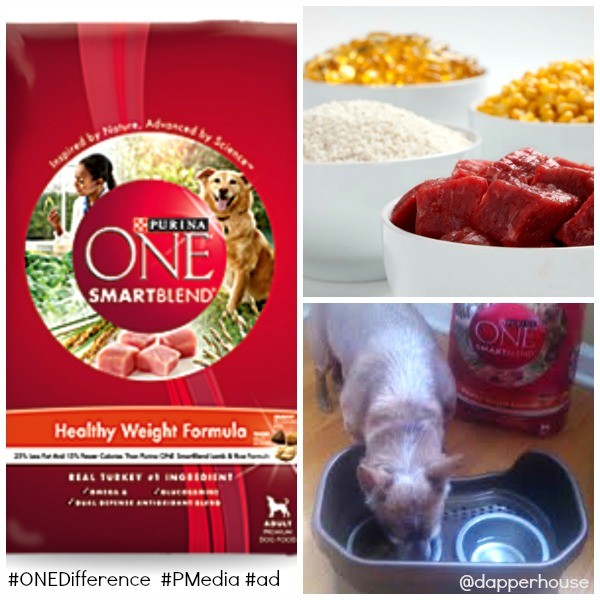 It is really fun to log in and update your dog's progress on the site. I have updated once and will again soon. Get a cute pic of your dog and share it on the site. Look for Reese and let me know if you see his updates there! Also, in the comment section leave your dog's name and breed so we can look for your dog too. FUN!!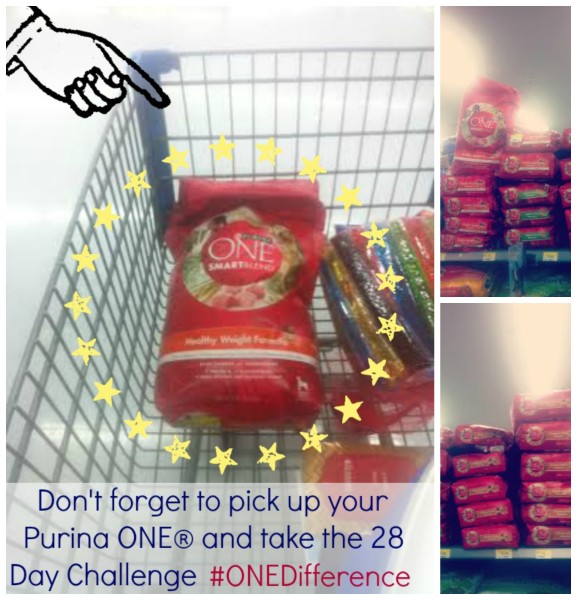 Log in to get a High Value coupon for $3 OFF your full size bag of Purina One so that you can start the challenge. There are many special formulas to suit your particular dog; True Instinct, Healthy Puppy, Large Breed Puppy, Lamb and Rice, Chicken and Rice, Small Bited Beef and Rice, Large Breed Adult, Sensytive Systems, Healthy Weight, Vibrant Maturity 7+.
Connect with Purina One on social media here:
     Purina One Facebook: https://www.facebook.com/PurinaOne
     Purina One Twitter: https://twitter.com/PurinaONEdog
     Purina One Instagram: http://instagram.com/purinaonedog