*This is not a sponsored post. This post does contain affiliate links. All opinions belong to jenny at dapper house.
If you have kids (Or even if you don't) you have heard of the famous artist and children's author Eric Carle. His distinctive style, bold use of colors and focus on animals have made him a favorite of kids and adults everywhere! As a teacher and mother, I have built many lessons around Eric Carle's books and art. One craft that you can use for St. Patrick's Day in March is this Shamrock Art project inspired by Eric Carle. In addition to his long list of famous literature, there are other products that you may want to get for your child to engage in learning creatively while having a lot of fun. Inspire your child with the colorful world of Eric Carle!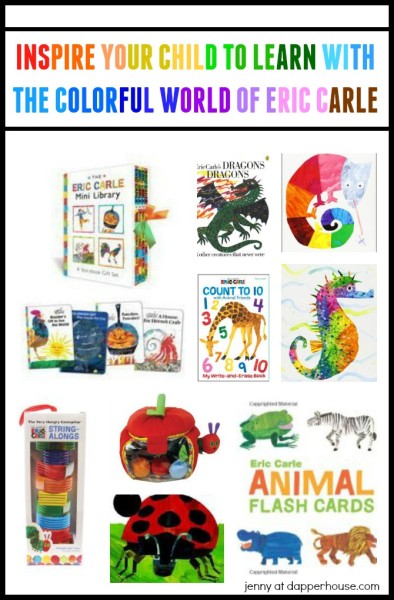 Eric Carle Animal Flash Cards
Eric Carle's Dragons, Dragons
The World of Eric Carle: Apple Playset by Kids Preferred
Eric Carle: Count to 10 with Animal Friends Write and Erase Book: Play-a-Sound
Kids Preferred Eric Carle Push and Spin Popper Toy
Eric Carle: Around the Farm: Play-a-Sound
The World of Eric Carle: Activity Caterpillar by Kids Preferred
The Mixed-Up Chameleon
Papa, Please Get the Moon for Me: Miniature Edition (The World of Eric Carle Miniature Edition)
Mister Seahorse: board book (World of Eric Carle (Philomel Books))
The Very Lonely Firefly board book
The World of Eric Carle: Developmental Elephant by Kids Preferred
The World of Eric Carle:The Very Hungry Caterpillar Bubble Umbrella by Kids Preferred
Kids Preferred Book with 5 Squirties Bath Gift Set, The Very Hungry Caterpillar
Eric Carle Animal Lacing Cards: 10 Cards & Laces
Eric Carle String-Alongs (Very Hungry Caterpillar)
Eric Carle Little Boys' I am Three Tee (Toddler) – Green – 4T
Oopsy daisy Eric Carle, ?s Farm Peel and Place Childrens Wall Decals by Eric Carle, 54 by 60-Inch
Do your kids like Eric Carle?
What is your favorite Eric Carle book?