What girl hasn't dreamed of a faerie tale wedding for most of her life? It's something ingrained in her from her earliest childhood memories with the dashing prince riding off into the sunset with his beautiful princess bride in all those faerie tales read to her long before she could even spell her own name. Unfortunately, in today's economy, it's almost impossible to fill a cathedral with guests and then hold a celebration event afterwards. If you are newly engaged, you might want to consider planning a very small and intimate wedding where you can have all the luxuries you've ever dreamed of for that oh-so-special day.
The Benefits of a Small, Intimate Wedding
Before even thinking about adding that special element of luxury, let's look at the main benefits of a smaller wedding. Most brides and grooms get what amounts to stage fright when waking up on the day they are to say their vows. With a church or cathedral packed with well-wishers, it can be a bit overwhelming. Those vows you worked so long and hard to write can be your undoing. With so many people staring up at you on the altar, it's no wonder you fear you will forget your lines or stumble and fall when turning to walk out of the church when the ceremony is finally over.
Why not invite only a handful of people you are comfortable around? Choose those who would be welcomed into your home and who aren't likely to make you feel uncomfortable, even if you stumble over your vows or those stairs leading down from the church.
How to Avoid the Crowds
Over the years, there have been so many jokes about wedding crashers that you've come to look at it like something you'd only see in the films. That's not the case at all! Although they may not have an invitation to the reception afterwards, many people will invite themselves to the church for the ceremony. If you are really looking to avoid the crowds by keeping your guest list small, why not plan something like a wedding somewhere they can't get to, like a church in Mykonos?
As random as that may sound, it's really a great idea! Known as a summer party island, a Greek Island in the Cyclades archipelago, Mykonos is also famous for some of the most majestic and ethereal scenery of anywhere in the world. You could rent a luxury villa there large enough to hold the entire wedding party and the cost of just one luxury villa would be so much less than a dinner reception for 100 people back home. A BlueVillas wedding in Mykonos can offer all the faerie tale luxury you ever dreamed of while enabling you to keep your wedding in Mykonos as small and intimate as you'd like it to be.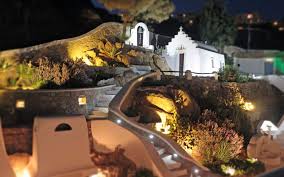 Planning Your Pre and Post Wedding Itinerary in Mykonos
We're using Mykonos as an example, not only for those luxurious Blue Villa accommodations but also because it makes sense from a practical perspective. Not only is there much to see and do any time you visit the island, but that luxury villa you rent could serve your pre- and post-wedding itinerary needs. Consider for a moment the days leading up to the ceremony? Here is where the happy couple and any special people in the wedding party would have a chance to explore the island and get in a bit of nightlife. Many villas can house over a dozen people, but you'd want to keep your numbers low if it's intimacy you are looking for.
Guests stay up through the day following the main event, your vows, and will fly home after that. If you've booked your villa for two weeks, let's say, then the days prior to your wedding would have your entire party at the villa with you. However, when it comes to that much-anticipated honeymoon, they'd be home again and you could have the entire next week alone as the newly introduced Mr and Mrs.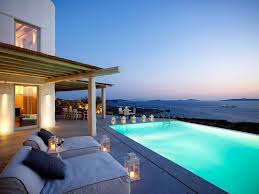 The Best of Both Worlds
In the end, if you want a luxurious faerie tale wedding but can't foot the cost of a huge guest list, why not allocate your wedding budget to bringing a wedding party along with you to some idyllic location? It makes sense from a budgetary perspective, as well as offering a way to have that beautiful wedding where your prince can sit with you in the sunset on a lovely Greek Island? He won't need to sweep you up in his arms to carry you anywhere because you'll already be there. Enjoy your time in paradise before the event with family and close friends and afterwards with the man who is the beginning of a new family that is yet to come. Now then, doesn't that make sense?