*This is not a sponsored post. Opinions and content belong to jenny at dapperhouse.
You must all know by now that I LOVE using sensory bins and sensory activities to engage children in learning. Sensory bins are the most effective way to give children an interactive experience using all their senses to learn and remember skills. Everything from math and science to vocabulary and social emotional lessons can be taught and learned through sensory bin play. The concepts children learn through play is extraordinary. This particular flower garden activity is really fun for kids to use over and over. I especially love to get this one out on days when the weather makes it impossible to be outside. On snowy, wintry days this makes everyone feel brighter! The cost on this sensory bin is very low as you can get many items at the local dollar store. This post will show you how to make and use a flower garden sensory learning activity for kids.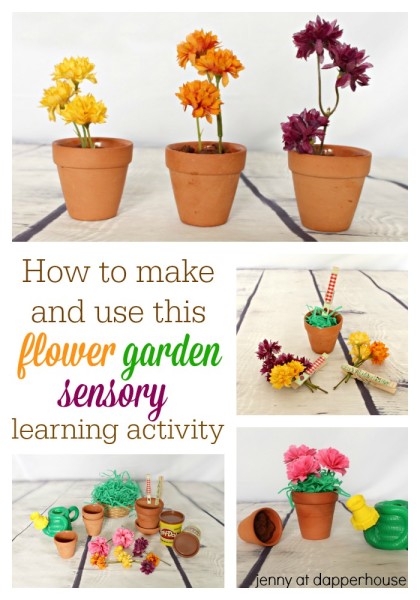 Supplies:
3 small pots and 1 larger pot
Easter grass or moss
Brown dough to represent the soil (brown rice or beans work well too)
Clothespins (I painted mine to match the garden theme)
Assorted flowers (having at least 5 matching flowers from 3 different types or colors is good)
Assorted other garden accessories for play (watering can shown)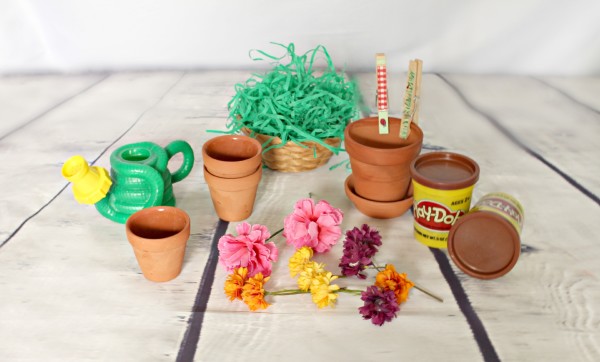 How to Use:
Letting children have free play allows creative learning that is priceless. Sitting with children as they play and finding opportunities to make connections to learning is ideal. For example, as the child is "planting" flowers in the pots, bring science to the table by talking about the essentials that flowers need to grow such as soil, water and sunlight.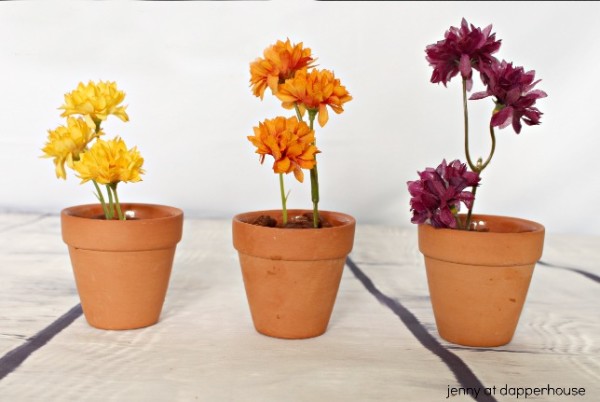 Working on the pincer grip is critical to learning and development. Using clothespins solves this for young children. Ask children to count and sort flowers into bunches and then secure them together using the clothespins.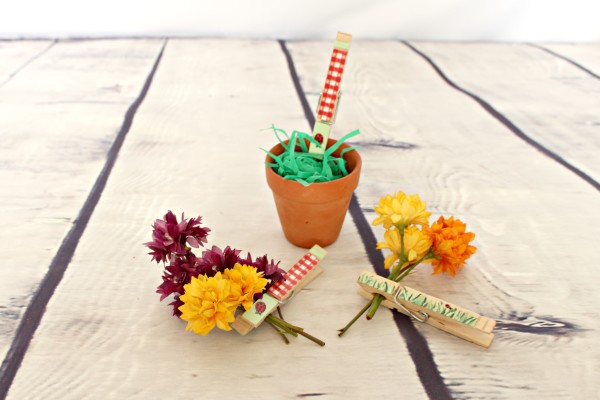 Use the flower pots for math. Have your child fill the larger pot with flowers. After remarking on their knack for flower arrangement, ask them to count the number of flowers they put in the pot (lets say 8). Then ask them to remove a certain number from that post and transplant them to a smaller pot (lets say 4). Help them see the visual representation of subtracting using the flowers in the flower pots. Children will find this engaging and lots of fun!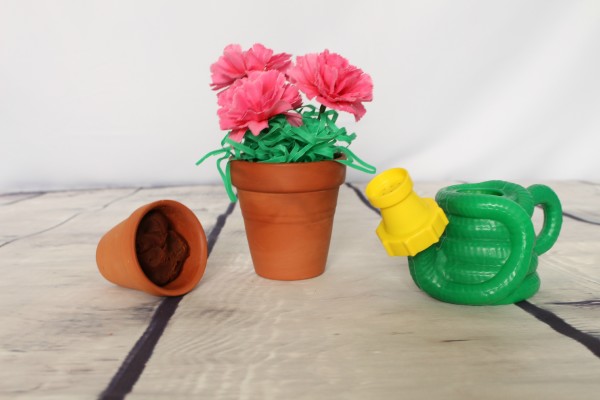 Other concepts to learn with this sensory bin are:
sizes
in and out
textures
sounds
fine motor
empty and full
vocabulary
Read this:
How to Create and Use Sensory Bins to Teach Young Children
Do you like to use sensory bins for learning?
How to Dye Rice for Sensory Bins