Over St. Patrick's Day the 1st graders wanted so badly to catch a leprechaun. I decided to let them run with it! From my reading many St. Patrick's Day books, the kids found that there were a few details about trapping a leprechaun that ran constant throughout, 1. Leprechaun's are greedy and they will be tricked by a pot of gold 2. Leprechauns will more easily find the gold if there is a rainbow leading them to it. And 3. Using a standard box trap (a box held up by a stick that will fall when the bait is disturbed) will catch the leprechaun.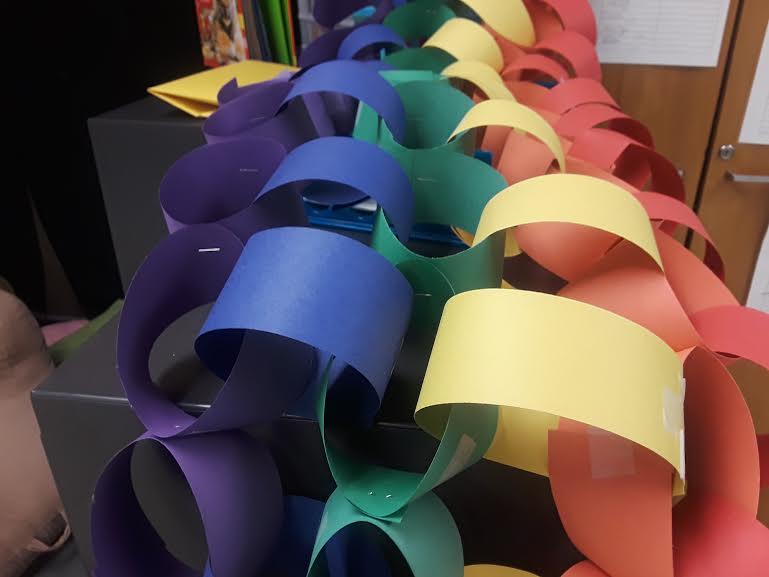 We got the pot with gold coins inside from one of the students with a legitimate Irish heritage. I brought in one of my many Amazon boxes to use as a trap. Then, we decided we would have to make a very convincing rainbow to entice him into sliding down into the trap, so I ran to the supply room and grabbed a pack of construction paper from every color of the rainbow. After school, during my plan time, I measured and cut a ton of 2 inch strips of every color. I put one of every color on each desk. The next morning when the kids came in, they each made a paper chain in the order of red, orange, yellow, green, blue and purple.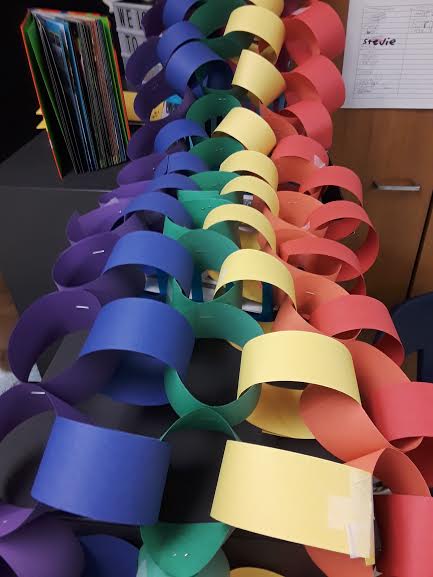 As the kids each finished their paper chain, they brought it up to the table and laid them down in rows. For each one added, I would use the stapler to secure them together until we had a twenty chain rainbow to catch our leprechaun!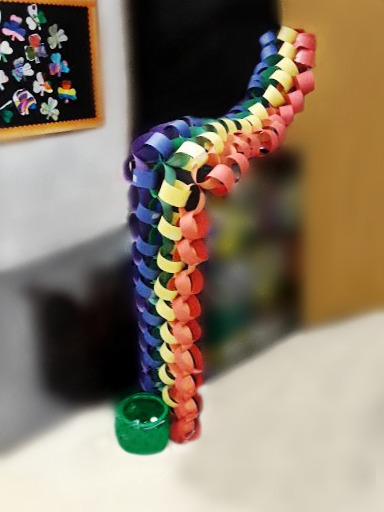 When the kids came back the day after St.Patricks day the box trap was sprung and the kids were excited to see under the box. But when we lifted the box, it was sad to say that we were TRICKED and found a leprechaun made of straw that the real leprechaun had gotten away…just like in the stories we had read. He did leave behind a huge mess (which we also read about in the stories) such as confetti thrown all over the desks and chairs. But he also left a mess of stickers, gold coins and pencils for each of the kids. And although the kids were disappointed that they didn't catch the leprechaun, they were very happy that they had such a big collection of fun goodies to celebrate St. Patrick's Day!
Pin this for later!