"This shop is part of a social shopper marketing insight campaign with Pollinate Media Group® and Scandinavian Tobacco Group Lane, but all my opinions are my own. #pmedia #CuberoLuxury http://my-disclosur.es/OBsstV"
My husband goes on a yearly golf outing with his friends. This year I decided to put together a cool gift basket for him. When I was shopping at my Walmart I found everything I needed. I included things for a party in his hotel room like Cigars, Alcohol and Snacks. I also included items for the next day after a night of partying such as headache medicine, upset stomach meds, re-hydrating drink and breath mints. I am going to show you how to make this for your special man to show that you appreciate his time away with his friends and that you care about him.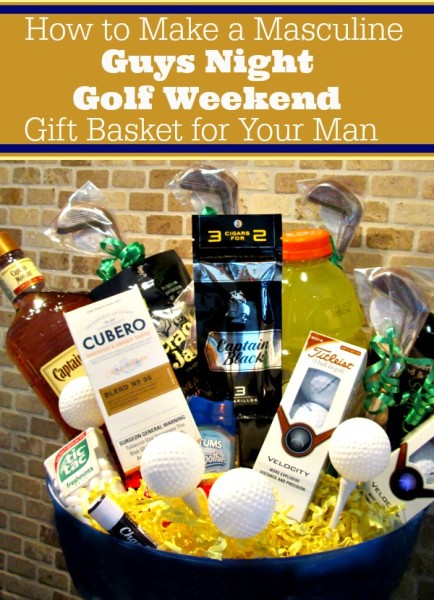 Here is what you will need:
large plastic serving bowl
floral foam
knife to cut floral foam
glue gun and glue sticks
shredded paper
popsicle sticks
plastic golf balls (for decoration)
a sleeve of his favorite golf balls
wooden golf tees
Cubero Cigars from Walmart (full flavor and easier to enjoy)
lightweight liqueur bottles (airline bottles would work well)
energy drink (to stay up late or get through the next day)
headache medicine (also helps with sore muscled from golfing)
upset stomach medicine (food and fun can lead to sick tummies)
chapstick (lips need protection from the weather and sun)
sunblock (my man never remembers to coat his nose!)
snacks (pistachios, sunflower seeds, jerky, snack mixes)
protein bar (good for the day after to keep up strength)
favorite candies (I had custom golf club chocolates made on etsy)
sports drink or water bottle (gotta re -hydrate and sweat out the party)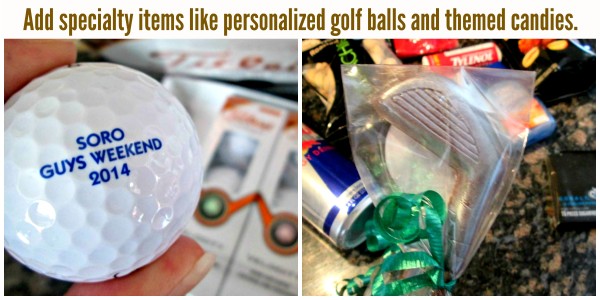 To begin lay out all of your supplies in a large area so that you can get to work. Plug in your glue gun and get ready.
Step 1: Cut the floral foam to fit inside the plastic bowl.
Step 2: Secure the floral foam around all the edges with a generous heaping of hot glue
Step 3: Glue some of the golf balls to the tees for decoration
Step 4: glue popsicle sticks to the back of of some your packaged items so that they can "stand" in the basket.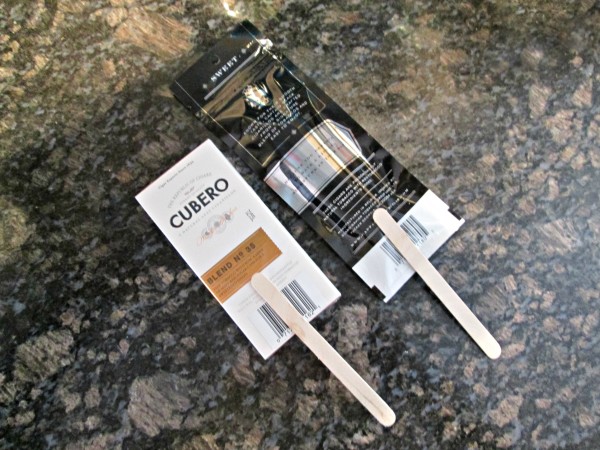 Step 5: cover floral foam with shredded paper
Step 6: Arrange your gifts by sticking the popsicle sticks into the floral foam. Tallest items go in the back to smaller ones in the front so that all items can be seen.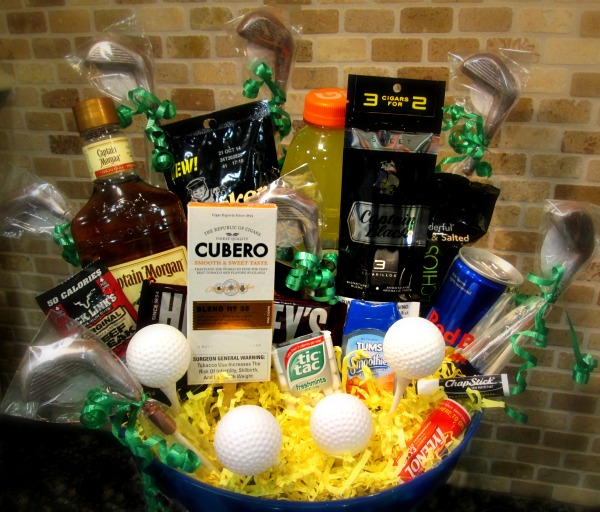 Step 7: Make sure that you tuck in a little note that says to have a fun weekend with the guys. You can even make a little card on a popsicle stick and make it part of the gift basket so his friends can praise him for having such a cool partner!
Do you have any other ideas about fun things you could do for Guys Night or a Guys Trip?
Visit Cubero on facebook