I truly do not like cooking per se, but it is fun to try and make different recipes once in awhile. Cooking and baking is SUPER FUN when you have kids. Kids love to be little chefs. They love to create and make, It is a learning experience in so many ways and not just for measurements, but in practical ways as well. It is important and highly valuable for kids to know how to cook. Not to mention the smiles beaming from their faces with pride over making something amazing . . . like donuts!
I had friends who once their kids were old enough to leave home alone, would worry constantly about thier kids doing something unsafe in the kitchen. My son not only knew his way around the kitchen, but had a repertoire of recipes he could make safely and confidently. Remember the saying "Knowledge is Power"? It is true. Want them to be safe and skilled in the kitchen? Teach them to cook!
This recipe can make approximately 25 donuts!
Enjoy.
Ingredients:  
Dry:  
4 cups of flour 

1/4

  cup and 1 tbsp of sugar 

1 tbsp of instant dry yeast  
Wet:  
3 tbsp of margarine   

1 egg  

1 /2

cup and 2 tbsp of soy milk

1/4

cup and 3 tbsp of water   

1/2

tsp of salt   
Chocolate glaze:  
14 oz of dark chocolate (400 g)  

3 oz of white chocolate (100 g) 
You can purchase them on amazon here but can also find them at some craft stores and some Walmart stores.
How To Make:   
Donuts:  
Mix the dry ingredients in one bowl and the wet ingredients in another. 
Mix the two together in a large mixing bowl (or a kneading machine if you have one).  
Knead the dough for around 10 minutes and/or until the dough is firm. Use the technique of pushing the dough down and away from you and then folding it inwards, repeating the process over and over again until the dough no longer stickss to your hands. 
As soon as you have your dough ready, shape it into a ball and place it in a bowl much bigger than the dough, as it will double in size during the next two hours. It is very important to coat the bowl with a thin layer of oil and cover the dough with a thin cheese cloth so it doesn't dry out.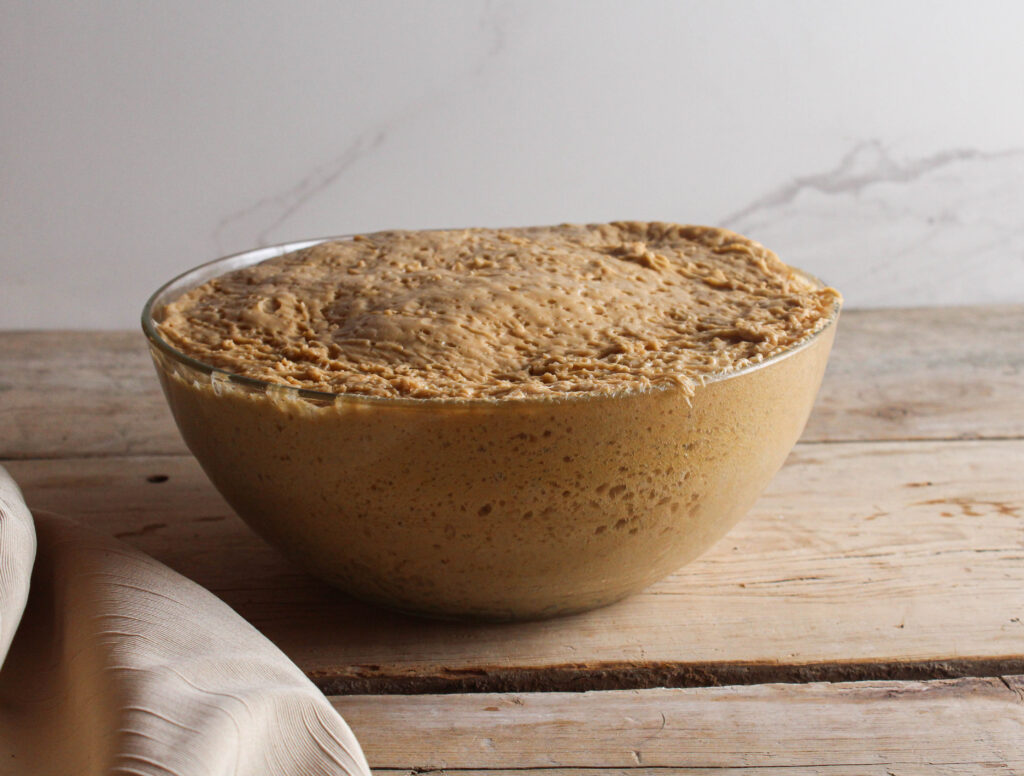 TIP: If it is chilly in your home, set it near a heat source because the dough needs heat to rise. You can also set the bowl inside an oven to keep it from getting cold.
Once the dough has doubled, set it out on a lightly floured board. Roll out the dough unil it is an inch thick. 
Use a glass of about 3 inches in diameter as mold. Make as many circles as you can. (Remember that you can adapt the size of the glass to form the donuts of the size you prefer.) To make the insides of the donut,  find something that is the correct size such as a small shot glass or bottle cap.
Tip: Using a donut cutter is much easier. It will take you less time and your donuts can be more uniform. 
Take the extra dough and re-roll it, repeating the process, until you don't have enough dough to make anymore donuts.  
As you are making the donuts, place them on sheets of parchment paper. They need to double in size again. This will take at least 30 minutes but could take up to an hour.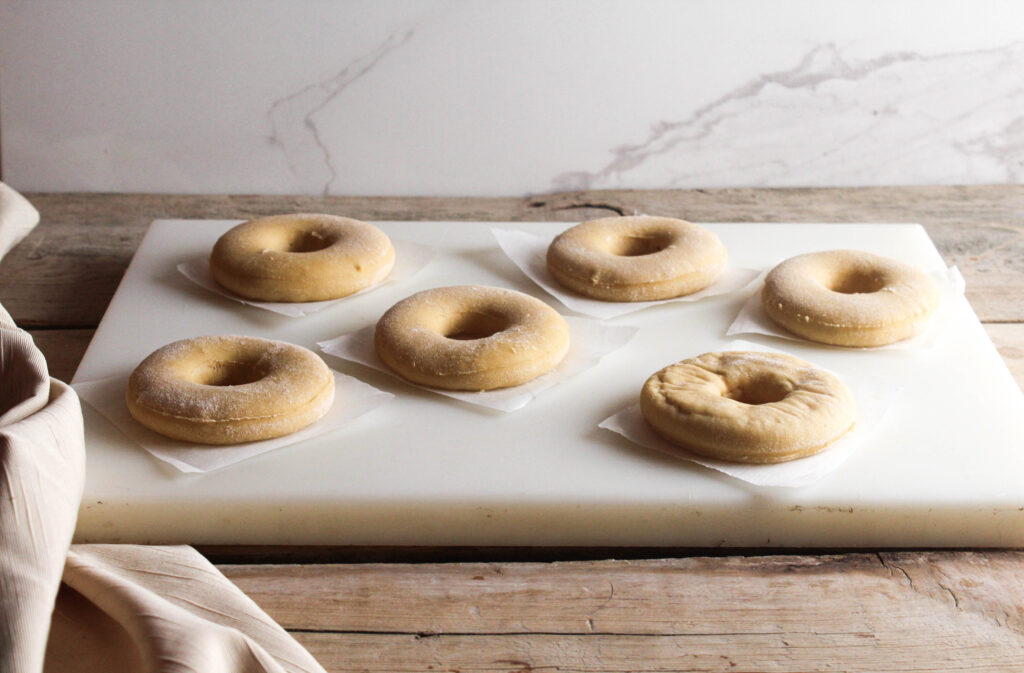 To fry the donuts, heat 2 cups of oil to medium-low heat in a medium pan. Use a pan that has enough space to fry two donuts at a time because they will get even bigger still. You do not want the frying donuts to stick to each other. Fry them for 1-2 minutes on each side or until golden brown.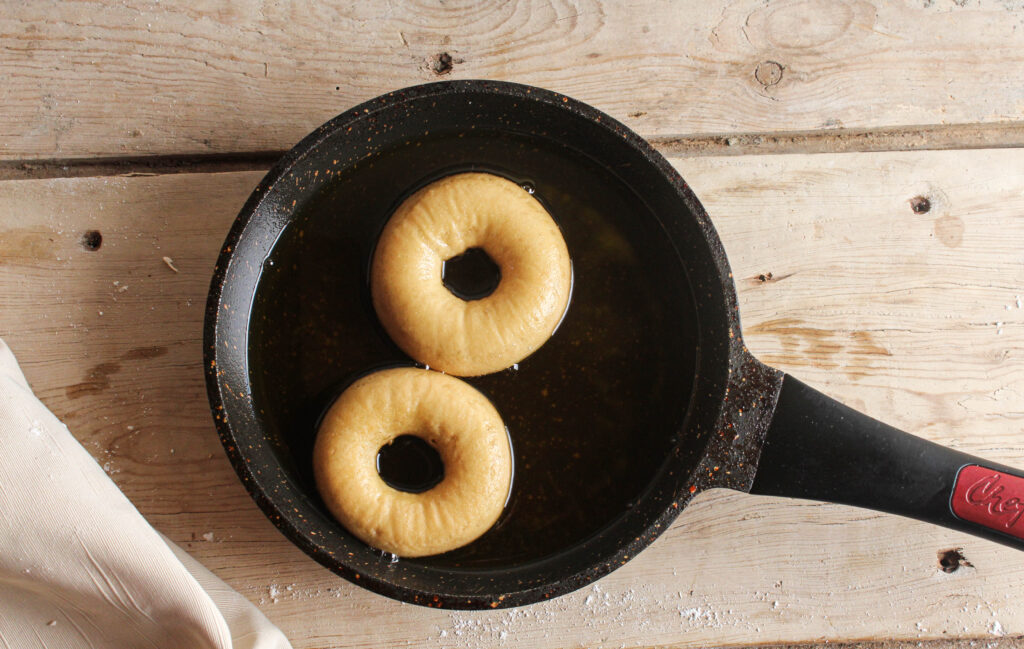 TIP: If you prefer a healthier version of the donut, you can put them in the oven instead of frying. To do this, use a silicone donut mold. Fill part way with batter and cook for 10 to 15 minutes at 350 degrees.
Chocolate glazing:  
Set metal baking racks on top of parchment paper. Use these racks to let the donuts dry after dipping them in chocolate. Use the parchment paper to collect the excess chocolate that drips from the dipped donuts.
Melt the dark chocolate in the microwave in a large glass container. One by one, dip the donuts into the chocolate and set them on the rocks to cool and the chocolate solidifies on the outside of the donuts. If it is warm in your home you can move them to the refrigerator to accelerate the process. 
Melt the white chocolate. Use a spoon to drizzle white chocolate lines over the donuts. Let the white chocolate cool.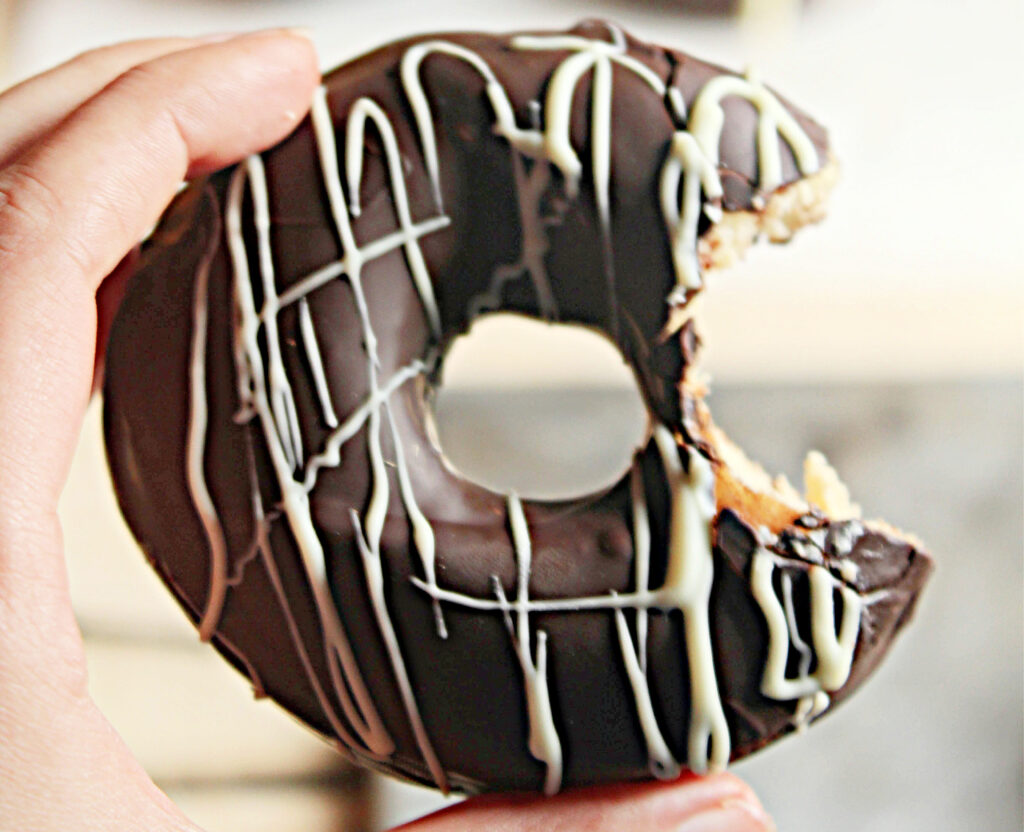 The donuts are ready to serve and eat!
Pin this now so you don't forget it later. . .