We have had some very serious rain and flooding here in Illinois this past week. Our crawl space got 4 inches, but no serious damage except for items in storage. We went to the grocery store and the Entire Parking lot was so flooded it looked like a lake! The kid's schools were closed for flooding and power outages too. We do get quite a bit of rain here in Illinois year round so I always have to have umbrellas on hand wherever I go. I recently found a Super Cute Umbrella with a Penguin Design in a vibrant green on a Green Living Shop Online called Engage Green. I asked them if I could review this umbrella in exchange for a blog post because I want to get the word out about my support of Eco Friendly Living with Engage Green because they help us live responsibly in a way that takes positive action to restore our Earth. Don't you LOVE IT!
This umbrella is Sturdy, Top Quality and Works Perfectly!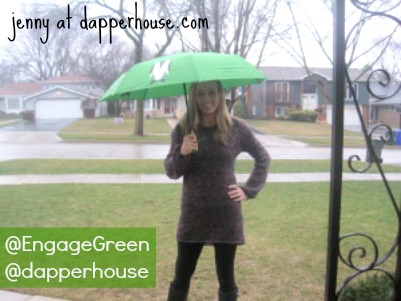 I love the design and color, but more importantly I am SO PROUD to use a product that " is made from recycled water bottles [PET] and the handle is made from recycled plastic and 65% rice. The handle will decompose within 3-4 weeks after placing it into the soil. Automatic open and close. Steel windproof frame. Teflon coating for extra water and stain resistance."
My son likes the umbrella it too so I have to get him his own right away.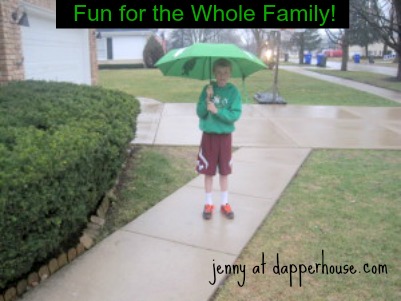 It is important to my son to use environmentally conscious products too!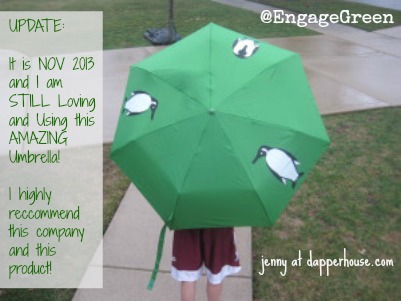 These come in blue, orange and black as well! Go look at these and the other Outstanding products at engage Green! I cant wait to get all four 🙂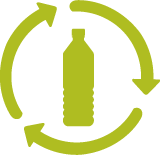 PETE [Polyethylene terephthalate] Plastic bottles – Recycling Facts

* Approximate 18 used plastic bottles of 16 oz. make 1 yard of our fabric.
* 4,800 used plastic bottles of 16 oz. saves 1 cubic yard of the landfill.
* According to EPA recycling 1 pound of plastic containers [PETE] save approximately 12,000 BTU's per yard.
I am having a giveaway with a star satchel bag from their shop that you can enter to WIN. I hope that you are excited about this company and products as I am!