I love cookies so much. My sweet tooth craves homemade cookies and this recipe is at the top of my favorites! They are so chewy and taste amazing. All you do is add green coloring and coupled with the black oreos, they work perfectly for a Halloween theme. You will be happy that you made these gourmet cookies for your chic adult Halloween party. But take my advice and set some aside for the next day because you won't have any left at the end of the night. And perhaps print out the recipe because everyone will ask for it. Have fun!!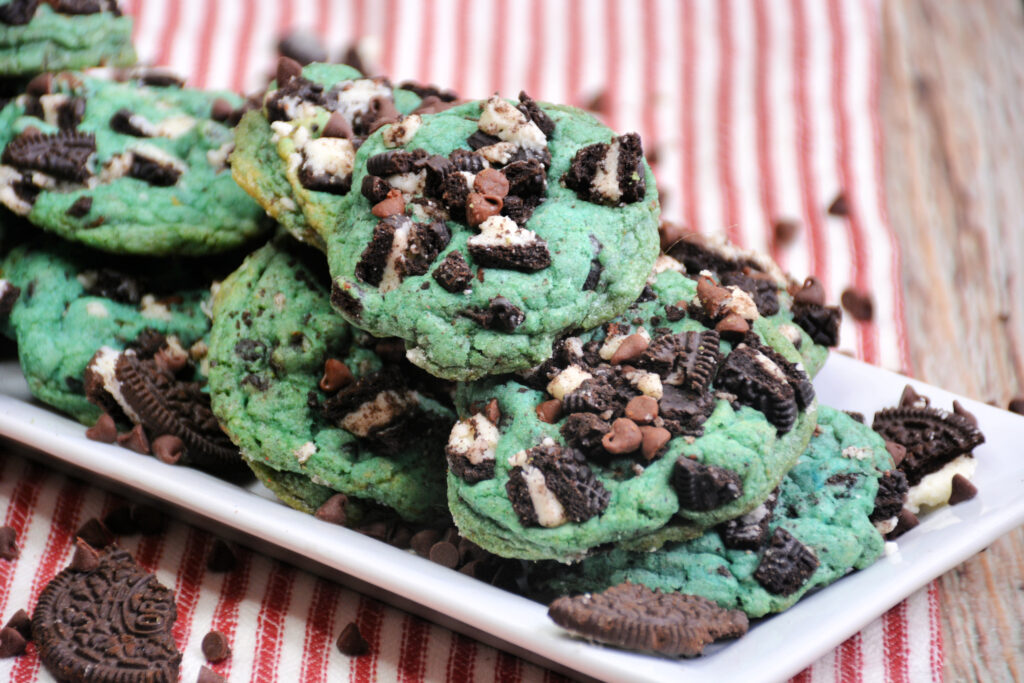 Oreo Monster Cookies 
Ingredients:
2 1/4 flour
1 tsp baking soda
1 tsp kosher salt
1 C unsalted sweet cream butter softened
3/4 C light brown sugar
3/4 C granulated sugar
1 tsp vanilla
2 eggs
green gel food coloring
2 cups chocolate chip
1 C mini chocolate chips
3 C chopped oreos
Directions :
Preheat oven to 350 F and line two cookie sheets with parchment paper
Combine flour, baking soda and salt in a small bowl.
Beat butter, granulated sugar, brown sugar and vanilla extract in a large mixer bowl until creamy.
Add eggs, one at a time, beating well after each addition.
Gradually beat in flour mixture.
Add green gel food coloring a little at a time while mixing the dough until it is desired color.
TIP: You can also put on food handling gloves and work the color into the dough.
Stir in morsels and chopped oreos, saving some whole Oreos to place on top of cookies after baking.
Use a cookie scoop to drop dough onto the cookie sheet.
Bake for 9 to 11 minutes or until golden brown.
Sprinkle more chocolate chips, mini chocolate chips and chopped Oreos
Cool on baking sheets for 2 minutes, and then place on wire racks to cool completely.
Pin this now so you don't forget it later . . .