There are a million different ways to sleep in New York City. With an endless selection of hotels, hostels, Airbnb rentals and house exchanges, it can be hard to sift through and choose where to stay.
For some, a hotel is nothing more than a place to rest one's head at the end of a busy day of sightseeing with LibertyCruise.NYC. For others, the hotel is a part of the experience and the more unique or glamorous, the better.
Here are five must-see hotels you'll want to add to your shortlist before heading to New York City.
Night Hotel – Theater District
Night Hotel in the Theater District is just as dark and dramatic as you would expect given the name and location. Adorned with goth glam decor, black and white are the main features of this monochromatic home away from home. The decor is a balance of vintage and ultra-modern and offers luxury items as well as free access to a local club. Rates start at around $180 USD per night, which isn't bad for that part of town.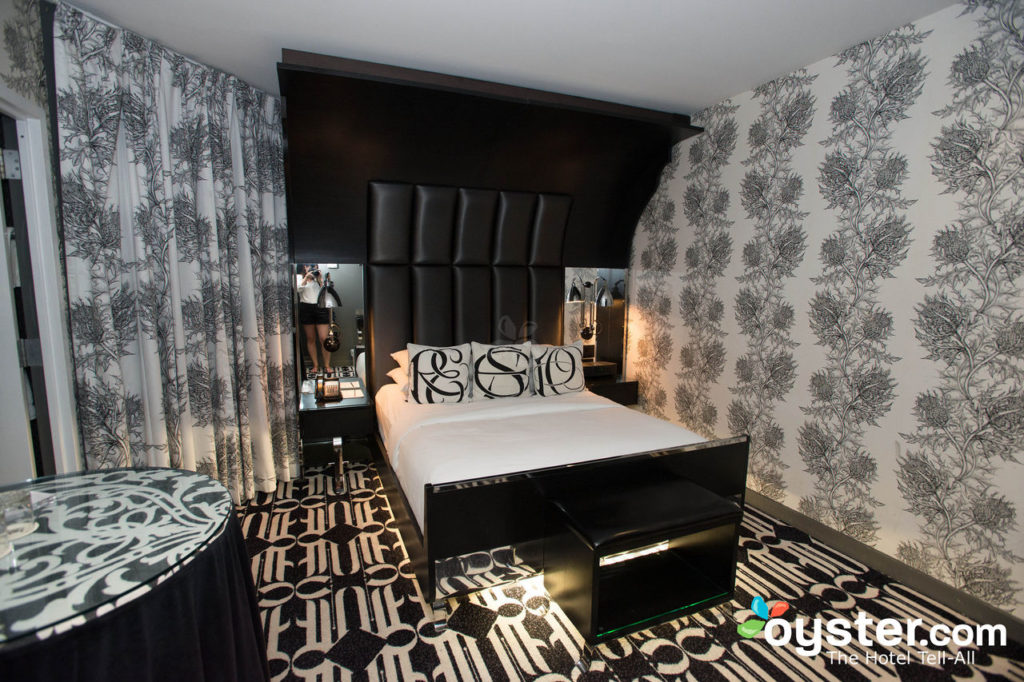 YOTEL New York
Meet the proposed future of travel accommodations at YOTEL New York! Located in Midtown, Manhattan, YOTEL offers luxury accommodations in a prime location without the usual price tag attached. Check in and check out is all done through computerized kiosks rather than waiting in line at the front desk. Rather than a bellboy, a robot named YOBOT will assist in storing your luggage. With monsoon showers, techno walls, and transforming beds, rates start at $150 USD per night.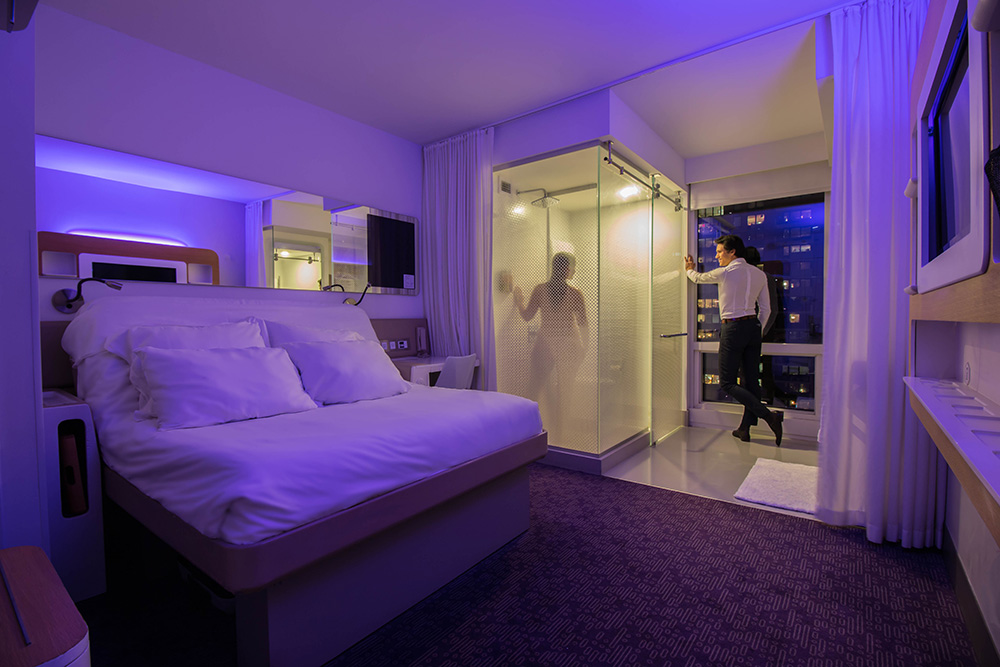 The Standard – High Line
The High Line is a public park on Manhattan's west side, that is built on an old elevated freight line running through the Meatpacking District. It spans approximately over 1.5 miles and offers stunning views of the city. At the end of the High Line is The Standard Hotel, which has 338 rooms with floor to ceiling windows overlooking the surrounding area. In addition to having exquisite rooms, The Standard has a rooftop discothèque, beer garden, and skating rink in the winter. Ironically, the lifestyle at this hot hotel is anything but standard. Rooms start at about $205 USD per night.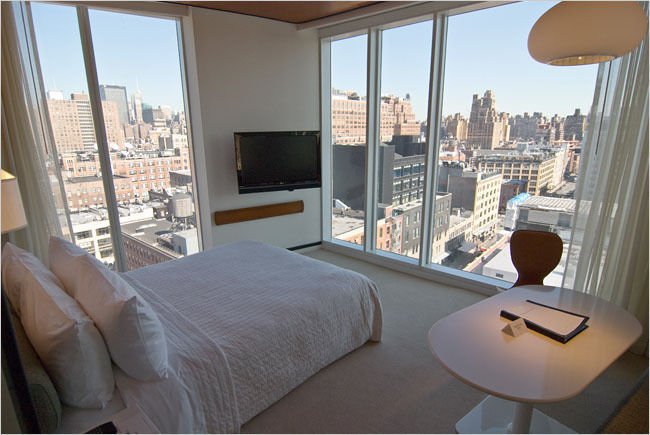 Dream Downtown
The Dream Downtown decor inspiration comes from an ocean liner, which is apparent when you view its steel outer shell and round windows. In addition to gorgeous, comfortable rooms and an electric atmosphere, Dream Downtown is located in the heart of the Chelsea nightlife scene. The rooftop oasis features sand, cabanas, and tropical plants. The heated pool has a glass floor which doubles as the lobby ceiling, for an incredible effect from both above and below. The rooms are pet-friendly and equipped with everything you need for a tropical staycation. Rooms start at $350 USD per night.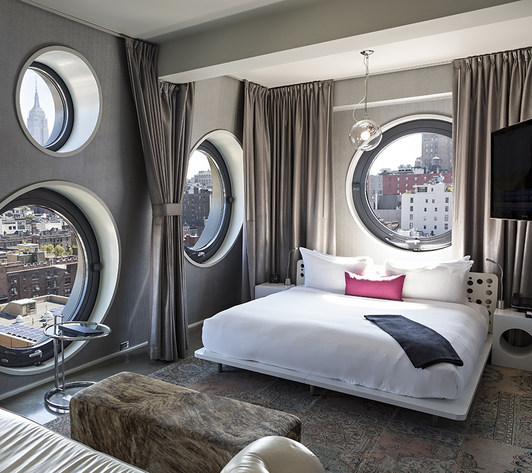 Paper Factory Hotel
The Paper Factory Hotel in Queens started its life as a radio factory in the roaring '20s, before becoming a paper factory in the 1970s. It was transformed again into a hotel within the last decade, with a focus on keeping its industrial origins. If you're looking for an enjoyable hotel stay outside the costly city center, this is the place for you. With a posh, richly decorated and refined lobby and bar, the Paper Factory has managed to balance industry with elegance. The rooms are open and airy. Brick and open beams are common sights as you walk through the hotel. The center pillar of the spiral staircase is made of hundreds of books. Rates start at around $110 USD per night.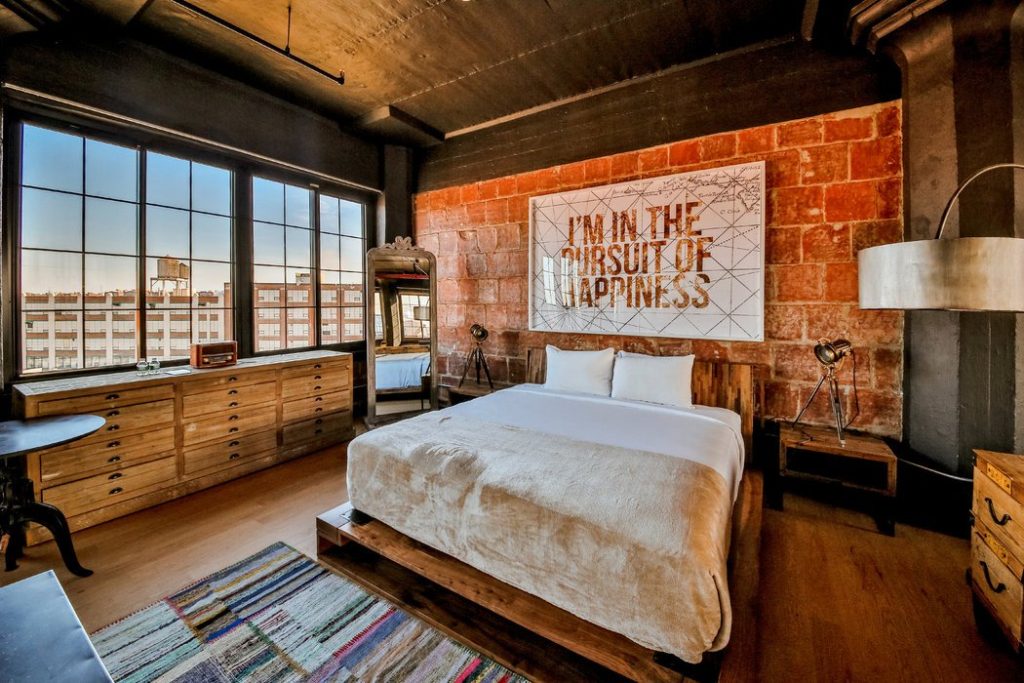 Even the minimalist traveler can't deny the appeal of staying in some of these incredibly unique hotels. If you're going to be hitting the Big Apple, why not sleep in a place that adds to the experience?