I love recipes that are super fast and easy but also tasty and nutritious. This one is all of those! And it is so colorful too (which makes it a great dish to bring to a potluck). This is a great one to have in the fridge whenever you want a quick snack that is full of flavor and satisfying. Enjoy.
Black Eyed Peas Bean Salad 
Yield: 5-6
Prep time: 10 min
Total Time: 10 min
Ingredients: 
1 Red Bell Pepper, diced
1 Yellow Bell Pepper, diced
1 Orange Bell Pepper, diced
½ Red Onion, diced
3 cans ( 15oz )Black Eyed Peas
¼ tsp garlic powder
1 tsp Salt
1 tsp ground pepper
1 tsp cajun spice
1 tsp dried parsley
½ cup Olive Oil
½ cup White wine Vinegar
½ cup Apple Cider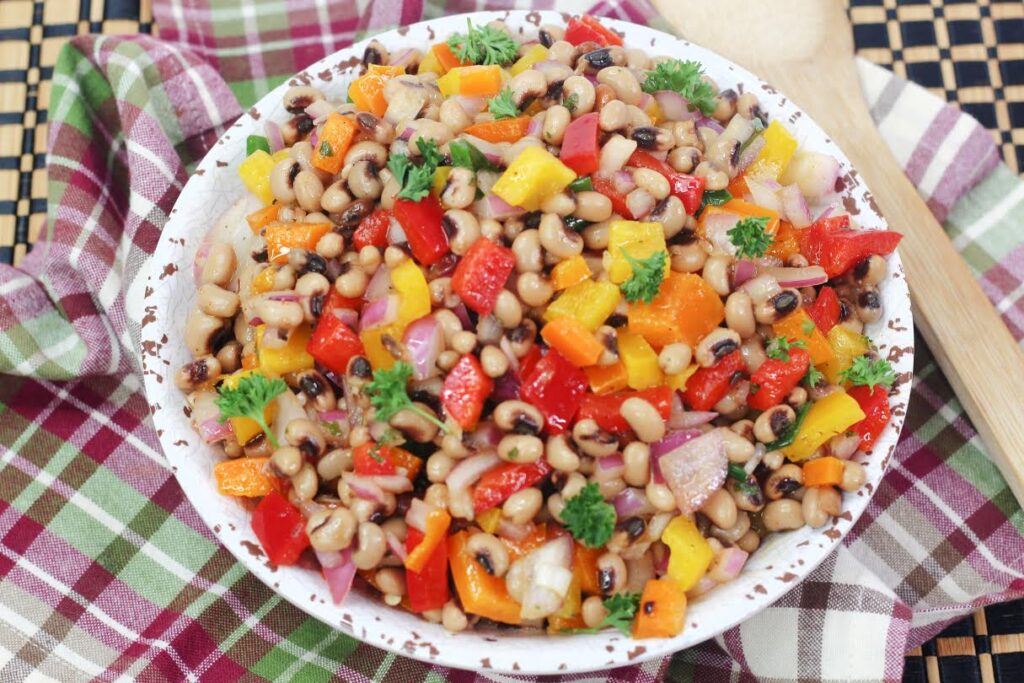 Directions: 
Prep all vegetables and place in a medium sized bowl.
Drain and rinse the black eyed peas and add to the vegetables, toss to combine.
In a small bowl add the olive oil, white wine vinegar, apple cider, garlic powder, salt, pepper, dried parsley. And Cajun spice.
Whisk to combine.
Pour the dressing over the black eyed pea mixture , toss to combine.
Chill for 1 hour