This shop has been compensated by Collective Bias, Inc. and its advertiser. All opinions are mine alone. #RawhideFreePets #SmartBones #CollectiveBias

Reese and I are exercise buddies. We walk hills, run park trails and jog through the neighborhood. I take a bone with me so he knows that when we get back home, he will have earned a healthy snack and a bowl of fresh water. SmartBones are great because they keep him busy while he cools off and recharges his energy. I like healthy snacks for Reese, and for pet parents like me who are looking for healthier ways to treat their dogs, SmartBones is the surprising chew that gives dogs the satisfaction they want with the nutrition that I can feel good about.
The main reason that I like SmartBones is that they are 100% Rawhide free. Did you know that Rawhide can get caught in your dog's throat, stomach or digestive tract and cause them pain and illness? I like the satisfaction of letting Reese go off on his own with his rawhide-free alternative chew without me having to worry. Reese just cares that it tastes more like an indulgent treat than a healthy snack. All that real peanut butter, real chicken and real veggies make it delicious, but the healthy and wholesome ingredients, plus the extra vitamins and minerals added make me so happy that my sweet little guy is getting healthier with every bone.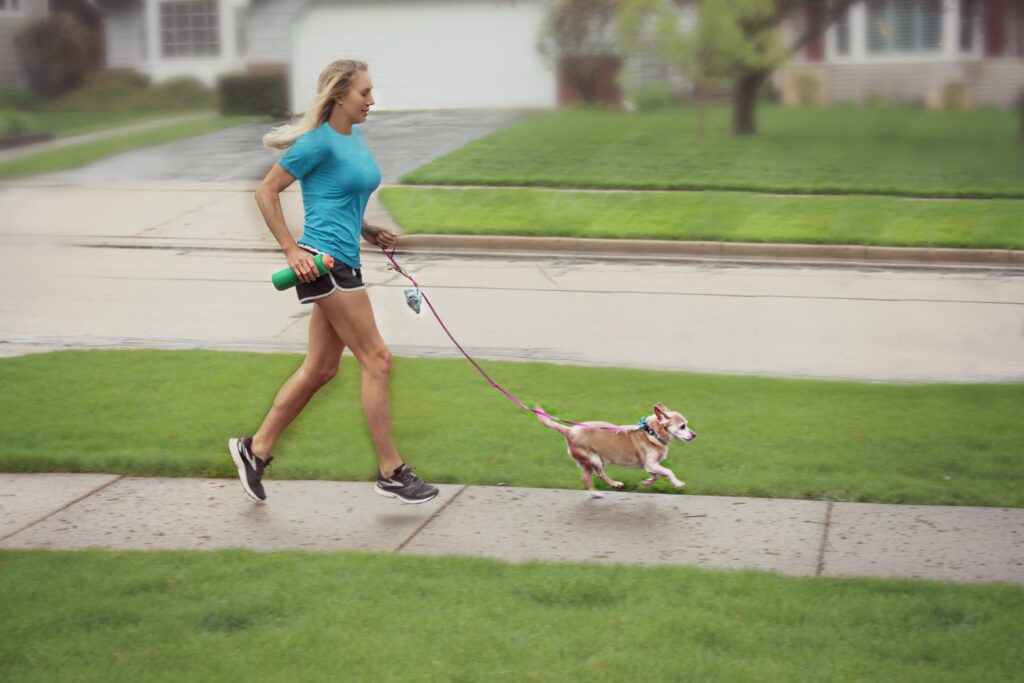 I made a super easy no-sew pouch to keep Reese's SmartBones in, which I attached to his leash so I remember to take it with us on our walks and runs. I will show you how to make one of these for yourself since it will only take a few minutes. Then you can take your dog's SmartBones along with you too!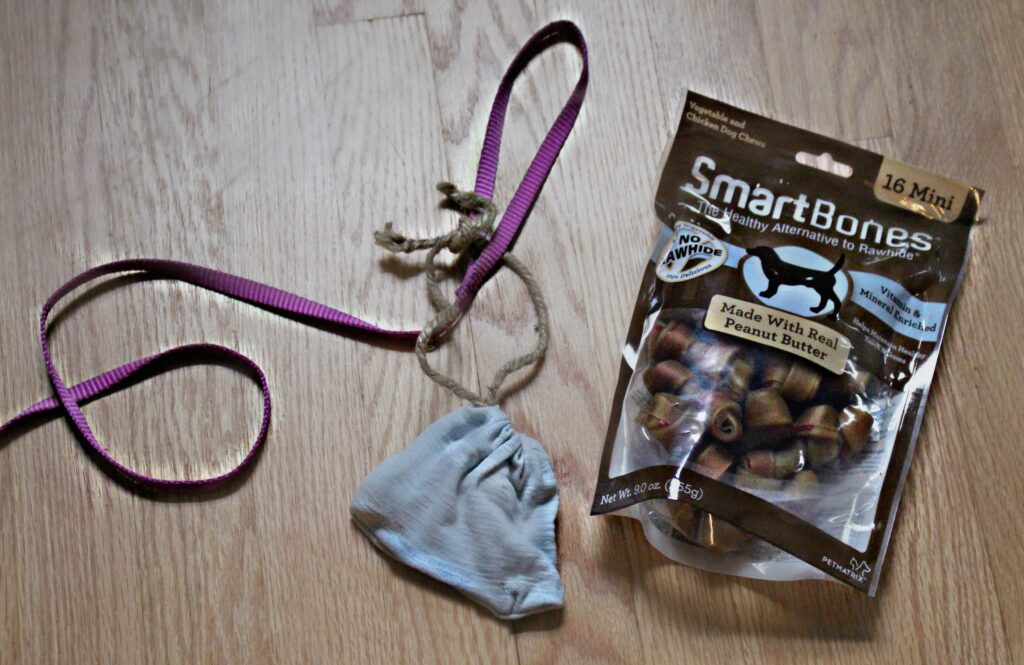 Tutorial for SmartBones Dog Chew Holder Pouch
Step 1. Plug in your hot glue gun and let it heat up while you are doing step 2 and 3.
Step 2. Lay out your fabric. You can use any fabric that you would like as long as it is reasonably thin. I used an old t-shirt and it worked perfectly! TIP: I reused an item that had to be thrown away so it is better for the environment.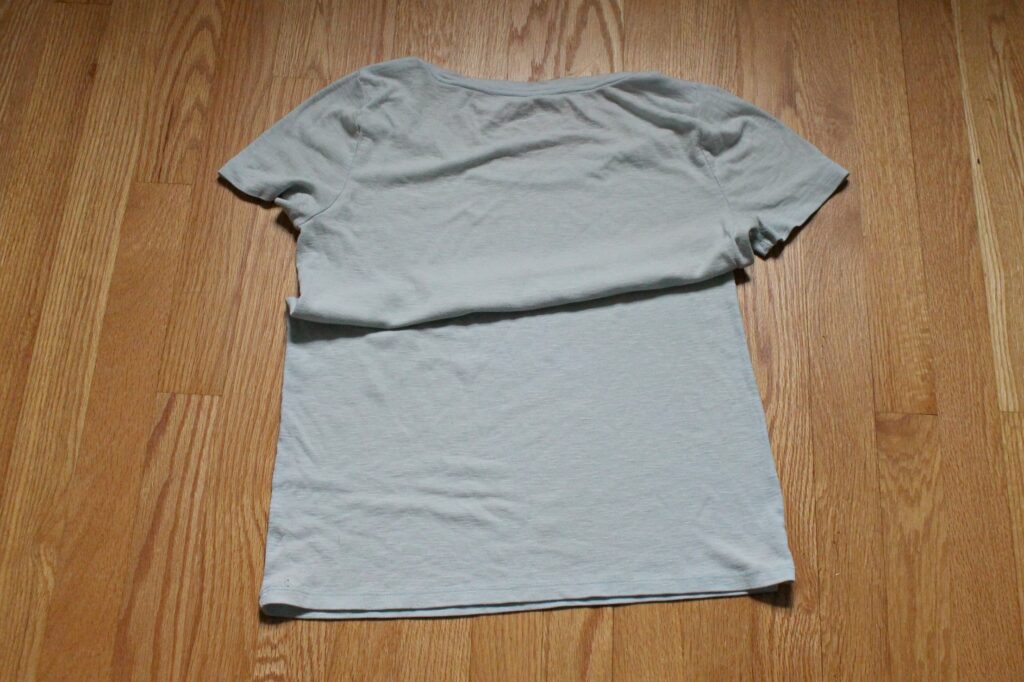 Step 3. Measure your SmartBone Dog Chew. I use the mini size for Reese because he is a mini chihuahua, but they come in a variety of sizes to fit your needs. Once you know the measurements of your bone, measure your fabric so that it is 3 inches longer and 3 inches wider. Cut this out. TIP: As you can see in the photo, I cut my fabric on the edge of the t-shirt so I had one less side to secure. Measure a piece of string that will go through the top of the pouch plus add another 6 inches.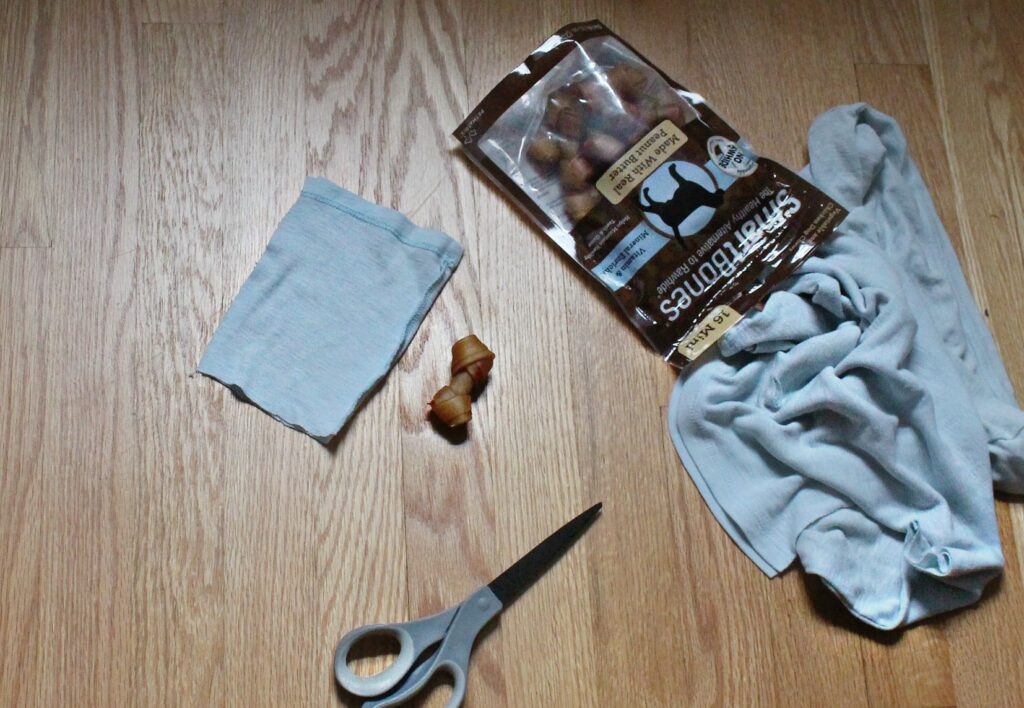 Step 4. Turn the fabric inside out. Add a line of hot glue around the edge of the top part of the pouch and then fold it down leaving a space for the string to go through (about ¾ in.). Let the glue dry and then add a strip of glue on the other edge(s) and let dry.
Step 5. Turn the pouch inside out and pull the string through the top of the pouch. And, you're done.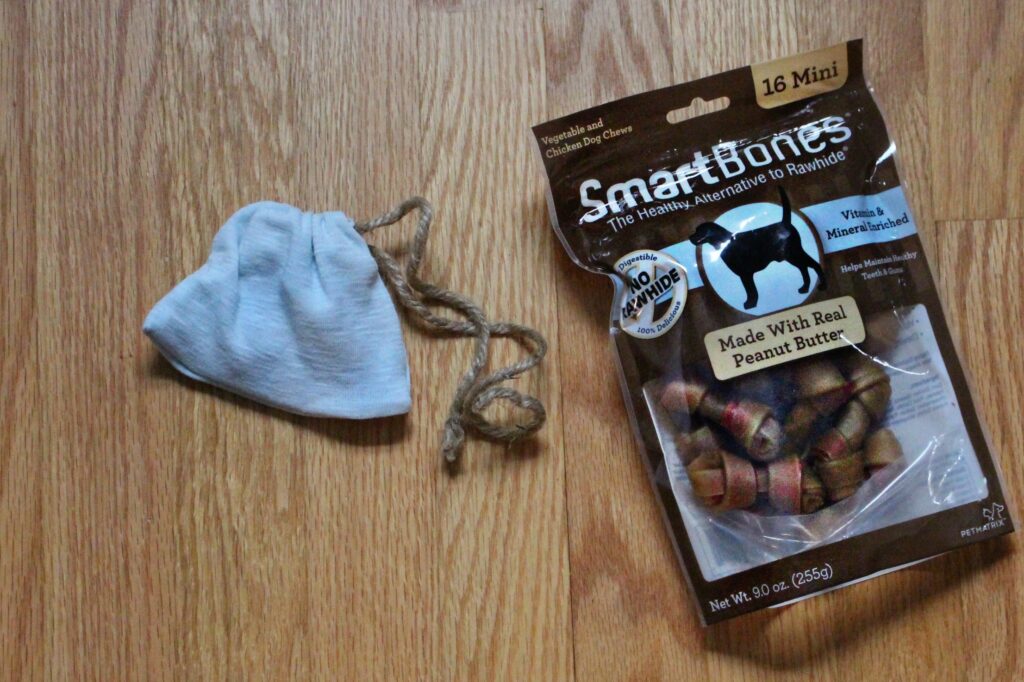 Simply tie it to your leash and you have a perfect carrying pouch for your pup's SmartBones 100% delicious, healthy alternative to rawhide, chew.
I admit that whenever I open his SmartBones, bag the smell of real, creamy, delicious peanut butter gets me every time and I have to make a little PB&J for me too! After the exercise, I think that I deserve a healthy treat just like Reese so I enjoy that while I'm cooling off while he has his SmartBones treat. Wait until you smell them and you will come back and tell me that it smells so good that you start craving peanut butter! I'm not joking.
I buy mine online at Chewy.com. You just go there, type in "SmartBones" and your selection will pop right up. Simply order the size and quantity that works for you and your dog and then they will be delivered in no time.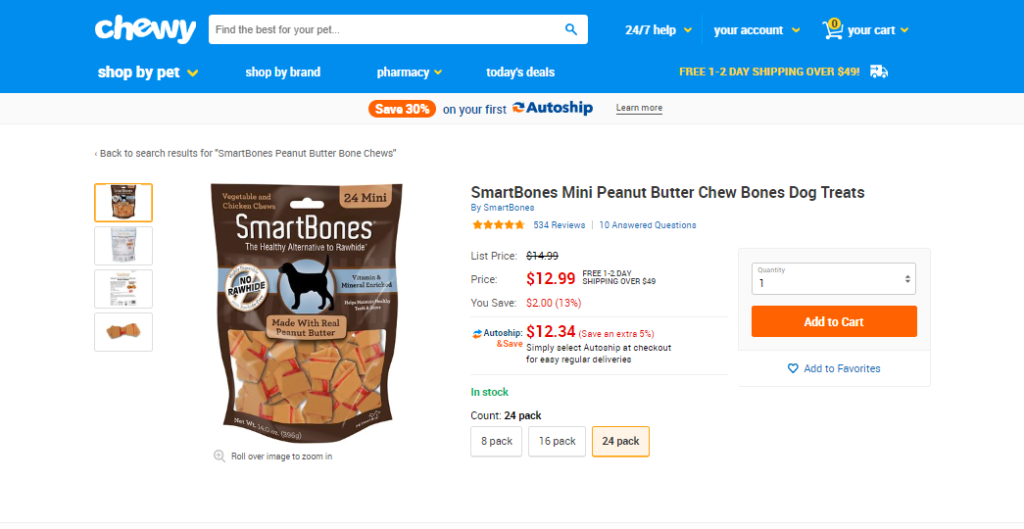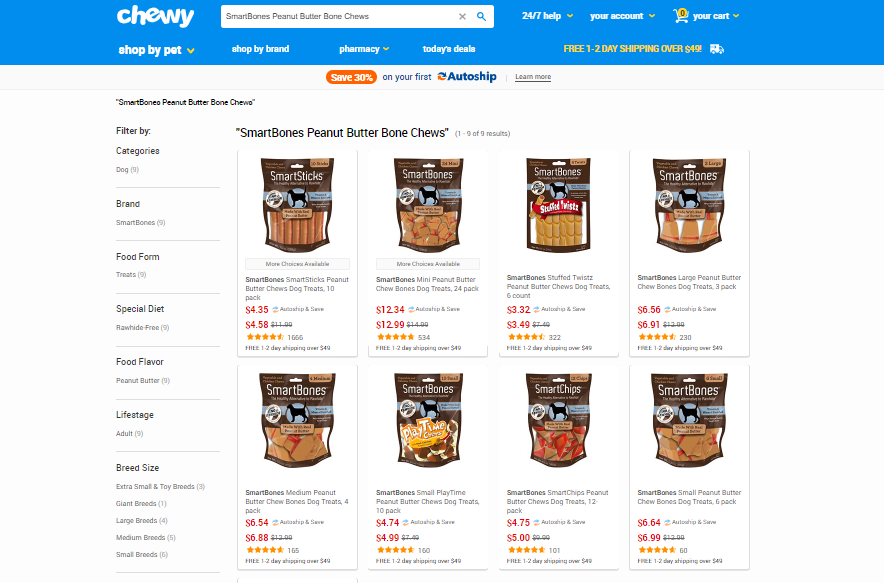 As a pet parent, are you concerned with buying your dog healthy and delicious snacks with real and wholesome ingredients? Do you buy SmartBones as a safe alternative to rawhide chews? Me too!