Even though I love to DIY my projects, I admit there is No Shame in buying what you can't do. When making sensory bins, sometimes it is easier to buy than to hunt for what you need. But whether you build your own, you will definitely need to get more rice as the old stuff gets dirty! No worries here, because I am going to show you how to dye / color your own rice that in the fastest and easiest way possible aside from buying it. And it is fun for the kiddos too! This rice is great for the family from sensory bottles for infants, to mosaic art projects for the teens.
How to Dye / Color Rice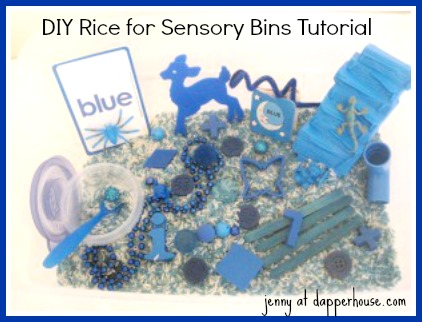 You will need:
rubbing alcohol
sturdy zip lock bags gallon size
mixing spoon
white rice (not instant)
liquid food coloring
cookie sheet / drying tray
storage container or baggie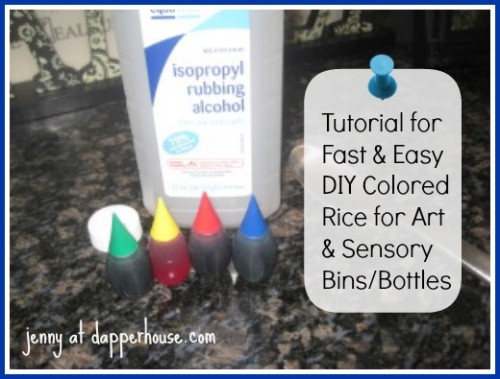 1. In a gallon sized zip lock bag mix 2 tsp of rubbing alcohol and food coloring.
5 drops makes a pastel color and 25 makes a dark, deep color. (see below)
Use any amount in between to create your perfect shade!
2. Mix a bit and add 2 cups of White Rice
3. Zip the baggie closed and mix rice inside well until evenly coated.
4. Open the bag and pour from bag onto cookie sheet.
5. Spread out flat to dry.
6. Set in a cool dry place or in the sun. It will dry in 15 – 30 minutes depending.
( allow enough time for the alcohol to evaporate to eliminate smell)
I used 25 drops of food coloring for the darker shade on the left,
and 5 drops for the lighter shade on the right.
It is so fun to get the exact shade you want.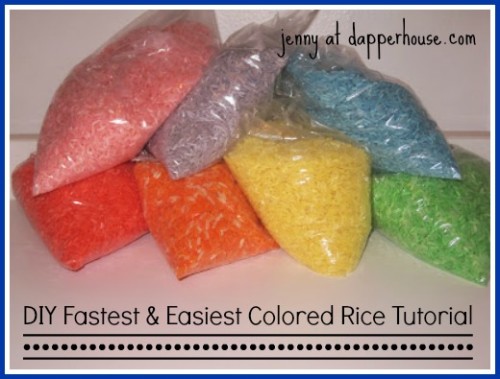 Once the rice is dry, store in an airtight container.
Look at the gorgeous colors that you can make.   Now go get creative!