I think that Sensory bins are one of the greatest invention for children's learning and play! They inspire creativity, keep a child's interest and touch on so many areas of learning! Sensory bins (or boxes) can be tailor made for specific learning needs, developmental abilities and ages. I made this one for little learners in honor of Fire Prevention Week in October. You can take ideas from mine and DIY a fireman sensory bin for your little hero!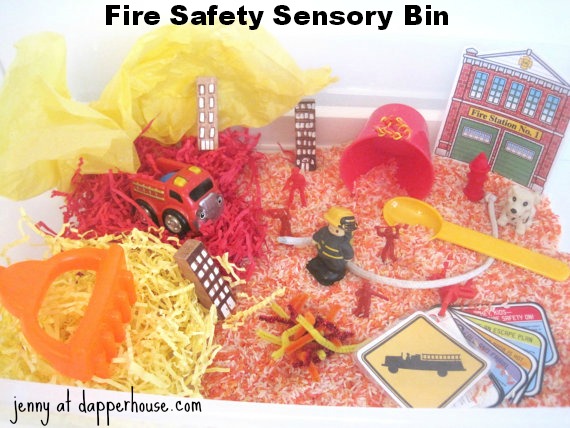 I found much of what I needed at craft and second hand stores.
little figures, shredded paper, pipe cleaners . . .
I got the spoon, cup and rake from the dollar store.
There were other items I was picturing in my head,
but couldn't find so I made them!
I painted buildings on both sides of wooden blocks with acrylic paint,
and I laminated royalty free clip art images (building and street sign)
I colored the rice myself and made a mix of red, orange, yellow and white. You can learn how to color our own rice fast and easy at
this previous post
.
The fire hose is a bit of string that I had in the craft area.
The fire safety cards are from an ARBY's restaurant chain kid's meal prize.
(You could print your own from fire safety tips online and laminate them).
My son made a Rainbow Loom bracelet to toss in for good fun since these are so popular right now. Your child would probably love to wear it while playing.
And there you have it! A Fire Prevention Week / Fire Fighter / Fire Safety bin.
You can order or buy one here at my etsy shop.