*This is not a sponsored post. Opinions and content belong to jenny at dapperhouse.
I love activities that you can make for kids. Yes, you can go out and purchase a dinosaur playset for your child, but if you want to customize it, you don't want plastic and you want to save money, you can just Do It Yourself.  This is not a super easy project and it does get a bit messy with the paper mache part, but it is a lot of fun to make together with your kids, or to surprise them with after you have done the work. Here is how you can make your own dinosaur volcano playset for kids.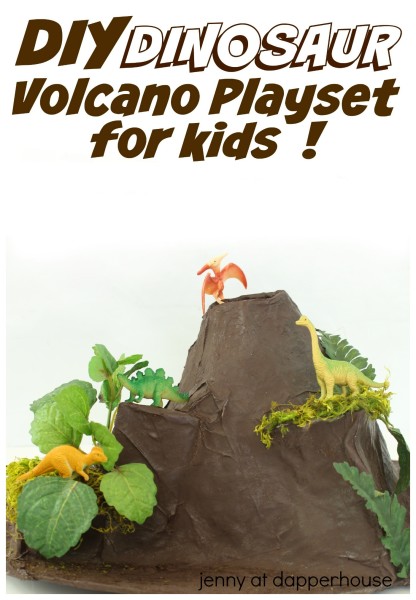 Supplies:
lots of cardboard that is thin enough to manipulate but strong enough to hold up (cereal boxes work well)
scissors
strong tape
glue gun and appropriate glue sticks
newspaper (or similar paper) torn into strips approx 3 inches wide
flour and water to make paper mache
brown paint
moss and silk pants
dinosaur toys
How to Make the Playset
Start by ripping, folding and manipulating your cardboard into the shape that you want. Use tape to hold the cardboard in place as you go. Remember to leave a hole in the top center so that it is a volcano!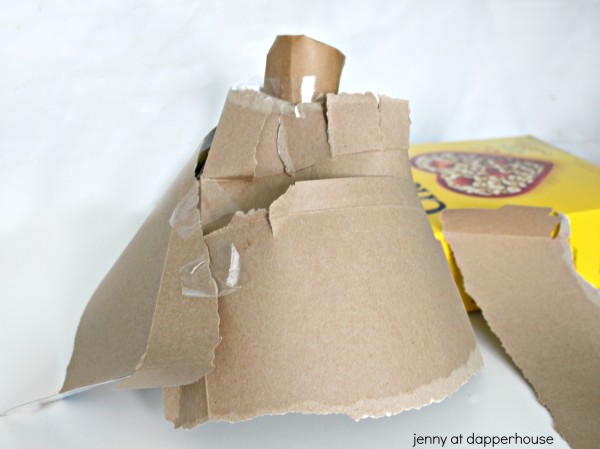 Once you get a basic structure in place, you will be able to start the paper mache. I did not take pics of the paper mache because it was super messy and we did it at night in poor lighting, but here are some tips!
Paper Mache Tips for this playset:
Use the paper mache strips to cover holes in the playset.
You will want to let it dry (at least 24 hours)  in between coats and do at least 2 – 3 coats to add durability and strength.
I added small rectangles after the first two layers of paper mache because it held easier than putting it on initially. I used a glue gun to attach the new cardboard to the dry paper mache volcano and covered that with new layers of paper mache.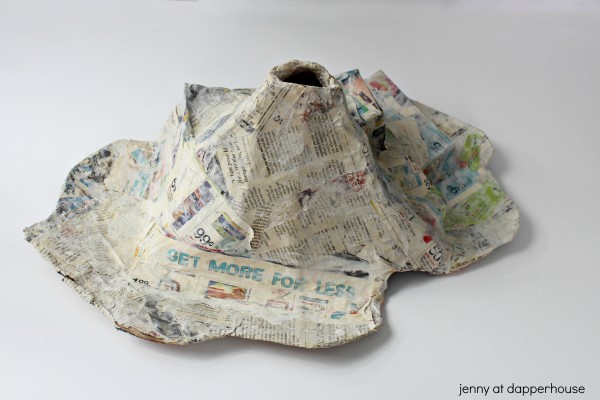 Once your playset is completely done and dry you are ready to paint! You can do a fast coat or two with a can of brown spray paint, or you can give the kids some brushes and brown craft paint and get them involved in the fun!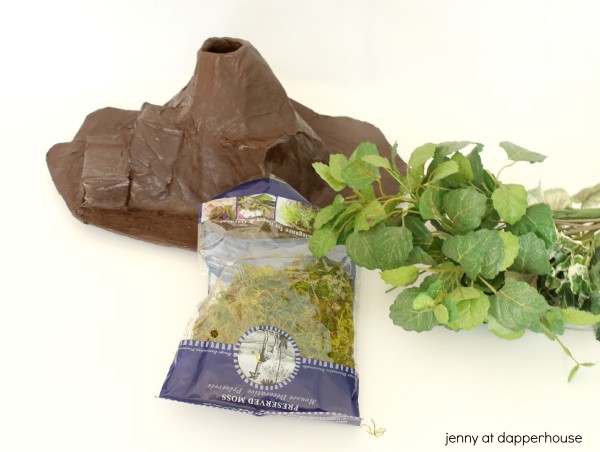 Once the paint has dried completely, use the glue gun to add moss and silk plants to the volcano.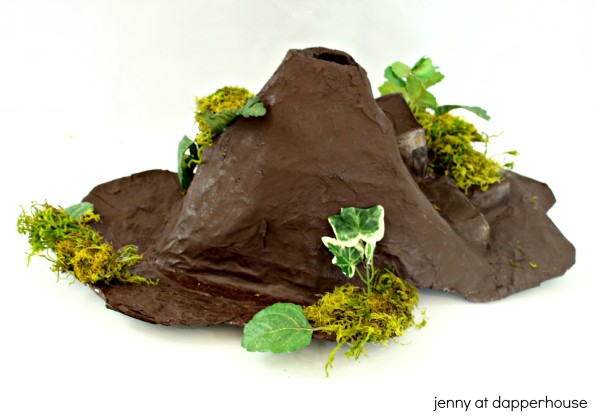 It is ready to go!
If you want to activate the volcano, you can but a bottle or glass inside the volcano filled with vinegar and red or orange food coloring. Then add baking soda for the full effect!
TIP: The container must be the height of the opening of the volcano for the "lava" to be able to flow down the sides of the volcano.
*Use caution with children and follow safety rules!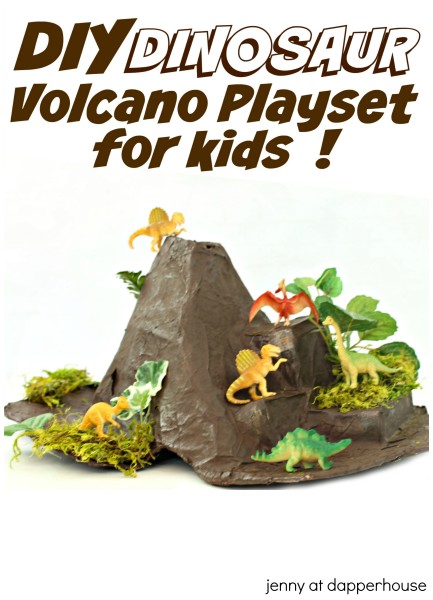 HAVE FUN!!