Kids love making things for others and people love getting handmade gifts from the children they love.  This cute pop up birthday card is a cool improvement to a typical one and kids will love the excitement of making it and watching the recipient open it. Just as wonderful is the time you will get with your child to be creative, learn and have fun.
How to Make a Birthday Pop Up Card
List of supplies:
Cardstock paper.
Craft papers.
Pencil.
Ruler.
Scissors.
Glue.
Markers or pens.
Templates are at the end of this post.
Instructions:
Fold the card stock in half.
Draw the lines on the closed side of the card using the "Template 3 Card Template".
Cut along the red lines and make a horizontal fold according to the green line on the card.
Fold the cut-out part inside the card and make the second cut similar to the first.
Fold this cut part inside as well.
Cut the third paper and fold it inside the card.
Open up your card.
Color the letters using markers or pens.
Cut out the pieces for the cake and the frosting and glue the frosting and sprinkles on the cake.
Cut out the candles and glue the flames.
Gather all the pieces to make the cake,
Glue the candles and smaller cake pieces on the top pop up socket.
Glue the rest of the cake pieces on the second and third pop up sockets.
Cut out the gift boxes, ribbons and balloons.
Glue the ribbons on the boxes and the gift boxes on the card.
Glue the balloons on the card.
TIPS:
1. Try drawing the decorative elements yourself rather than use the template.
2. Cut paper confetti or use purchased confetti and put it inside the card.
Click this for a video on how to make an envelope.
Pin This . . .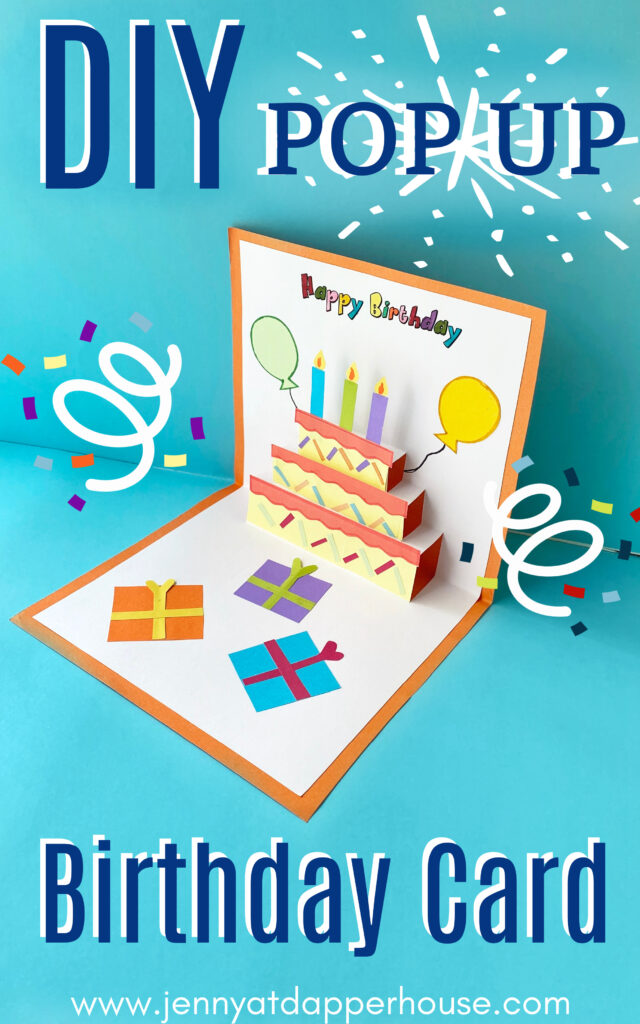 Templates: 
Remember to size the template to the size card your child is making.