Your small living room may have felt cozy when you first moved into your home, but it rapidly became cramped and a source of anxiety when kids come into the picture. Entertaining guests just complicates matters, and soon you're avoiding your living room altogether and letting it spiral out of control. To make matters worse, those McMansions are still popular and making your home seem even smaller. According to a poll from Trulia, most Americans aren't satisfied with their current home size, and only 32 percent would choose a home the same size as where they're currently living.
Instead of waiting until you're able to upgrade your home, you can maximize your small living room space with a few organization and design tricks to create more space where there seems to be none. Here's how to get started.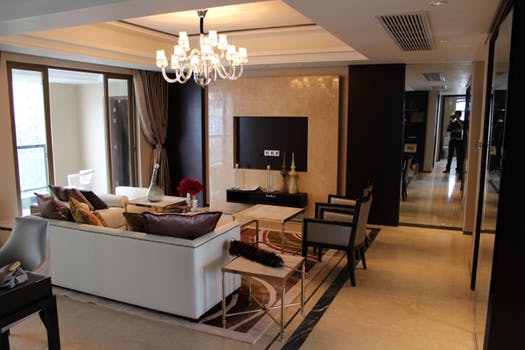 Maximize your entertainment space
Whether you have small kids or just want to simplify the room, getting your media space organized is key to maximizing your small living room. Mount a TV above your fireplace and call it a day, or get innovative and really maximize your entertainment space in style. If you've always wanted a fireplace but can't afford to lose the space, combine the look of an electric fireplace with a TV stand. The fireplace sits perfectly inside the TV stand for eye-catching coziness and offers a place to put your TV.
Get your stuff off the floor
Even a few toys or odds and ends on the floor makes a tiny living room look like a hurricane swept through. But putting your stuff on top of tables and in drawers isn't enough to keep it all tucked away on off the floor. Maximize your small space by using floating shelves to store books, keepsakes and small toys. An ottoman that doubles as a toy trunk is another (stylish!) way to stow away items that always seems to make their way into the living room, like blankets, stuffed animals, and books and magazines.
Create the illusion of more space
You may not be able to knock out a new wall in your living room or expand it, but you can trick your eye into thinking you have more space than you really do. Start by lightening up your wall paint and window treatments to open up your room. Next, create an expansive look with strategically placed mirrors across from your windows. You'll end up with more light in your living area, and create the illusion you just had brand new windows installed.
Innovate a game area
If you have small children, the living room is likely their homework area, screen time spot and playground all at once. You could let your living room turn into kid mayhem or get innovative and create a game area. A board game table is one way to give your kids a spot to play ping pong or pool that transforms into a dining table with the use of a table topper. Tucking baskets of toys underneath coffee tables and stashing the Playdoh and LEGOS on designated shelves can also keep the fun stuff handy without overwhelming your room.
Choose multi-purpose furniture
Your living room furniture will likely take up the most space, so make sure it's multi-functional. Those storage ottomans are one place to start, but you could also transform other pieces. Start with a coffee table with multiple drawers, an area to tuck baskets underneath or a topper that comes off and reveals even more storage. A rolling bar cart serves as either a cocktail area for the grown-ups or a spot to store the kids' games and toys to roll into a spare closet once the kids go to bed.
However you decide to transform your small living room space, remember that you're not confined to its walls. You can play around with color, furniture, storage and style to create the illusion of more space. Start by getting your entertaining area and furniture right and expand as you go. Soon that tiny living room will be your favorite room in the house.