May 20th was National Rescue Dog Day. In 2013 we adopted an adult chihuahua named Reese. He had spent many long months in a no kill shelter after being rescued from an abusive home.  You can read more about our rescue adoption of our dog Reese here and here.
He is the mascot in our home and our little love. In our foyer there is a painting of him on canvas inside the door and a large photograph of him in our front hallway. I of course post many photos of him on my social media.
He just went for his physical at the vet and she said that even though he is estimated at 15 years old, he is in great health! When Reese goes to the doctor we have to put a muzzle on him so he doesn't bite. We also wrap him in a towel or sheets so that it catches his shedding hair. He gets so nervous that the stress hormones cause him to lose a ton of hair all at once.
His only real health concern at this point is that he is experiencing issues from bad teeth. He has an appointment to get some pulled and the others cleaned. Until then we will give him medication with anti-inflammatory properties to ease the pain.
Here is him after his check up. As you can see, he is excited to be back in his car and ready to go on a drive.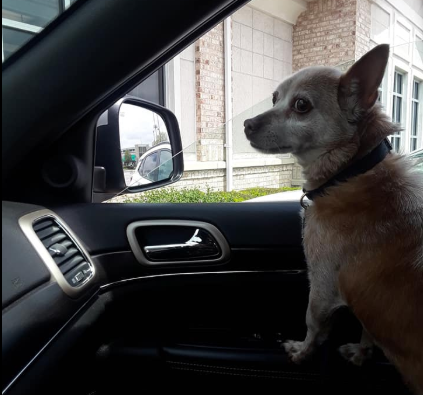 We love or little Reese.