At last, the long, hot summer days have finally arrived, and you can look forward to enjoying the opportunity to get outdoors and make the most of the lovely weather. Now it's here, summer will all too quickly be over, so don't delay your outside plans or you'll miss the boat! One of the joys of summer is eating outside, whether that's going for a picnic, eating your meals on the patio, or having a good old barbecue. It's also a great time for inviting friends and family around for a get together, so dust off your barbecue forks and start planning your summer bash.
How are your barbecue essentials looking?
After a winter in storage, you need to check that everything is working ok and is still sound. Charcoal barbecues will probably just need a good clean up, but electric or gas models will need a bit of a service. If you aren't an expert in these devices, get them down to a local service center for some maintenance. You will also need to check your fuel supplies, be they wood, coal, charcoal or gas, to ensure you have enough for your party. Dig out all your tools too, like corn on the cob forks, skewers, and tongs; make sure you have enough and give them a clean too. Then you need to stock up on plastic plates and glasses – preferably reusable rather than disposable, if you want to be as green as possible – napkins, condiments, and cutlery.
What to cook
No-one gets bored of traditional burgers and sausages, but it's fun to try a few new things as well. You could go for different meats, say bison or something even more exotic like kangaroo or crocodile. Try some simple ideas like slow-roasting onions in tinfoil for a lovely sweet, gooey topping for your burgers. There are plenty of websites full of good ideas for recipes and different foods to try, so have a browse around and see what takes your fancy. Don't forget too, that the concept of the barbecue has expanded somewhat, so for example you can now get outdoor ovens for cooking delicious home-made pizzas. Or how about trying a smoker, which you can use to get that wonderful smoky flavor into your food. If you're not familiar with this style of cooking or equipment, find out more at Hvacify.com. Don't forget your veggie friends either. There are some fantastic vegetarian burgers and sausages available, and many different recipes for delicious alternatives to meat that are suitable for the barbecue. You also want to get a variety of salads, not just plain old lettuce but some more exotic mixed salads and extras like cous cous or rice to add a special touch.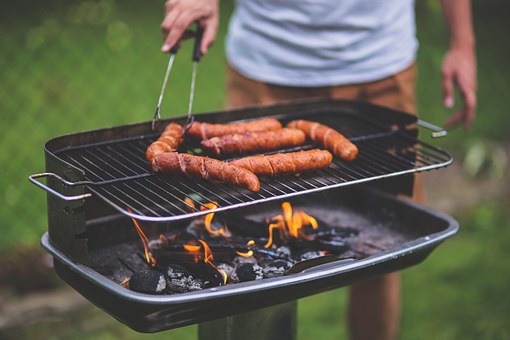 A barbecue is a wonderful way to chill out in your back yard, enjoying the company of family and friends and not having to do too much in the way of cooking or presentation. What better way to spend a warm summer's night than sharing good food with the people closest to you.