I make a passive income when readers purchase products from my website. Thank you!
DIY gifts are really meaningful, as long as they are something that the person would actually use or enjoy. Getting a gift that is going to go up on a shelf in the closet isn't worth the money or time it will take to make. I've compiled a list of Do-it-yourself gifts for adults that are actually worthy of giving! There are many choices in this list so you are certain to find something for everyone.
1. Delineate Your Dwelling – Striped Gold Foil Wooden Bowl
Gold foil is amazing. You can easily add it to so many things, creating something beautiful and classy with ease. I love the way it looks against the darkness of this beautiful wooden bowl. I can think of several people who need a bowl like this in their lives!
2. I Heart Naptime – DIY Planter Fairy Garden
If someone you love is into plants, this enchanting planter fairy garden makes an extra special gift. Fill it with lovely flowering greenery, add some fairy friends, and you've got a special and unique present for that special and unique plant lover in your life!
3. A Beautiful Mess – Leather Mason Jar Sleeve
If you like working with leather – or were looking for an opportunity to learn – this DIY leather mason jar sleeve is the perfect project for you. Men are notoriously difficult to make presents for, but this sleeve not only makes a handy cup out of any mason jar, it's wonderfully masculine!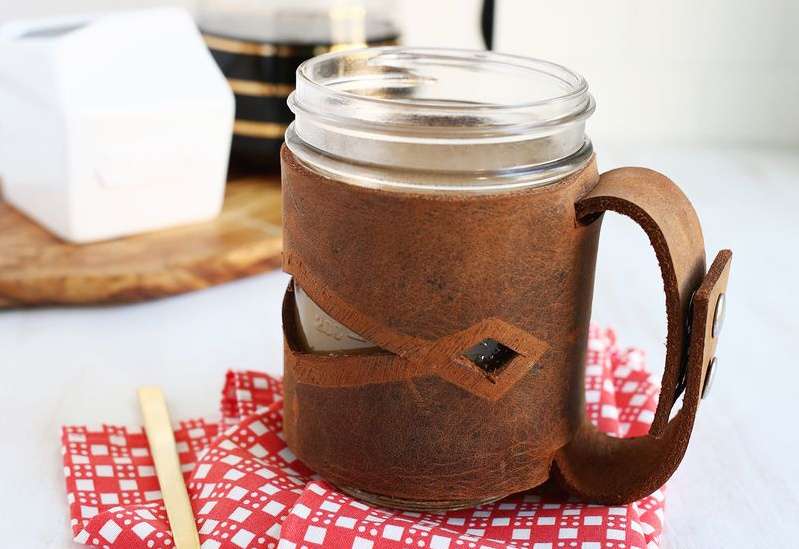 4. Crazy Little Projects – How to Make a Beaded Bracelet
If you've ever spent any time in the beads and jewelry making section of your favorite craft store, you know how inspiring it can be. It can also be intimidating, if you've never made a project like that. These step by step instructions can help you make an amazing bracelet for someone you love!
5. Craftaholics Anonymous – DIY Mosaic Coasters
 I love how simple and creative these mosaic coasters are. Make a nice big flat circle of polymer clay, cut up some pretty patterned paper for the mosaic, and finish off with Mod Podge. Easy and fun, this project can be a great gift for any beverage lover in your life, especially if made in their favorite colors!
6. First Home Love Life – Make Your Own Lavender Soap
There is something so wonderful about home made soap, and lavender is one of the best things ever! These little soaps are so lovely and special, I want to give a set to almost everyone on my Christmas list. If you have been looking for an opportunity to learn how to make soap, here you go!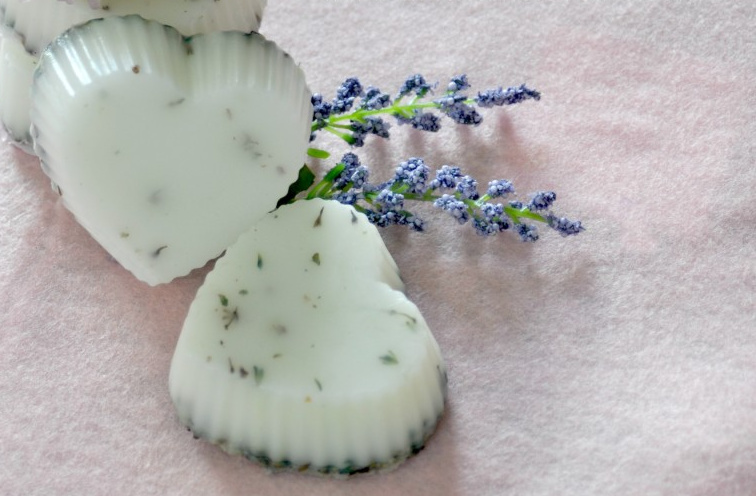 7. This Mama Loves – White Chocolate Lotion Bars
When I look at these white chocolate lotion bars, I don't quite know if I should use them on my skin, or eat them. Just the name sounds luxurious and mouth watering. With ingredients like beeswax, cocoa butter, and coconut oil, you know that these bars will be wonderous for any person lucky enough to receive them as a gift!
8. Cupcakes and Cashmere – Faux Earthenware DIY
If you have plant lovers in your life, this is another DIY project that is just perfect for them. All you need is a little paint and time. You can take regular, inexpensive terracotta pots and turn them into something beautiful. I'm sure that they would look amazing in every color, if the person you are gifting isn't a fan of white.
9. Mod Podge Rocks Blog – Vintage Comic Books Pencil Cup for Dad
This project is so easy and fun, that even the kids can help. I like it because it is creative and so versatile that you can use the idea for anyone on your Christmas list – even people who are notoriously hard to shop for. Choose their favorite colors and interests and you can make them something amazing!
10. First Home Love Life – DIY Gold Faux Bois Vases
I love glass vases. But sometimes, you want something just a bit more special, especially if you are gifting it to someone. Who knew that a little puffy paint and spray paint could make something so beautiful and classy!
11. A Bird and a Bean – Lavender Oatmeal Milk Bath Salts
Sometimes, the classiest thing you can gift to someone is the gift of comfort. These lavender oatmeal milk bath salts are made up of so many wonderful things – Epsom salt, corn starch, oatmeal, tea leaves, and lavender oil. Your person will adore you as they soak in a nice hot bath, while enjoying the comfort of your thoughtfulness!
12. Delineate Your Dwelling – Easy DIY Watercolor Basket
Do you know any basket people? I do – and admit to being a bit of one myself! Baskets are so lovely and simple, and handy for so many reasons. This watercolor basket idea takes it to the next level, adding some classy artwork to a plain white basket and making it extra special in the process!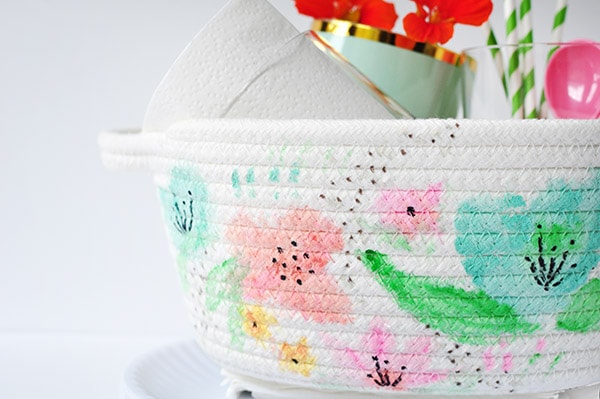 13. Frugal Mom Eh – DIY Thrifty & Chic Sunburst Mirror
When you look at this pretty golden mirror, you might be shocked to find out that it was made with thumb tacks – lots and lots of thumb tacks! Money can be tight, especially around Christmas. But this beautiful sunburst mirror is positive proof that you don't need a lot of money to create a classy gift for someone you love!
14. A Pumpkin and a Princess – DIY Beeswax Candles
For your favorite candle lover on your Christmas list, why not make them a set of DIY beeswax candles? When I read how simple these are to make, I was amazed. There seems to be a certain added elegance with beeswax candles. Combine a set with some nice upcycled candle holders for a gift even hard-to-shop-for people can appreciate!
15. A Beautiful Mess – Marbled Clay Ring Dish
These marbled clay ring dishes are so beautiful and classy, it's hard to believe they are a simple project made with polymer clay. Pick some fabulous colors that look great together and create your beautiful marble design. The edges are painted with gold, making these inexpensive trinkets the perfect place for your loved one to place their jewelry and other small items!
16. Crafts Unleashed – DIY Gift For Men: Simple Leather Keychain
Even if you aren't accustomed to working with leather, the quick and simple leather keychain project is very doable. It's a great gift for the hard-to-shop for man who has everything. He undoubtedly has a set of keys that could benefit from a lovely leather gift you made with your own hands!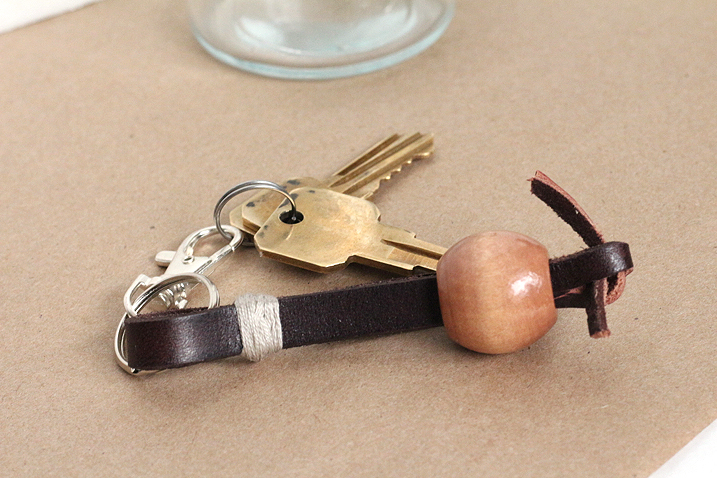 17. Crafts by Amanda – Pretty Painted Mason Jar Drinking Glasses
Even if you've never canned in your life, mason jars are wonderful. People love to use them in so many ways, including as drinking glasses. But these painted mason jars take that idea to the next level, adding a touch of beauty and class that cannot be denied. Someone on your Christmas list will just love these!
18. DoodleCraft Blog – Paint-A-Pillow
Why give someone an ordinary pillow when you can PAINT them a pillow? I love this project so much! Everyone can use a pretty pillow, and the flexibility of color and design here is absolutely limitless. Sometimes, the best presents are the simplest, and a soft pillow is a welcome addition to any room!
19. Mod Podge Rocks Blog – Decorate a Tray with Adult Coloring Pages
A nice wooden tray is a handy item to have around the house. Serving up snacks or a meal on a wooden tray adds a touch of class that cannot be denied. And when you decorate that tray with beautiful pictures hand-colored by you, it makes a gorgeous, one-of-a-kind gift for someone special in your life. Fill it with goodies for extra fun!
20. Crafts by Amanda – Vintage Crackled Flower Pot
For the plant lover in your life – a beautiful vintage crackled flower pot. This simple project looks amazing when finished, and there is no limit to the number of ways you can decorate it. Decoupage some beautiful craft paper onto your pot and finish off with One-Step Crackle. As a bonus, fill the pot with a beautiful plant before gifting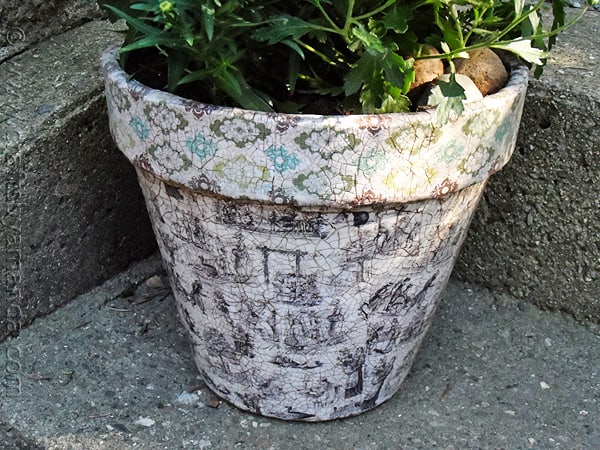 21. Delineate Your Dwelling – Beaded Wall Mirror
This beautiful beaded wall mirror is such a fun and unique gifts. Classy and eclectic, it's a great gift for that special artistic person in your life. This is the kind of project that allows you to use up any extra beads you have around. It's also a great way to repurpose old costume jewelry you'll never wear. This mirror is so fun, you might even want to make one for yourself!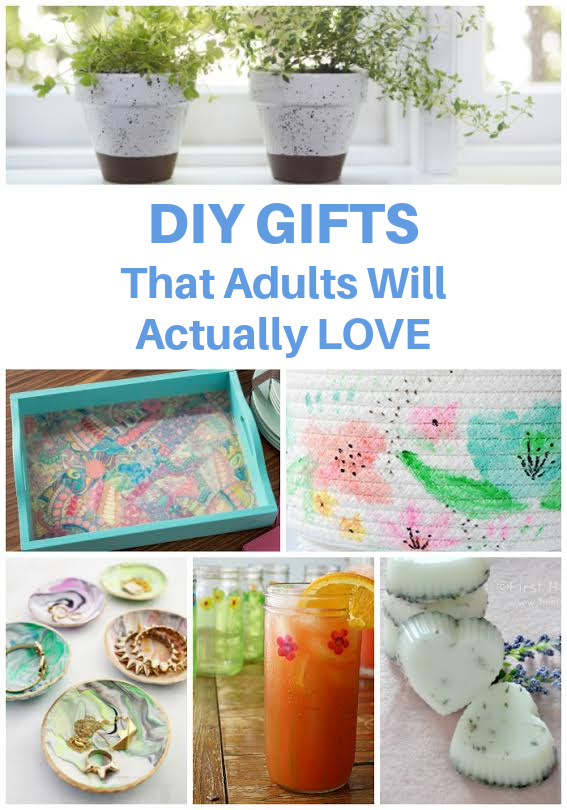 If you need a little more guidance when crafting, try one of these DIY kits from Amazon . . .