Going to college is a great accomplishment as well as rewarding. Make sure you have the proper tools to succeed. Here are 7 benefits of MacBooks for college.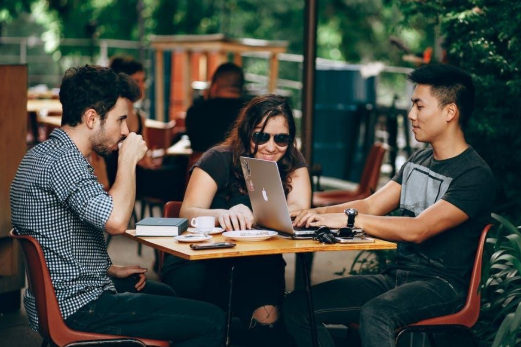 With technology advancing exponentially, most college classes now require all students to have computer access. Having a laptop for completing classwork at home is essential for all students to have these days.
Choosing the right laptop for you can be confusing and frustrating. With so many companies and products out there, you may not know where to start.
But don't worry, because we know exactly what to do. Keep reading to learn about why you should look into getting MacBooks for college.
Battery Life
The battery life of your laptop is one of the most important factors you should take into account when you're making this decision. You don't want to be the one with a cord going across the lecture hall and you definitely don't want to worry about fighting with other students over limited outlets.
You want a dependable laptop that can last the entire day while staying reliable.
MacBooks are known for having an unmatchable battery life. This is true for all kinds of MacBooks, because of the way that Apple makes sure to fully optimize their products.
The seamless design saves energy and affects the system's performance.
Portability
If you're an incoming college student, you may not know just how important weight is for productivity. However, all current college students could tell you that a heavy laptop can ruin your entire semester.
Climbing college campuses with twenty pounds on your back is not a great way to spend your day. You'll eventually stop bringing your laptop to class in order to save your back from breaking.
Not bringing your laptop to class is not an option for several college courses. You'll end up resenting your choice in a laptop if you don't go for a lightweight option.
All MacBooks are lightweight and easily portable. They're also known for a slim and sleek design that slides into pretty much any backpack. 
Reliability
It's important to be sure that you have a laptop that's able to withstand everything you throw at it or rather put into it. No student wants their laptop to break down in the middle of class.
You'll lose everything you worked for. Unless you back up your work every night, we doubt that you'd be okay with having to reset the entire system or get a completely new laptop.
Apple puts money into high-quality parts that are less likely to break down as compared to other laptop providers. MacBooks are composed completely of Apple components, so they are of better quality.
Because of this, MacBooks are less likely to break down when you need them most. 
Performance
Apple is known for having fully optimized systems. The software and hardware in MacBooks are less likely than other brands to have compatibility issues.
With greater compatibility comes greater performance. In fact, Apple computers greatly outperform other laptops.
MacBooks have dedicated graphics cards that are lighter than the clunky processors that are in other laptops. As a student, you won't need these heavy processors anyways.
Any MacBook is able to meet the expectations of your college classes without weighing more than a ton of bricks.
Compatibility
Many people depend on Windows for complete compatibility, because their line of laptops is known for being compatible with several systems.
However, MacBooks are best when it comes to the majority of majors and classes. Apple computers have a built-in program called BootCamp that allows its user to write in Windows, Linux, or MacOS.
Apple laptops are most often used in art courses and computer science courses because of these available operating systems. MacBooks are great for transitioning into your career of choice too.
The ability to work with three different operating systems puts Mac computers above the rest.
Productivity
As a student, productivity with your laptop should be one of your main concerns when choosing the right laptop for you. You should know what laptop works best for your notetaking and studying needs.
As we discussed, MacBooks are more reliable and stable. This means having fewer crashes and other running issues. Avoiding performance problems like these can save you a lot of time and hassle.
MacBooks are also known for contracting fewer viruses than other operating systems because they are less of a target and having a better security system. With an Apple laptop, you won't have to run into any malware issues when you're downloading important files for your classes.
MacBooks are known for having little qualities like this that make using them much easier. For example, you can remove a WiFi network and optimize your Internet use. Use this site to learn how: https://setapp.com/how-to/forget-a-wifi-network-on-mac
Small things like this are huge for Apple. These files that you download also become available on multiple devices if you have other tech platforms that run iOS. This integration is great for students looking to work on anything from anywhere.
Cost
MacBooks are infamous for costing a few pretty pennies. For most college students any Apple computer seems like it would never be an option because of the price.
However, MacBooks actually cost less over time because of Apple's famous optimization that we keep bringing up.
Macs are cheaper because you will buy fewer of them. They won't break down as easily as other brands because they aren't as susceptible as other laptops and they have better products.
The cost of MacBooks shines through the quality that MacBook buyers consistently receive. This cost is also shown through the support that Apple buys get through customer support.
If you want to buy cheaper products that'll last a few months, go for another brand. But if you want quality, look towards Apple.
The Right Decision: MacBooks for College
Trust in MacBooks for college. They are the only brand that consistently shows up for students and supports them in their work.
So, go for it! Buy your MacBook today and show college what you're made of.
To hear more of our suggestions, read the rest of our technology blogs.