Okay moms. We have to help each other out here. With the kids on break from school over the Holiday there is going to be a lot more mess, a lot more noise and a lot more whining! "Mo-om, I'm BORED!" When I hear this I have involuntary physical reactions; my eyes close into little slits, my lips pucker up and my jaw tightens. I have to count down from ten and then start rattling off my secret store of boredom busters! I am going to share some of mine with you. I would LOVE for you to share some of yours with me. My son doesn't go back for two weeks from tomorrow so I need all the help I can get! Here is a fun and easy science experiment that you can do with things you already have in your home – and on the cheap!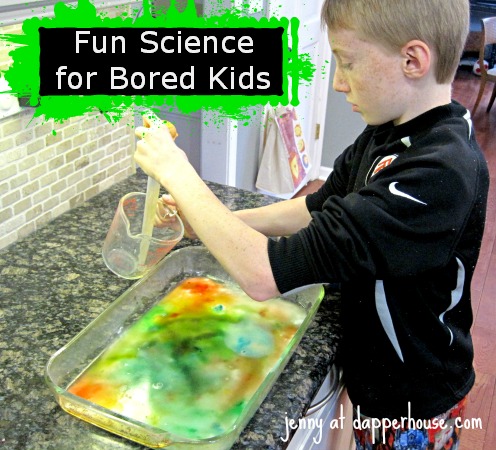 For this tried and true experiment you will need baking soda, vinegar and food coloring. I like to set this up for kids in a wide and shallow baking dish. It works best if you have them use a turkey baster to apply the vinegar.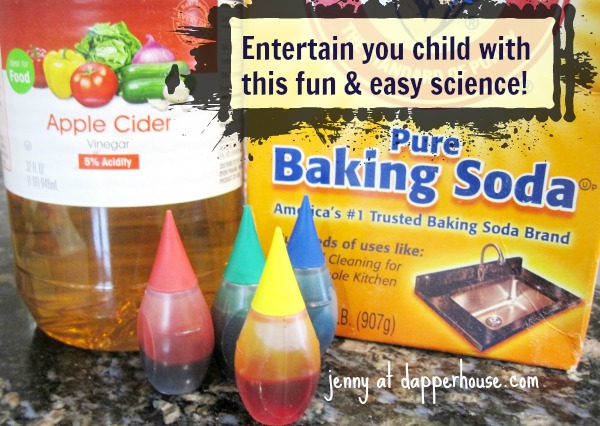 Set up a layer of baking soda in the bottom of your shallow baking pan. Give the child the food coloring and ask them to squeeze drops all over the top.

Then is is time for the science magic! Have your child squeeze the vinegar up into the turkey baster. Then they must carefully squeeze drops of the vinegar onto the drops of color and watch the fun happen when it bubbles up!

They can keep adding vinegar as they want. They can also take a chopstick and move the baking soda around to make new patterns and designs.

Have your child help clean up the mess and they can do it all over again! Have older kids do this first and then have them set this up and guide younger kids along. This will encourage siblings to get along and enjoy each other's company while giving you a bit of time to turn over the laundry and get more coffee. This seems simple, but kids really love to do this over and over.
What do you have planned for when your children are bored over break?
Please leave your great ideas in the comments to share with our friends!
Good Luck Moms.