Top Ways to Update your Kitchen
Kitchens have become one of the most social rooms in the home – it's a cliché that everybody ends up there at parties, but with more people choosing to stay in over the weekend and entertain, it's also the place most dinner parties begin, while you rush to get everything finished. Kitchen design is changing too, to reflect this, so if you're looking to update your cooking area it's the kind of thing you need to keep in mind. Here we've put together a few ways you can give your kitchen that much-needed makeover.
1.) Seating
Unless your kitchen is attached to your dining room, it's unlikely that your family or your guests have somewhere to sit down while you're cooking. You can install a breakfast bar or kitchen island and place some bar chairs around it for a quick social area that doesn't take up much room – when it's not in use, you can simply use it as extra counter space.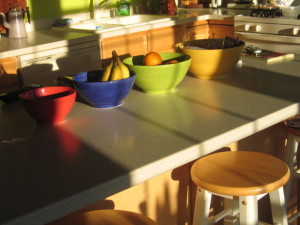 2.) Worktops
Replacing the worktops in your kitchen can make a huge difference, and give the room a far more modern feel. Laminate worktops are a great option if you're on a budget, and they're easy to clean, which will make the process of keeping the kitchen as a nice living space much easier.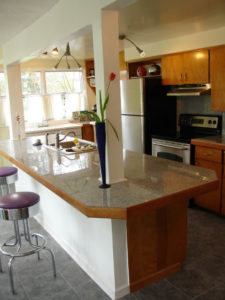 3.) Color
A fresh coat of paint can work wonders for a tired-looking room. Kitchens benefit from lots of light, so go for plenty of whites and creams, with one bold statement wall in a bright color for something to catch the eye. You could even use mosaic tiling in different colors around the work surfaces, creating an attractive design and a functional back splash.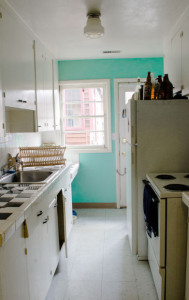 4.) Flooring
Update kitchen floors to something that wouldn't look out of place in the living room or bedroom, such as laminate wood flooring. This re-emphasizes the fact that your kitchen is as much a living area as a work space, and will make it feel far more comfortable than old-fashioned square tiles. It will also open the room out a bit more, making it ideal for smaller kitchens.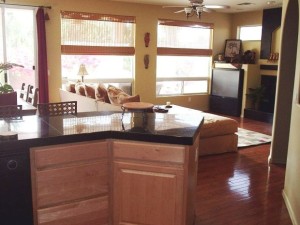 5.) Fabrics
Kitchens seem like the last place to have fabrics, but a touch here and there will just soften your design. Go for a theme – pale and minimal, or bright and colorful.  Find places where you can include some small patches. A rolling fabric blind is a great way to add a little designer touch, and cushions on chairs in a similar fabric tie the room together perfectly.
*Thank you to Jillian Newton for this informative and fun guest post!