Home remodeling projects offer an opportunity to upgrade parts of your home and give it a new look. Whether you're looking to improve the functionality of certain spaces or just want to refresh the design of your home, there are plenty of options.
Here's A List Of 15 Home Remodeling Projects That You Can Consider:
1. Upgrade Your Kitchen Cabinets
Installing new kitchen cabinets is one way to freshen up the look of your kitchen while also improving its functional elements. Look for cabinetry with ample storage space and modern features like pull-out shelves and soft-close drawers.
2. Install New Countertops
Switching out old countertops for something newer can instantly transform the look of your kitchen. Popular choices include granite, quartz, marble, and laminate countertops. In addition, you can also opt for a butcher block countertop if you're looking to add warmth and character.
3. Add a Backsplash
Installing a backsplash in your kitchen is both decorative and practical since it helps protect the walls from splashes and spills. Choose something that complements the other elements of your kitchen for a cohesive look.
4. Go Open-Concept
Removing walls between rooms can open up spaces to create an open-concept floor plan that makes them appear larger than they are. You could combine a living room, dining room, and kitchen into one large space for more flexibility with furniture placement and design options.
5. Update Your Flooring
Replacing old carpets or dingy hardwood with Ottawa Diamond Flooring Hardwood Flooring can drastically improve the look of a home. In addition, you can choose from a variety of colors and textures to create the perfect look. 
6. Renovate Your Bathroom
Redoing your bathroom is one of the more expensive projects on this list, but it's worth it in terms of both aesthetics and functionality. Consider replacing old fixtures like toilets, sinks, and showers for a modern look, or add built-in storage solutions to make the most out of limited space.
7. Add Built-In Furniture
Incorporating custom built-in furniture can help you make full use of an available space by maximizing its storage capacity without taking up too much room. These pieces are also great conversation starters at parties.
8. Create an Outdoor Living Space
Building a deck, patio, or other outdoor living space is one way to transform your yard into a functional area for entertaining and relaxation. You could install furniture like chairs, benches, and tables for that added touch of style.
9. Install New Windows
Window replacement may not be the most glamorous project, but it's necessary if you want to improve insulation and reduce energy costs in the long run. Look for double-paned windows with high efficiency ratings to get the most out of them.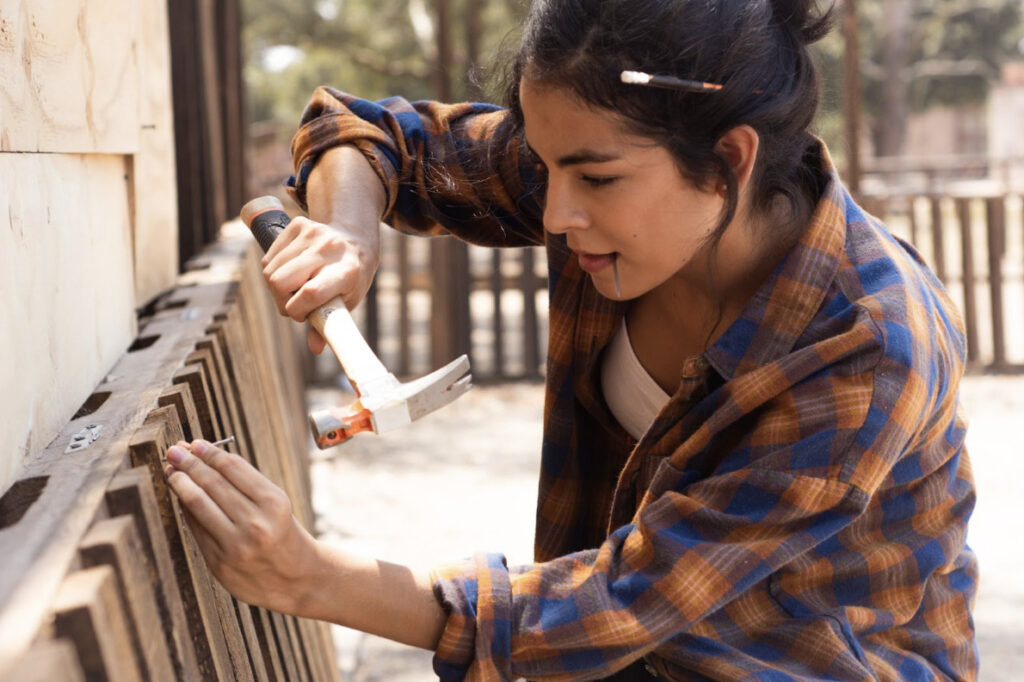 10. Paint Your Walls
A fresh coat of paint can instantly brighten up any room in your home and give it a new look. You can even use different colors to make the space appear larger or smaller, depending on your needs.
11. Add Crown Molding
Installing crown molding is one way to give your walls an elegant and upscale look without spending too much money. It also helps frame the room and add visual interest in the form of different shapes and shadows.
12. Put Up Wallpaper
Wallpaper offers an easy way to bring texture and depth into any room while still offering plenty of design flexibility. Look for something that complements the other elements in your home, such as furniture pieces or artwork, for the best results.
13. Replace Your Doors
Swapping out old doors with new ones can instantly upgrade the look of your home's exterior. Look for materials like steel or fiberglass that are durable, energy-efficient, and secure while also offering a modern aesthetic.
14. Upgrade Your Lighting
Installing new lighting fixtures is one way to add style and functionality to any room in your home. Popular options include recessed lighting and pendant lights, both of which come in a variety of styles to suit any decorating need.
15. Install Awnings
An outdoor awning is an ideal solution for shading parts of your house from direct sunlight while still allowing natural light into rooms. These structures come in various sizes depending on your needs and can be installed above windows or doorways for a stylish look.
Finally,
Regardless of the project, it's important to always plan ahead and work with experienced contractors for best results. With these 15 home remodeling projects in mind, you should have no problem transforming your house into a beautiful and functional space that will make you proud.