*This is not a sponsored post and does contain affiliate links to purchase the products as mentioned on amazon.
Early literacy and learning the alphabet are such fun times in a parent and child's life. The excitement and pride the child feels makes parents beam brighter than the sun! It is so fun to teach little ones the alphabet. It is the foundation for reading and writing so extremely worth while to pay extra attention to with your child from the time they are babies! Using flashcards, toys, books and songs are all ways that you can expose babies to the alphabet. As kids get older, add games and sensory bins to the mix to reinforce the alphabet since children retain much of their knowledge and information through play! Here are some awesome products that will help you to teach your child the alphabet.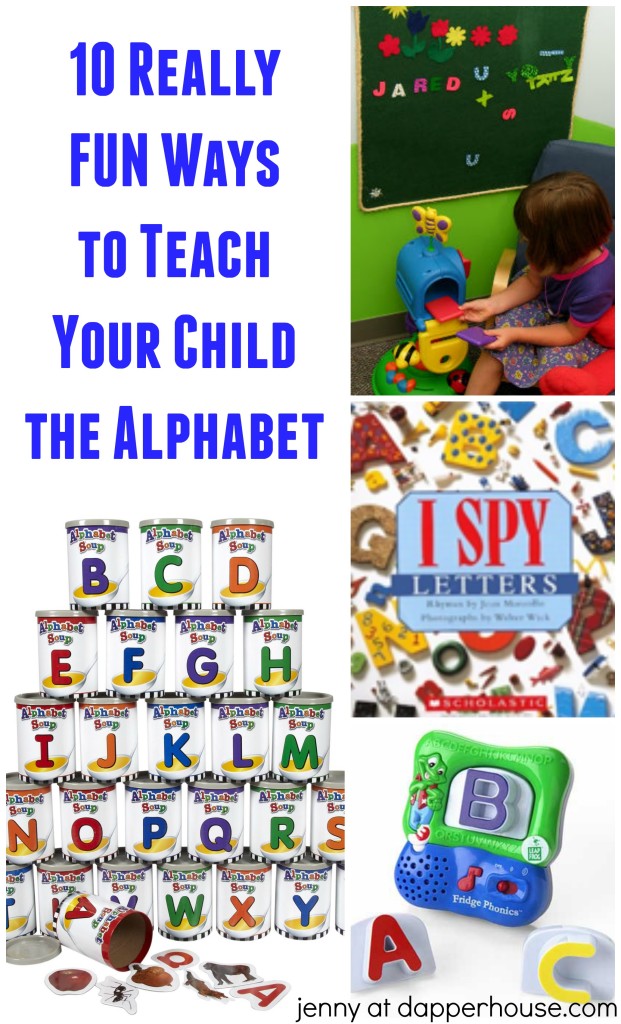 One of my favorite learning tool and toy for kids to learn their Alphabet is the LeapFrog Fridge Phonics Magnetic Alphabet Set. I used this with my own children and many child care kids and it was very effective and entertaining! It held the children's interest for months and months. I totally recommend this one!

These are awesome to use for all sorts of activities! Even something as simple as passing the bag around and having children name the letter name and sound that they pick helps commit them to memory.

I did a LOT of letter activities with stamps, again because the kids LOVE using them. The ability to stamp is important to development and the tactile experience is good to committing them to memory.  You can make very fast and simple matching games with these just by using the stamps yourself on a piece of paper and  having the kids find the match and stamp over or near yours!

Have you heard of this game called Grandma's Trunk? It is super duper fun for kids and great to play on play dates too!

Need some time for your child to work alone without you leading the lesson?
These are self correcting puzzles. To avoid frustration, give your child a few at a time to learn rather than the whole box.

Alphabet Memory Game is a classic for a reason. Another all time favorite that really works.

Alphabet Soup Sorters is one of my favorites because kids truly LOVE this sorting game… they LOVE it!
This is a really cool gift for a child's birthday or holiday!

This book is awesome because it has flaps that your child can lift to trace and learn.
This is one of my favorite books for learning the alphabet, but there are literally dozens of books to read to your child and teach him or her about letters.

Searching throug this book for letters is so fun that you forget it is educational. It not only reinforces the letter you are searching for, but other's that your child may accidentally choose which gives you more opportunities for teaching and learning! When you click this one, you can also look for other's in the series like "Little LEtters", "A to Z", "Phonics" and more!


More Alphabet Toys
alphabet toys
Alphabet Writing Resources
alphabet writing
What are your favorite ways to teach kids their alphabet?