Buying or renting a home is a huge life decision. I took many things into consideration when I was finding my current rental home. I was moving to a new state where I was only vaguely familiar with different areas and cities. I decided to use the LexisNexis Risk Solutions Community Crime Map to make a safer decision about where I should live. Crime mapping helps you get a snapshot of the crime activity in your area so you can make informed decisions about how to stay safe. It absoultely helped me.
Here's my story and how to use the map.
Your Home and Your Hood
It isn't just your house that is important. Check the entire neighborhood and outlying areas. You want to be able to walk your dogs, go for a jog, get gas, grocery shop and get food near where you live. If you have children, it is doubly more important to give them a place safe enough where they can ride bikes, walk to a friend's house and play at local parks.
Every time I found a home that I was interested in, I would put it into the LexisNexis. It was really eye opening to find that areas I percieved as safe were not at all. I feel like this site was absolutely the single most important part of my home search because I otherwise would have had no idea what I was getting into.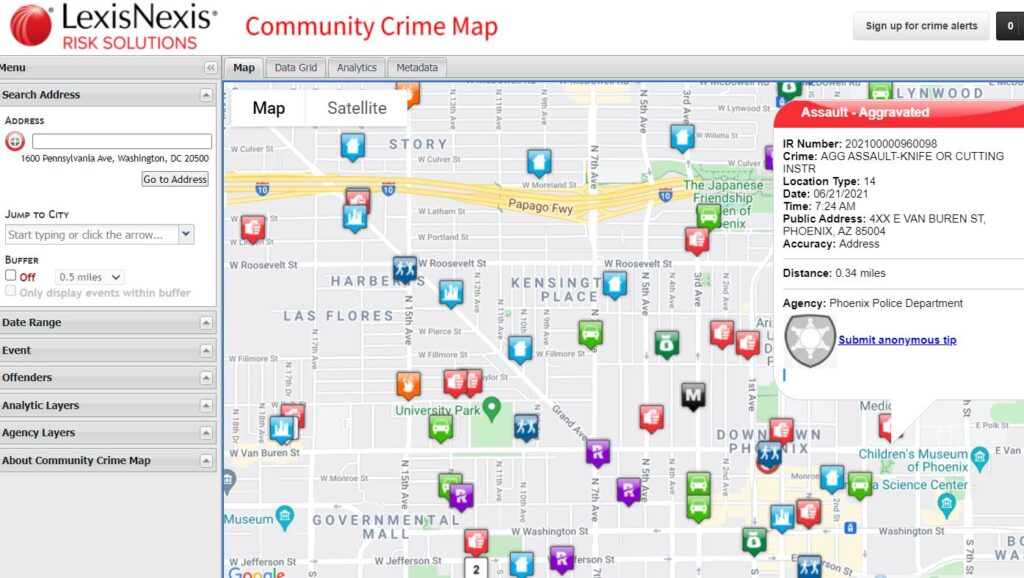 Looks Can Be Deceiving
One house that I looked at for example, had gorgeous upgrades, was on a golf course and was located in a gated community with nice ammenities. Looking at the LexisNexis Crime Map showed me that it was surrounded by a high crime area where home invasions, car jacking and no joke, murders, were happening all around. I was floored (and scared that I almost lived there).
Another home I looked at in a "good" (and expensive I might add) neighborhood was on a street where two rapes had occured within a couple of weeks of each other. When I zoomed in on the area, one rape had happened in the exact house I was looking at!!!! No wonder the tenants moved out. That is horribly sad and I truly hope the victims get justice and support. I am glad I had the opportunity to choose not to live on that block.
Sex Offenders
Speaking of rape, it is seriously important to learn the proximity of sex offenders to the areas where you are looking. On LexisNexis on the left hand side go to the "offender" tab. It will give you names so that you can protect yourself and your children. For names, photos, list of crimes, identifying markings and more go to Family Watchdog to search addresses, zip codes and cities.
Side note: I am outraged that sex offenders get out on parole after serving minimal amounts of their original sentences and continue to go in and out of jail for reoffending. Always do a check on people you encounter whether it be a dating interest for you or an adult that your child spends time with such as a coach or parent at a friend's house. You will be surprised how often you encounter unsafe people.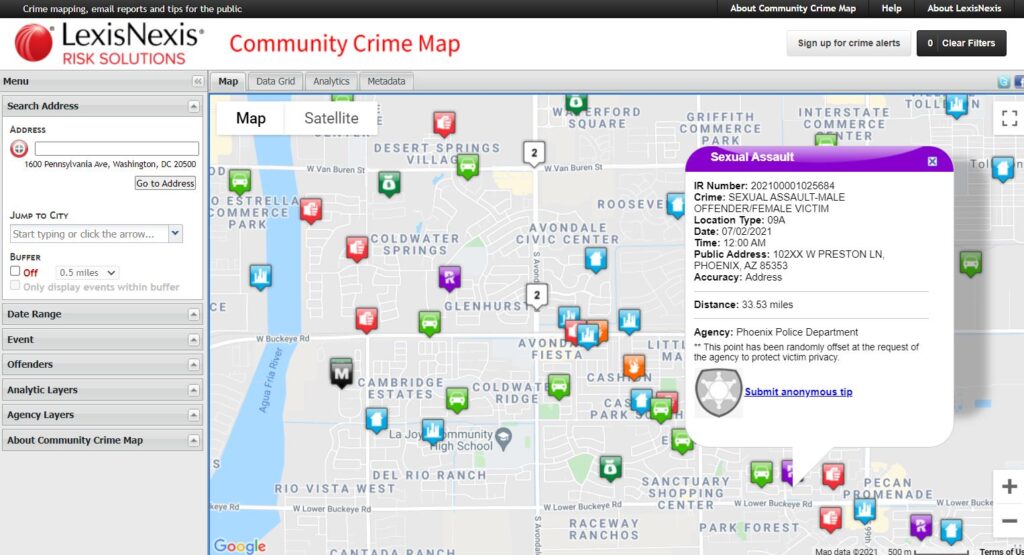 Additional tips on how to use the LexisNexis site:
Statistics by Specific Crimes
On the right hand side click "events" and chose which crimes you want to see on the map. SOme of the crimes you can see include things from vandalism and trespassing to arsom, human trafficking and murder. There are 35 individual crimes in all that you can search for in the areas you are looking to move.
Time Ranges
The crime map defaults to one month (which is crazy when you see how much crime is in certain areas in such a short period of time). But you can change the times under the Date Ranges tab to as little as 3 days to up to a year.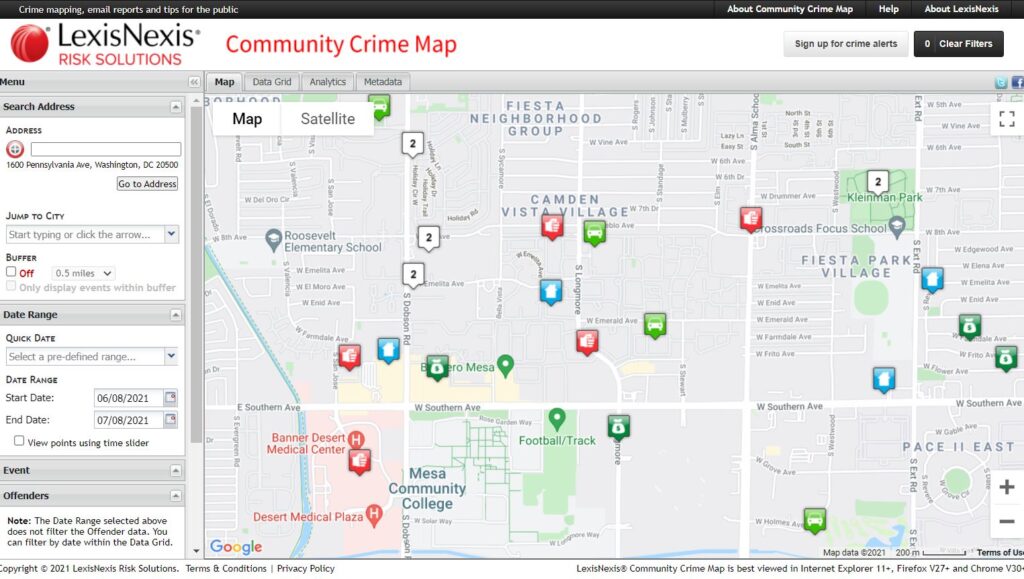 The Wrap Up
I really want you all to be safe. It sucks that we have to deal with dangerous people, but it is amazing that we have such an incredible resource as LexisNexis at our disposal. Before you go, another important feature on the crime map is that you can click on certain crimes and get a number to call to provide tips to law enforcement.  If you ever see or hear anything that you you later find out was significant in a crime, you can help police solve the case to provide justice to victims and get criminals off the streets.
I wish you all the best in finding a home that is safe and that you totally love.
Pin this now so you don't forget it later . . .