The 5 Best Reasons to Start a Blog
Have you been thinking about starting a blog? There are many reasons to do so. I started a blog almost a decade ago just for fun and now it is my full-time job! I have learned SO MANY things over this time and seen a lot of changes. One thing that has not changed is that people love to read blogs for information and entertainment. If you are thinking about starting a blog I have a series sharing my advice about all things blogging that you can use as a resource. If you have been on the fence about blogging this article will help you decide if and why you should begin.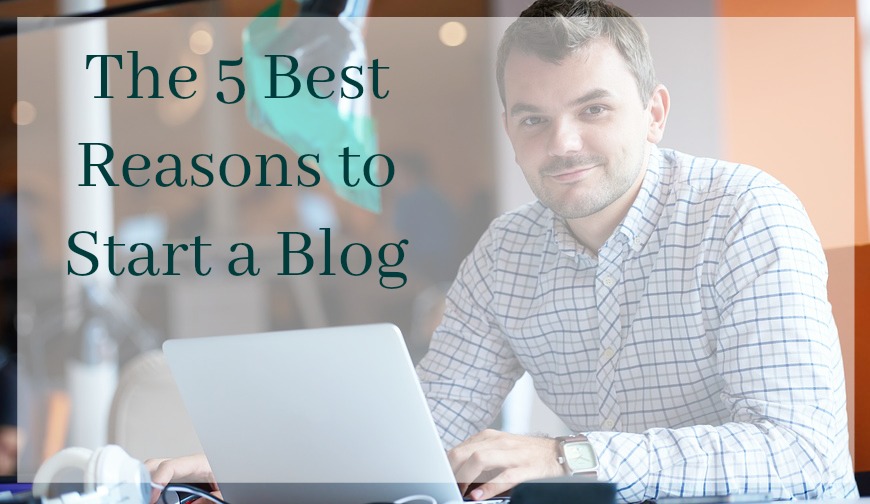 Educate and support others.

Whatever you have knowledge in whether it is astrophysics or reptiles as pets, you have knowledge that other people want or need to know and you can help them by starting a blog. I educate others about the things I am learning in my life because we all need support and knowledge to successfully navigate life.

Establish yourself as an expert.

Again, take whatever knowledge you have and start creating blog posts about that subject. You can use these articles to establish your credibility within your industry or within a niche group where people will come to you for advice. You can also use a blog on a resume to show yourself and your expertise. I have a Master's degree in elementary education a decade of experience educating infants through junior high aged children and I am a mom of 26 years. I consider myself an expert at many things that I post about on my blog.

Make a passive Income.

When you establish yourself as an expert you can recommend products and services that you personally and professionally advocate. Monetizing incentives are offered by a lot of companies either directly or by third parties. Find where and how you can be an affiliate within your niche. Whenever I find something that I feel strongly about whether it be food, fashion or family fun, I make sure to offer it up to readers so that they can enjoy it as well.

Have a creative outlet.

When I started my blog it was purely for having fun and sharing my creative projects with others. It was something that I did as a hobby, on the side, when I might have some "me time" while being busy giving myself to being a wife, mother, income provider, etc. There is something very satisfying about having a place to share your talents and interests.

Make a difference.

Do you have a charity or project that you are passionate about and want another way to help? A blog is a perfect way to reach people who may want to learn more about your cause and perhaps get motivated to join you. On my blog I speak about being a living kidney donor and about my husband being a kidney recipient. These articles serve to educate readers on the processes involved so they can get through their own similar situations or so that they might be moved to help someone else dealing with kidney disease.
I use HostGator as my web host and I recommend them. I have not had service issues with them. I have used their reps for questions and had awesome experiences with their people. They are very well priced (especially for something that never gives me an issue). They send emails periodically with updates and info that help me be a better blogger!
If you start your blog with HostGator you can get a good percentage off the regular price. (Go for it!!)
If you have any questions for me please ask them in the comment section and I will answer them for you. If you have anything to add that would be of value to readers who are thinking about starting a blog you can leave that as well.
Pin this to your Blogging Board. . .