Must be 18+ or older to participate in the mainland US where legal. Jenny at dapperhouse is not responsible for prize fulfillment. Thank you to our sponsor eartheasy.com. I received the two products listed below for the purpose of doing a review for this company. My opinions and thoughts are my own and not swayed or paid through product or other compensation.
Welcome to the 2014 Relish Reusable Giveaway Hop hosted by Measuring Flower and Slightly Steady! I have teamed up with our hosts and a bunch of other amazing bloggers to bring you a variety of eco-friendly, reusable prizes each worth at least $50! So after you enter my giveaway below, be sure to "hop" on to the next blog to enter their giveaway, as well. You can find a list with links to all the participating blogs towards the bottom of this post.
Also, don't forget to check out the $300 gift card grand prize giveaway hosted by MightyNest!
It's spring, a time for new beginnings and a fresh point of view. And MightyNest is bursting with new ideas for mighty living: bike to school, thank a teacher, green your spring cleaning routine…these are just some of the simple but mighty ideas they'll be sending your way this month from MightyNest and their favorite bloggers.
And any pledges or actions you take will earn points for your school in the Get Fresh Challenge. The school earning the most impact points before May 31st will win $1,000. Another $3,000 in prizing will be divided between nine additional schools. See our FAQ for complete details.
MightyNest for Schools is a fundraising program that is right in line with the your mission: helping you pack fresh lunches, waste less, and get your kids excited about eating healthy food. What's unique about MightyNest for Schools is that they encourage healthy living at your school alongside raising funds. The program engages your school community in healthy, mindful living, with information, challenges, and giveaways. Plus, when school supporters make purchases (like safe, durable, eco-friendly lunch bags, reusable containers, and water bottles–all things you need for packing fresh, healthy lunches from home anyway) on MightyNest, their school earns 15% of the sales!
Jenny at dapperhouse  is proud to be sponsored by eartheasy.com. They are a family based small business that has all our Solutions for sustainable lining. I shop them because their products are always high quality and their prices are always low. You are able to win these two fun products below.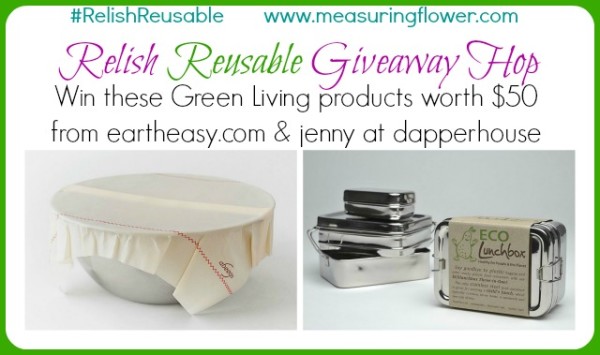 The abeego original food storage wrap is useful because it replaces plastic cling wrap. The size that I have (and that you can win) are called "Giant Flats" 20″ x 13″ and fit extra long rectangular pans. They also fit over large bowls filled with rising bread dough, salad and more! You just press it down at room temperature around the edges of your item. The Abeego cloths stiffen a bit when cool, holding the shape you created. Air resistant beeswax coating keeps food fresh and is easy to rinse clean for reuse.  Made from beezwax, tree resin, jojoba oil hemp and cotton.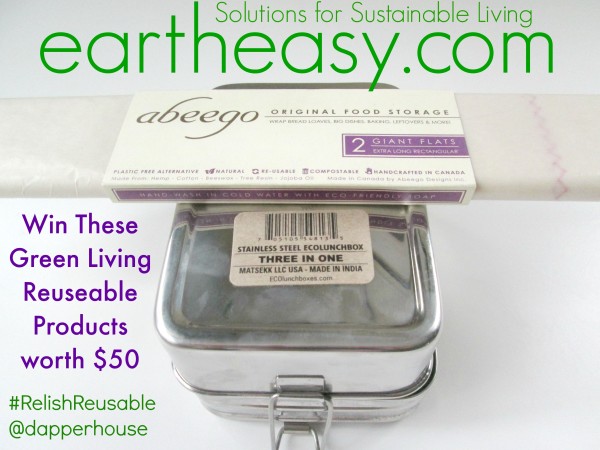 You can also win this ECOlunchbox with 3 in one container design and made of stainless steel. This lunchbox is made for bigger kids or adults as it can be difficult for little hands to open and close. This lunchbox is not for wet foods either as it does leak, but perfect for any dry snacks and lunch foods that you want to carry without using plastic containers. I use it for celery sticks, nuts and a sandwich on whole wheat bread, for example. Perfect!! Order yours or win one today 🙂
a Rafflecopter giveaway

Please visit the other blogs in this HOP for the opportunity to win more amazing prizes!
This event brought to you by Measuring Flower Events.