Did you know that only 4% of government cancer funding is directed towards pediatric cancer, and childhood cancer is the number one cause of death by disease in children? This means that donations are critical in impacting  cancer care and research funding. I am spreading the word about spending a piece your our holiday budgets and giving to Tackle Kids Cancer. More that a gift purchased at a store, these kids need science to advance and find a cure. Tackle Kids Cancer is working to end pediatric cancer. Give back this holiday season by donating a bit of your  budget to a worthy cause.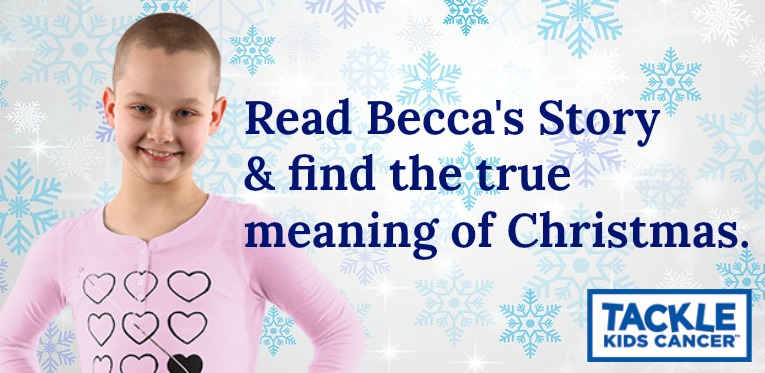 [tweetthis]#ad This is how to feel the real meaning of Christmas this year. https://ooh.li/468de52 #tacklekidscancer #morethan4 @TackleKidsCancr[/tweetthis]
This is Becca's story:
Rebecca, known affectionately as "Becca Boo" by her friends and family, is a twin and a lover of soccer, swimming and gymnastics. Just before her seventh birthday, Becca began feeling what her family thought were typical "growing pains." The pain in her hip when she played with her hula hoop, or after an intense game of soccer, was anything but typical.
Becca would continue to have pains until one day it became so severe that she couldn't get out of bed. She was diagnosed with acute lymphoblastic leukemia.
Becca began treatment at the Children's Cancer Institute immediately. Although Becca has a long road ahead, she does not let her diagnosis define her. "Other children may look at her because she doesn't have hair, but Becca doesn't even notice," said Becca's mother, Sherry.
When it comes to cancer, Becca wants to help kids just like her. Becca is helping fundraise for Tackle Kids Cancer by collecting pennies via her Facebook page "Allergic to Cancer" and she has already raised more than $2,400. Becca's mom, Sherry, credits the doctors, nurses and staff with Becca's positivity. "Everyone is welcoming and amazing in caring for Becca. I cannot say enough."
Becca is able to get care and support through the organization called "Tackle Kids Cancer".
By donating a portion of your holiday budget this year you will find the true feeling of Christmas through generosity and kindness.