Does your dogs inhale his/her food? Mine sure can. Reese the old man Chihuahua can eat so fast that he chokes. Fast eating can also lead to a serious bloating issues. The extra air expands their stomach but then the food expands as well which causes a belly ache. Not to mention that when dogs gulp down their food, they feel like they didn't get enough to eat so they are not satisfied with their meals.
In search of a way to slow down feeding for Reese, I found this cool looking feeder/toy. It is interactive to keep dogs interested as they problem solve how to get the food. (They have to rotate it with their nose or paws.) It also has a maze tray so when the food does fall, they take their time eating.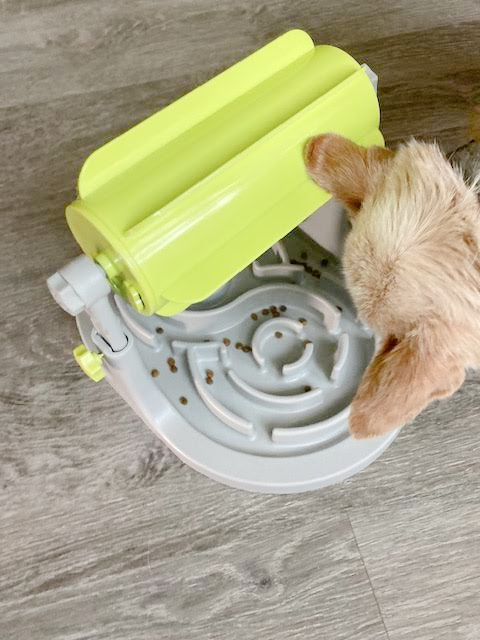 This dog food feeder has two different sized holes for dispensing small puppy sized kibble and large sized bites. I put tape over the large holes because too much food spills out when using small food. This feeder does not come with a way to seal the larger holes. I see it as a bit of a design flaw, but clear tape works well to make it work.
Reese will use his nose and paws to rotate the green tube so that food falls into the tray. Then he moves his body and head around while using his tongue to eat. It can take up to 20 minutes for Reese to finish his food. This solution has eliminated the choking and discomfort.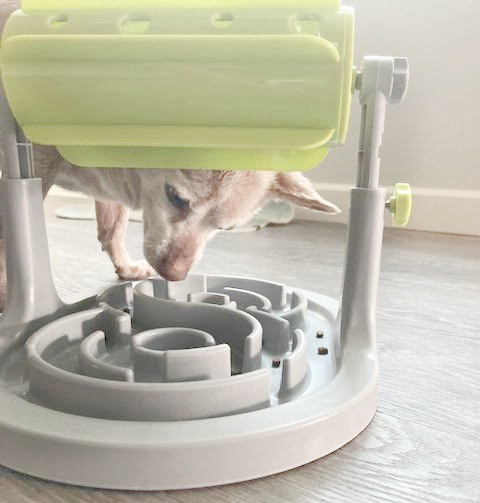 The feeder is also adjustable so you can raise and lower it to fit your dog's height. Oh yeah, and cats can use it too!
So thanks to this cool invention, my mission to help Reese is accomplished. Plus, he thinks it is so much fun!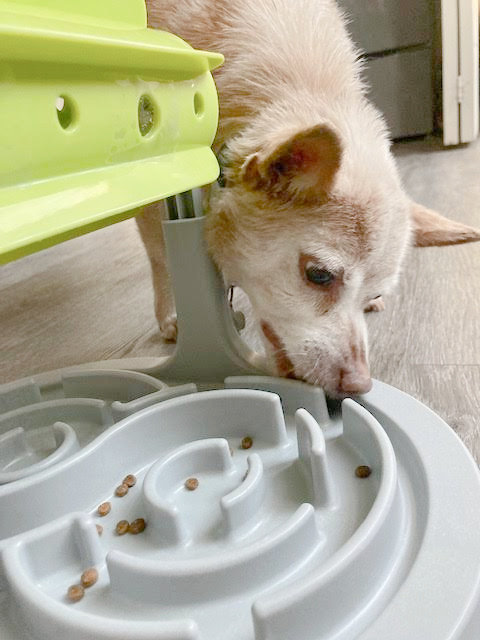 This interactive slow feeder costs $25 on Amazon and is for sale from a few different sellers. Every different seller has ratings for this product of 4 out of 5 stars. Here is what the company has to say about their product. . .
This puzzle toy is made using high-quality materials that are both durable and non-toxic to ensure your dogs stays healthy while having fun.
This Interactive Dog Toy is made to provide your dog with a challenge that's both fun and Provides hours of fun for your pet.
High-quality food-grade plastic material, BPA-free, safe, healthy and environmental protection, perfect care of your loved pet,anti-fall durable.
Safe assured.
Pin this for later so you don't forget!