While the Coronavirus lockdown has severely limited the number of activities we can do this summer, it's nonetheless given us a wealth of time at home to take on other jobs, like improving our homes and gardens.
There's never been a better time than now to consider revamping your garden space. Not only will a garden project keep you busy, but it'll also give you much-needed mental and physical exercise.

Formulating a design
The first step in any design project is to formulate ideas. Inspiration can come from many sources, so don't be afraid to borrow from others. Watch horticulture shows, visit garden centers, research online and read books. Anything that inspires you will have a positive effect on your design ideas. The key elements to consider are hedgerows, lawns, features (water and plant), trees, shrubbery, pot-plants, lighting and walls or boundaries.
You may also want to consider zoning your garden into distinct areas with different uses for each – e.g. play or dining areas and perhaps shaded areas for relaxing out of the sun. 
Planning tools like Garden Planner Online are widely available and will help you visualize your project before committing to ideas and investing in materials. 
Planning and purchasing materials
The materials you use in your new garden project will be dictated by the features you want to add. In most cases, you'll probably need decking or timber, paving, sand, bricks and possibly exterior paints and varnishes. 
Most materials are readily available from local DIY shops and garden stores. It's also worth checking online for the best prices and the biggest range of products. Whether you need to buy these materials yourself or not depends whether you intend you doing the job yourself or instead employ the services of a specialist firm. 
Investing in the right tools

Again, the tools you need will be dictated by the scope of the project and the features you want to add. At a minimum, you'll need simple gardening equipment (spade, lawnmower etc.) for basic jobs but more complex projects require more sophisticated equipment. For example, you may need a chainsaw to remove existing trees and features; check the Tool Review Blog for a guide to the best tools for your job. The right tools are essential for any project, so check online or with your local garden center for advice.
Doing it yourself or hiring an expert
Probably the most significant decision you have to make in your gardening project is whether to do it yourself or hire an expert. The availability of modern tools and equipment puts most landscaping jobs well within the realm of keen enthusiasts, and various online guides will give you all the information you need to get started. However, be mindful that, while gardening projects are hugely rewarding, they're also a lot of work, so consider your options wisely.  
Hiring a professional landscaping firm is the easiest option as they will look after all aspects of the job – from planning and design to procurement of materials and completing the job. That said, doing it yourself gives great satisfaction and pleasure, and you'll look at your garden in years to come with a deep sense of pride at your work. How about a variation of both? You can have a reputable company such as Drake's 7 dees work with you on landscaping ideas that will transform your outdoor space into the paradise of your dreams without any hassle. You can choose the plants and the materials and give input on designs while letting the pro team coordinate everything getting done.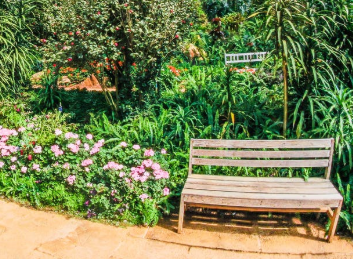 Set a budget – and stay within it 
If you're using a professional, this will come as part of the service but, if you choose to go it alone, you must try to keep as close a handle on spending as possible. Some items will be fixed costs (e.g. garden furniture, water features, paving, etc.) whereas other costs are far harder to pin down. 
Also bear in mind, while your own time spent won't cost anything, if you have to hire equipment to complete a project, each extra day will mean extra expenditure. It's crucial to allow sufficient time for each process of the job. Also, be sure to include a contingency fund in your budget to allow for over-runs. They can – and almost always do – happen.