*This is not a sponsored post. I did not receive compensation for this post. It does contain affiliate links. I personally recommend Donkey Tees and opinions belong to Jenny at dapperhouse.
I wear t-shirts that are either funny or sports related. I do wear a lot of OHIO State gear because my husband played soccer for them in college and I cheer for their band…and their football team. I love the store called DonkeyTees because they have both funny tees and Ohio Tees all in one place! Plus, a whole bunch more!
I love wearing the funny tees to the gym because it gets conversations going ad makes people smile. I love wearing OHIO tees to the gym because it makes the Michigan fans really uncomfortable, not to mention that I look great in red, black and silver (ha ha).
If you love POP CULTURE you are going to go crazy for Donkey Tees!
Some of the tee designs are a bit on the "naughty" or irreverent side. I don't wear those so you will have to go to their site if you want to see them for yourself.
They also have movie themes, political and even baby onesies and toddler tees! Look at these. . .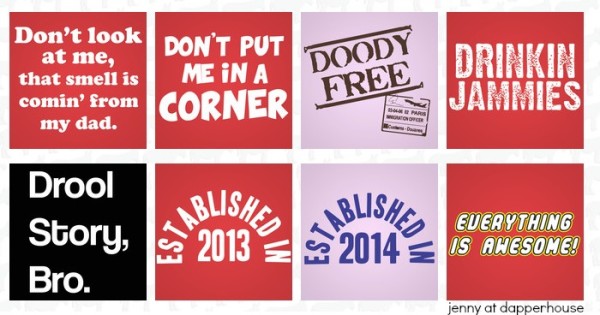 There are a TON of fun shirts that make super affordable gym wear. If you not one to regularly wear tees during the day, you can still get these to wear to bed or the gym so you can have some fun and show your character! (That's what I do!)
These are a great gift idea because even though they don't cost much, they are 100% personal and thoughtful!