This shop has been compensated by Collective Bias, Inc. and its advertiser. All  opinions are mine alone. #CollectiveBias
The world sees a lot of storms this time of year. Here in Illinois we get our fair share. This weekend alone was filled with flood warnings, tornado sirens and the fear that at any moment we would be without electrical power. We have battery powered lanterns and a drawer filled with Duracell batteries so I know that we can power up when needed, but I decided that I had to be more prepared. I went to WalMart to get some essential items that will give me peace of mind through the crazy summer weather. On the top of the list are handheld battery powered fans, more Duracell coppertop batteries, lots of water and new surprises to keep the kids (and adults) entertained. I am definitely not prepping for doomsday but I am being proactive to #PrepWithPower and to get my family through mother nature's summer storms.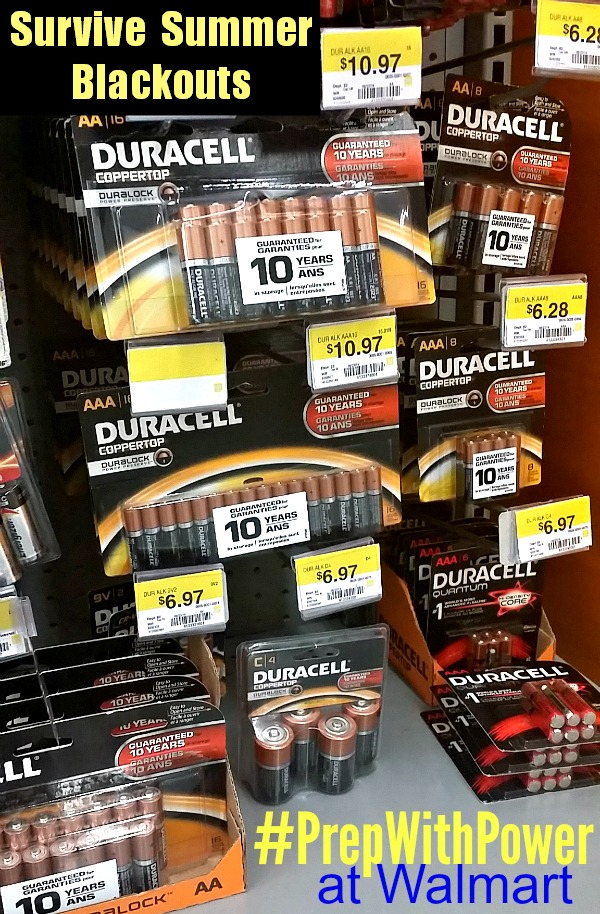 My family has lived through quite a few power outages already and we know how uncomfortable and frustrating it can be. Most of us think it is never going to get "that bad" but all it takes is one storm to change our everyday lives. The first time my family had an extended power outage due to storms we were isolated from the damage. Without power, basements were filling with hot dirty water. We had no way to obtain resources because the local businesses and entire community was without power as well. In Summer 2012 as many as 250,000 Chicagoland people were without power during one storm and it took many days to restore power. In 2013 it was more of the same, and already this year, 430,000 customers have had problems with their power due to storms. I know that many states have much more severe weather and power outages than ours, so I want you to be prepared too.  Here are some ideas in case you experience a black-out.
Generator, Extension Cords, Chargers and Back Up Power
It doesn't have to be expensive to be prepared with a generator. While they can cost upwards of $2000, you can also get them as inexpensively as $200. The cost savings here is what you really need to consider; food from the refrigerator and freezer that may become spoiled and water damage from a sump pump that won't run. This pays for the generator right away.  After only a few days of no power in the hot summer we had no choice but to find a generator. The idea of needing a generator was on everyone's mind though, and generators had been sold out all over the state of Illinois! Even if a used one could be found, the prices were inflated by greedy opportunists. It is much better to buy one now and have it on hand, trust me.

Make sure that you have extensions cords and a plan! My husband tried some various strategies and came up with a great plan! He designated an outside spot where the generator is semi-protected from weather by a picnic  table on the back patio. It is far enough away from the house to not poison our home with Carbon Monoxide vapors. (A generator has to be at least 15 feet from the home and away from open windows and vents that may draw the CO into the home). He has a plan ready to run an extension cord through a slightly open window that leads to the refrigerator and one that powers the sump pumps. We have another that can be switched up between a light, an oscillating fan and our Duracell Powermats that provide 24 hours of charge to back up battery packs and cell phones. I am sure that most of us agree that everyone in the family will be much happier with cell phones and tablets to entertain and distract. Reading on the kindle app, playing educational games and watching shows can entertain for hours.  Staying on top of storm info, breaking news and communicating with neighbors who need assistance or aid gives priceless peace of mind.  I recommend getting the Duracell Powermat for everyday use, but especially for emergencies!
Insect Repellent in all Forms
This gets its own section because one of the biggest issues with the power being off for us was the bug bites. We ran out of insect repellent on the second day and as a consequence we still have the physical scars from the mosquito bites. In your emergency storm kit make sure to have as many possible types of insect repellent as you can get such as sprays, bracelets, wipes, clip-ons and natural remedies. Keeping the family in good spirits and healthy during this time is going to be much more manageable if you all are not suffering from painful and itching bug bites. Don't forget to protect your pets as well.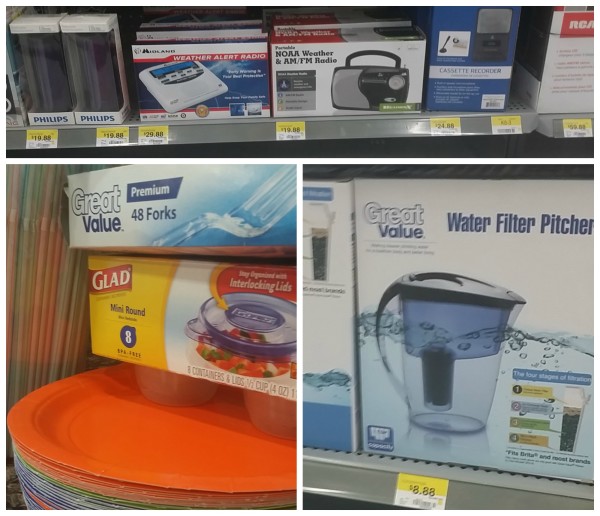 Food and Water
Right away you need to plan for preparing and eating the food and drinks. Items you may want to include in your kit are:
Water Purifiers
Paper plates, cups, bowls,
Straws
Utensils
Paper towels
Napkins
Can opener
Plastic storage bags and/or plastic storage containers
You have to have a kit prepared for foods that can be stored, prepared and eaten without the use of power. If your local water supply is compromised you will need water for drinking, washing, brushing teeth and staying cool.
If you plan ahead you can make sure to have a variety of things on hand. Think of the pre-packaged foods that can go in school lunches, picnics and camping to help you decide what might be good options for your family. Here are some of the items I have packed in our preparedness kit:
Dried and Canned Meats such as Jerky and Tuna
Nuts, seeds, trail mix
pretzels, crackers, chips
Peanut butter/ sun butter
Honey
Juice boxes (fruit and veggie)
Sports drinks, sodas, tea, etc. to accommodate personal preferences
Individually packaged soy milk and meal replacement drinks  that don't require  refrigeration
Protein bars and healthy snack foods
Fruits and veggie pouches
Treats
Water, in every shape and size container. Have more that you need on hand in case there is an issue with flooding and water supply. Have enough to share with others in need.
Don't forget baby foods, formula and other essentials such as Pedialite
Remember to pack food and water for pets!
Medications, First Aid and Toiletries
You have to have a top notch first aid kit no matter what, no excuses. Have a thermometer to keep tabs on heat stroke and fevers. Go get these right away. Additional items to have are vitamins, pain relievers for kids and adults, allergy pills and Benadryl, non-refrigerated cold packs, solar blankets, rubber gloves, itch relief and sunburn relief creams . . .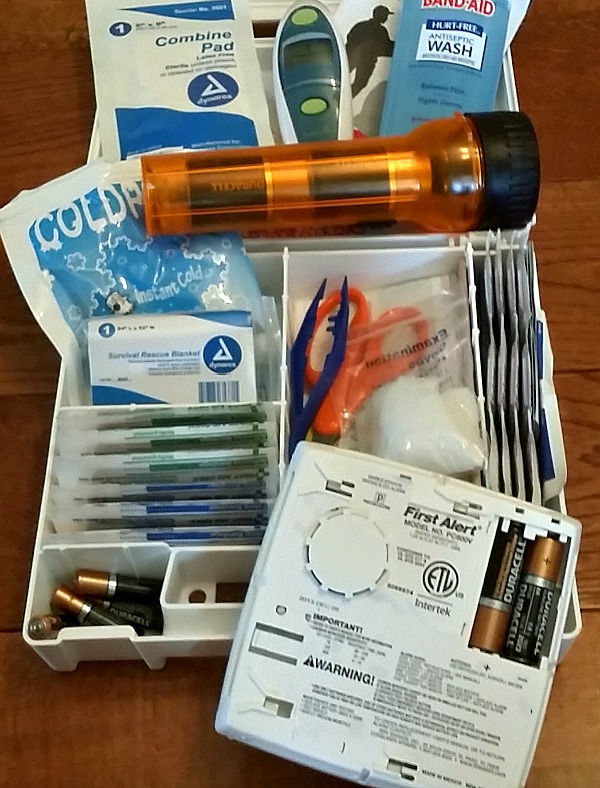 If you have a family member or pet that requires regular medication, you need to make sure that you have a 7 day supply at all times. Depending on insurance and other rules you may not be able to keep a supply on hand, but if you have a day or two notice that a severe storm may hit, please call your pharmacy and your doctor for ways that you can plan ahead to have everything you'll need.
You need to have a supply of items that your family uses regularly such as tampons, pull ups, diapers, adult diapers, pads, toilet paper, etc.  Have a lot of garbage bags on hand for trash, soiled laundry, and more. Keep a lot of baby wipes for hands and faces. Have cleaning wipes for common areas and sanitizing. Think of everything you normally use to make life livable and as comfortable as possible
TIP: You can get many of the items you need at discount prices at your Walmart stores and at Walmart.com with free site to store delivery.
Individual "Busy Bags"
Just a simple thing like having a "busy bag" packed for each child is enough to turn a frightening and uncomfortable situation into a "sleep over party".  Make sure to include personalized  and favorite items for each person. Having something new and is always fun, no matter how big or small. With Duracell batteries you can guarantee that your family will keep their minds of off the gloomy conditions.
A battery powered baby toy with lights and music to soothe.
An interactive stuffed animal, action figure or doll for younger children
A battery powered hand held game like hangman for older kids
A digital trivia or electronic card game for adults
Walkie-Talkies are fun for everyone and can also come in really handy!
This Duracell LED Flashlight from Walmart also has a charger and is perfect for tweens, teens and adults! Only $10!
Here are some little packs that I put together for my children. I used plastic containers so that they stack and store well,  are waterproof and bugs can't get in.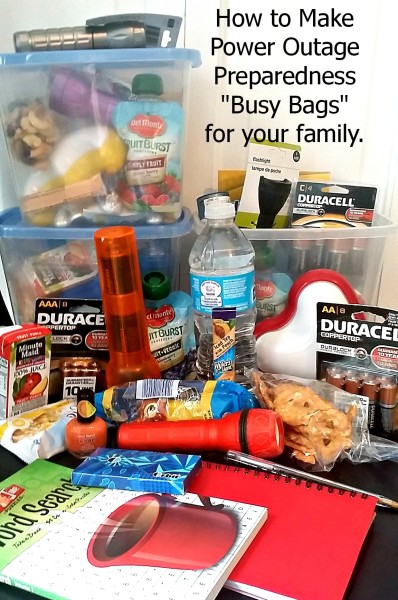 TIP: Change out the snacks and food in your emergency kits regularly so that everything is fresh and safe to eat and use.
Here is a list to help you get started:
Lots and lots and lots of Duracell batteries! (You want to get only the best brand that will last the longest without fail. I also suggest having more than enough Duracell batteries for your own family so there are some to share with neighbors in need).
Battery powered lights: tap lights for each child at their rest area and flashlights to navigate the dark. Flameless candles are fun too.
Art supplies, Craft Kits, Activity & coloring books and washable markers.
White boards and wipe off markers for a family game of Pictionary
Journals, sketch pads and mechanical pencils
Sticker books, Mad Libs, Brain Teasers, Hidden Pictures, Joke Books, Book of World Records, Weird Facts Books, Campfire Songs
Fun and favorite stories that mom and dad can read to keep the little ones entertained. You know what you children love, so keep a story that they have not yet read to keep their minds filled with adventure and off of the problems at hand. Chapter books for example, come in all reading levels to delight any age!
Playing cards (and a repertoire of fun, family card games)
Oragami paper and tutorials
Pack a favorite board game and a new one too that you can learn and play together!
Glow sticks, glow-in-the-dark stickers, glow paint and more can make the night time happy!
Personalized treats and healthy snacks for each child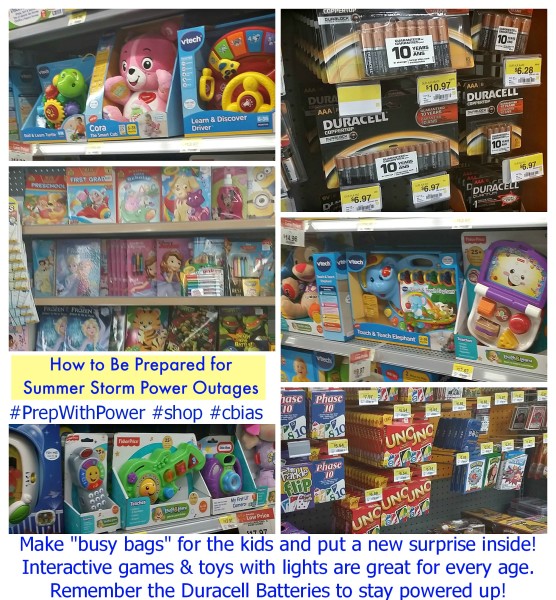 TIP: Keep some secret weapons in your arsenal for when things get ugly. I have a a s'mores kit to use on the grill outside and a battery powered travel sized DVD player and favorite family film.
Avoid Carbon Monoxide
Being prepared to grill outside is a great idea! Being prepared for Carbon Monoxide is imperative. When I was at WalMart I also purchased a battery powered Smoke and Carbon Monoxide Detector  to keep in my emergency kit. This way no matter where we go or whether we are awake or sleeping, we will be protected. There are so many fatalities due to people being unaware of the dangers. Please keep these in mind to avoid tragedy!
Generators, grills, camp stoves or other gasoline, propane, natural gas, or charcoal-burning devices should never be used inside a home, basement, garage, or camper – or even outside near an open window.
Never leave the motor running in a vehicle parked in an enclosed or partially enclosed space, such as a garage.
Never run a motor vehicle, generator, pressure washer, or any gasoline-powered engine outside an open window, door, or vent where exhaust can enter an enclosed area.
Never run a generator, pressure washer, or any gasoline-powered engine inside a basement, garage, or other enclosed structure, even if doors or windows are open.
TIP: This weekend we donated similar supplies to our local food pantry to help those less fortunate. You too can put together care packages with flashlights, Duracell Batteries, activities, water and Non-Perishable foods to donate.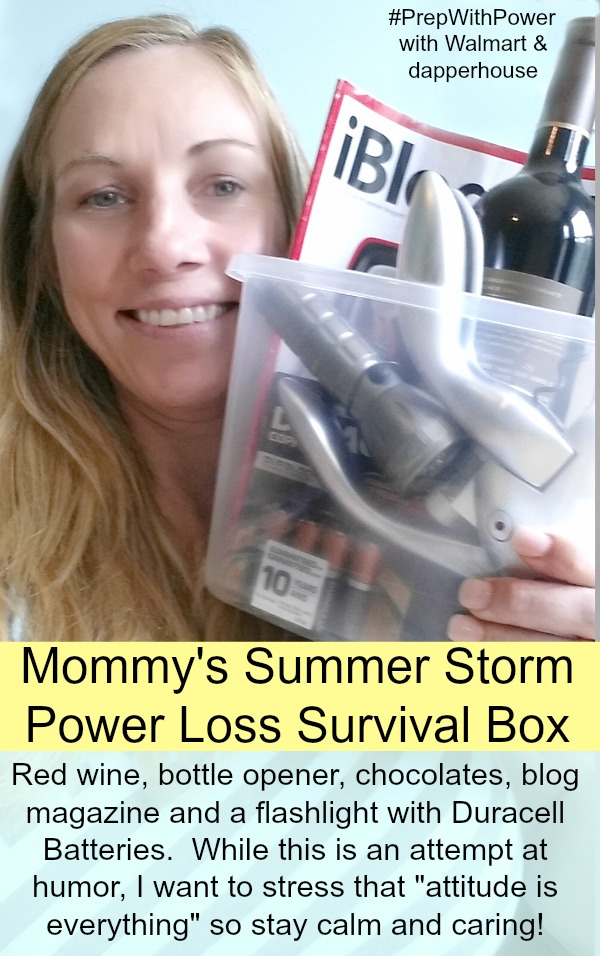 Please share your own ideas and tips for surviving a summer power outage.