Peppermint has always been my favorite flavor and I never tire of it. I have mint growing at home so I can have fresh sprigs in my water. I don't remember ever buying a gum that was not peppermint flavor (same with toothpaste now that I'mm thinking about it) and I still can never get enough! Here is a recipe for you to make your own Peppermint patties for a winter treat. They are nice to give as gifts and perfect to set out when holiday visitors stop by to say hello. I hope you love them!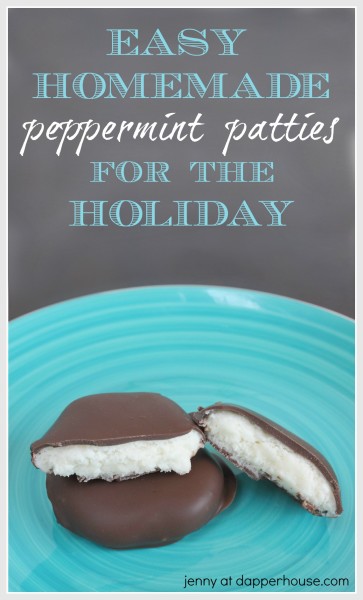 Ingredients:
½ Cup Butter, softened
7 oz. Marshmallow crème
1 teas. Peppermint Extract
1 teas. Vanilla Extract
5 Cups Powdered Sugar
1 pkg. (24 oz.) Chocolate Almond Bark
Instructions:
1.) In a bowl mix together the Butter, Marshmallow crème, Peppermint and Vanilla extracts.
2.) Slowly add in the Powdered sugar. Use a mixer and use the paddle, it gets pretty stiff and will bend the whisk.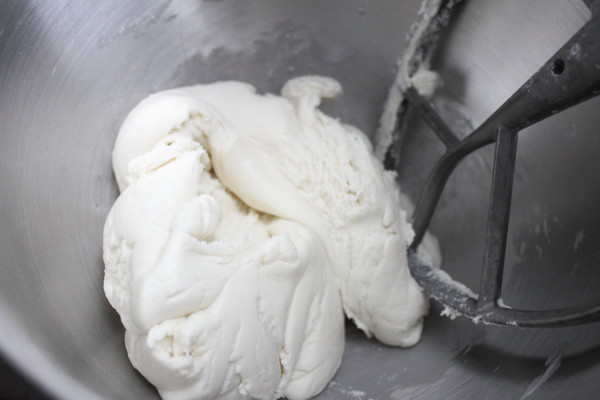 3.) Scoop out a rounded teaspoons of the mixture and roll them into balls and set on a parchment paper lined tray.  Flatten into disks about 1/8 inch thick.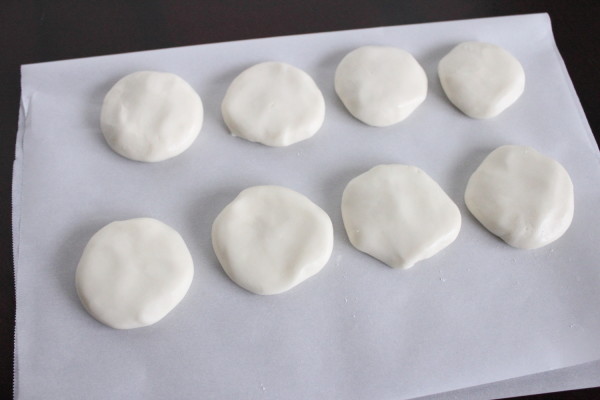 4.) Place in the freeze for at least one hour.
5.) In a microwave safe medium flat bottomed bowl melt half of the Almond bark in the microwave on high 90 seconds, stir until smooth, if not melted heat in 20 second increments stirring after each until it is smooth. (Repeat this step half way through if you need more.)
6.) Remove the frozen patties a few at a time and place into the melted bark use a spoon to cover the top. Use a fork to pick up underneath the patty and tap straight up and down on the side of the bowl to even out the coating and remove some of the excess.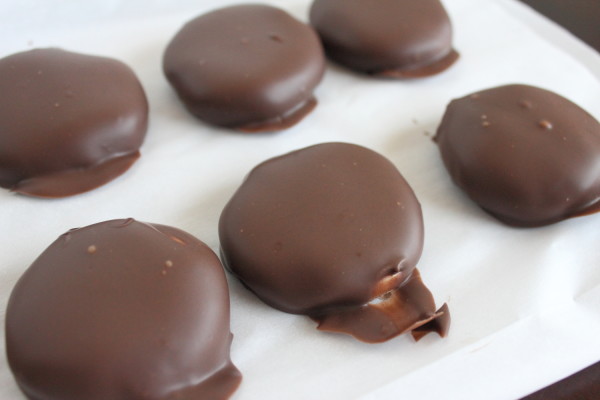 7.) Place onto another piece of parchment and let set (or return to the freezer for a bit).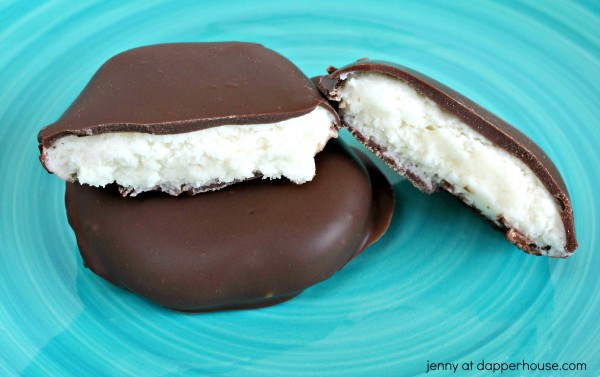 Enjoy.
TIP: Stack them and wrap in clear cellophane with a cool ribbon and give them as gifts!
Have you ever made these at home before?