My son was not raised camping or fishing because it was not my husband's or my "thing". I was raised with a ton of camping and fishing and I had pretty good aim as a youngster shooting my old Welch's grape soda pop cans off a fence post. My husband not so much. Never the less, my son is in high school now and has taken a real liking to fishing. He has gone a few times with his friends here in Illinois. And when we went to my hometown of Arizona for a visit, I took him to Oak Creek Canyon to fish for Rainbow Trout just as I had as a kid.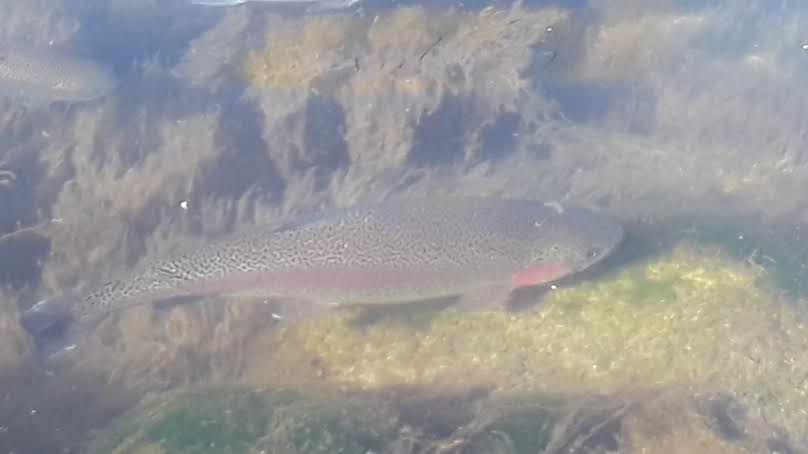 I think that taking him for a day of fishing would be lots of fun although the investment in fishing equipment has been preventing me from doing so. Then I saw a show about guys leaving poles in the banks overnight and they were catching some huge fish! This made me want to research a little more to see if it is a little less expensive but I also loved the idea that we can sit together and fish with his pole if we would like, or we can leave a pole in the bank and go exploring while we fish at the same time! (I have a difficult time sitting in the same place for too long.) Either way we can spend the day together making great memories.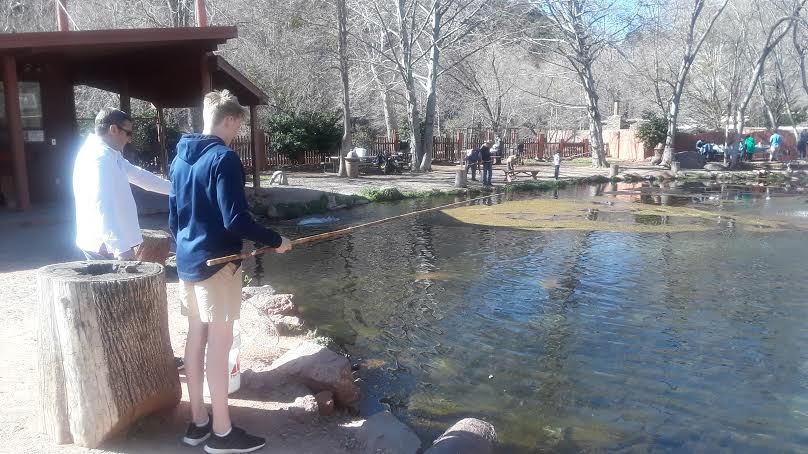 Here is what I learned about making a pretty simple and inexpensive bank pole.
You will need:
11/16″ fiberglass rod that is 12′ long.
2 – 6/0 Barrel Swivel
#3 Hump Hog Ring
Trotline Clip
Trotline Fishing Line
Egg Sinker (size 7-9)
Fishing hook
You can also get a bank rod holder for added security
How to make the bank style fishing pole:
Drill a hole in one end of the fiberglass rod that is about 2 inches from the end.
Thread the barrel swivel on the hog ring and use a pair of pliers to cinch the ends of the hog ring into the holes making certain that there is free movement in both the Barrel Swivel and the Hog Ring.
Tie your Trotline clip to one end of the line.
Clip the Barrel Swivel to the clip hook.
Thread the Egg Sinker to the other end of the line and then tie the other barrel swivel to that same end.
Sear the loose ends with a lighter or match to prevent fraying.
Cut 20″ of line and tie ot to the swivel on the main line. This will be the "Leader Line".
Tie on your hook.
How to set your bank pole:
Find a bank with mud just soft enough to bury your pole but certainly strong enough to hold it in place. You will want to put it in the bank about 6″ or so above the water line at about a 45 degree angle. Make sure it is deep enough in the mud that a large fish won't be able to wiggle it free.
Bait your pole and leave it 'till later. You can even leave it overnight and check it in the morning!
There is a lot of information that you need to have before fishing, mainly the laws! Ignorance is not an excuse when you get caught without a fishing license or fishing in ways that violate state regulations. Always make sure to google "fishing regulations in (your state here)". I googled fish regulations in Illinois and you might be as shocked as I was at all the ways you can fish, all the places you can fish, and all the different things you can catch when you go fishing! (And all the licenses needed for fishing.) So make sure you are prepared.
I am certain that you will have a ton of fun going fishing whether you relax the day away on a drifting boat, or spend the day hiking and exploring while your bank pole does all the work.
Where do you go fishing and what kind of pole do you use?