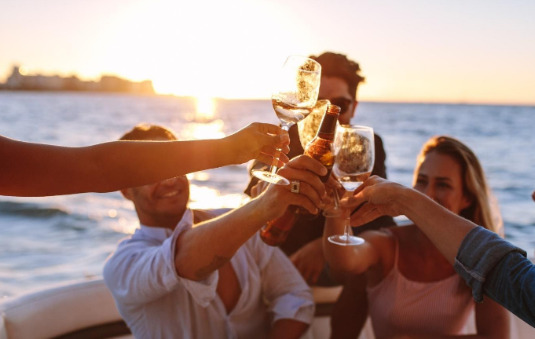 Are you ready to get out of the house after months of being under lockdown? Do you have plans on seeing the ocean after the health crisis? Do you want to learn how to charter a boat for a well-deserved break from the indoors?
The lockdown and self-isolation measures are triggering stress and anxiety in more people. At the end of March this year, 45% of people said the current health crisis impacted their mental health. It won't be a shock if the travel and tourism industry gets a boom after the crisis is over.
Is a charter boat part of your post-coronavirus plans? This is the guide for you. Keep reading for more information on how to charter a boat or yacht.
What You Need to Know About Chartering a Boat
Chartering a boat is one way of saying "renting" a boat, yacht, or sailboat. Most people charter boats as a vacation activity. However, it can also be a business activity.
Organizing a charter trip is not an easy task. Before anything, you need to understand your budget and its limits. Before you charter a boat, you need to know a few things about the boat and about chartering. 
First, every charter yacht or charter boat is different. Some boats are for fishing charters while others work best as bareboat charters. Each boat may have a special feature and/or limitations.
Some charter vessels have amenities for pets, for example. Like each boat and each trip, every charter experience is unique. The fun meter may also differ depending on who you're sailing with.
Costs of Charter Boats 
The price of chartering a boat will be different for each boat. The factors that affect the price of a charter boat include:
Size

Year built

Amenities

Crew

Location and/or destination

Duration of the trip
On price, most boat rentals or charters fall under one of two categories. The first one is the skippered chapter. For example, you can think of a private yacht charter like you would with resorts.
Skippered yacht charters provide everything you need for your trip. That includes food, amenities, incursions, and crew. As you can guess, this is more expensive than the other category.
The practice is to pay an Advanced Provisioning Allowance (APA). This fee is 30-35% of the charter fee and covers fuel, food, and dockage. The fee will be the provision that your captain and chef use during the trip.
The other type is the bareboat charter. The cost will consist only of the rental boat. You take care of everything else, including provisions and taking care of the boat.
On average, a week on a small yacht can cost $10,000. Yachts sized 100 feet or larger cost between $50,000 and $80,000. Chartering megayachts or superyachts for a week will be worth $150,000 or more.
Costs on Destination and Trip Duration
We're not done talking about the cost of a charter boat yet. Remember that the destination affects the price of the total cost of the trip. If you plan to visit more places, you'll use more fuel to power the yacht, and so you'll pay higher prices.
Where you're going also influences the duration of the trip. A distant destination can extend your trip. The more time you spend on the boat, the more food and other resources you'll need. These needs convert to a bigger budget.
If you want to save money, a good choice is to stay in an area. For example, you're getting a charter boat so you can spend the day fishing with your sons. This will cost less than a charter trip for island-hopping in the Hundred Islands.
How to Charter a Boat
If you want to charter a boat, you mustn't treat it like learning to ride a bike. First, bikes and boats have a huge difference gap between them. Second, you're risking your life and the lives of other passengers if you charter one with no experience.
What can you do if you want to learn bareboat chartering? There are bareboat sailing certification courses you can get where you learn the basics and tricks of bareboat sailing. You can take some courses while at a resort, so the rest of the family can enjoy their time.
If you want a yacht charter where you can focus on de-stressing, get a skippered charter. 
Choosing a Charter Boat 
Before you start picking a charter boat, you need to plan the trip first. Include everything from your snacks on the way there to the point of departure of the charter yacht. When you have all this planned out, only then can you begin looking for charter boats.
A good rule of thumb is to read the specifications of a boat and study the cabin layout. You want to know if there are enough beds inside the yacht for everybody. You'd also want to know if the boat will be a good fit for everyone who's coming with you. 
Check online reviews and look for discounts to help you save on your charter. Try not to book the first charter you find. You may find a luxury yacht charter later that's more than worth the money. 
Why the Experience of Chartering a Boat Is Important
In 2019, 81% of Americans planned to travel for the holidays. After the pandemic, more will likely look for awesome travel destinations to make up for the lost time. You may be thinking of going big for your next trip once the world is safer again.
If you want an extra-special trip for the family or friend group, consider a yacht charter. It'll feel like being in a floating hotel. Most charter companies will also offer you a customized experience that'll fit your schedule and budget.
Compared to going on a cruise, you get more freedom with where you want to go and what you want to do. You can visit ports that cruises don't often go to or explore scuba diving spots. The only limits are the local laws.
Also, chartering a boat isn't only about getting a luxury experience. You can learn some valuable lessons on a charter boat. You won't only see how difficult it can be to man a boat, you'll also learn about sea-safety procedures.
Go on the Ideal Sea Adventure
Now you know how charter boat services work. Don't hesitate to come back to this guide whenever you feel a little lost or uncertain about the process.
We hope you learned something valuable from this post. If you want to read more on chartering a boat and awesome vacation ideas, check out our other content right here!