There are many ways you can enhance the looks of any house. Some of them are very simple while others are a little bit more complicated. Some take a lot of time, while many might be finished in a couple of hours. 
Good examples include remodeling the inside of your house, getting your hands on new furniture, putting some paintings on the wall, and even introducing some plants and decorations! You have so many choices to pick from, but let's be honest, one of the best ways you can improve the looks of your houses is through a beautiful lawn.
A lawn is one of the first things people will notice about your house, and depending on how it's done, how well maintained it is, and the things you decide to add to it, it will certainly enhance the aesthetics of the house, and its value.
Sadly, it can be very complicated to handle the grass, and maintain the lawn all by yourself, even more, if you don't have previous experience with it. Here's where professional service providers like Mr.Lawn can help you out, and if you are interested, you can always click here for more detailed information about the services they provide.
But why would you want to hire a professional service provider instead of doing it all yourself? Well, let's go through some of the most common reasons why people always prefer to hire a professional, instead of trying to do lawn-related things by themselves.
It Takes a Lot of Preparation
First of all, to have your own lawn, you will have to go through a lot of planning, research, and preparation. The type of grass you want is also a huge factor to take into consideration, but we will talk about that in a later section.
You also will need to make sure that the soil of your house is healthy enough to grow grass in a healthy, beautiful way. If it doesn't, you will have to heal it until it becomes feasible, and this can take some time as well.
Maintenance wise, it is also very time consuming, and making mistakes or not paying enough attention to the grass will ruin its looks to a great extent, thus, you will have to be prepared to face all the challenges involving lawn maintenance.
Something to keep in mind is the fact that you will require a lot of equipment and supplies to do everything by yourself, and you will need to learn how to handle all the equipment and supplies required to install or grow your own grass!
Of course, you can always learn how to do it, and you can find some solid advice at https://www.familyhandyman.com/project/lawn-maintenance-and-gardening-tips/ in case you are interested, but just keep in mind that time and effort will be your most valuable assets throughout the whole journey.

Deciding the Type of Lawn You Will Have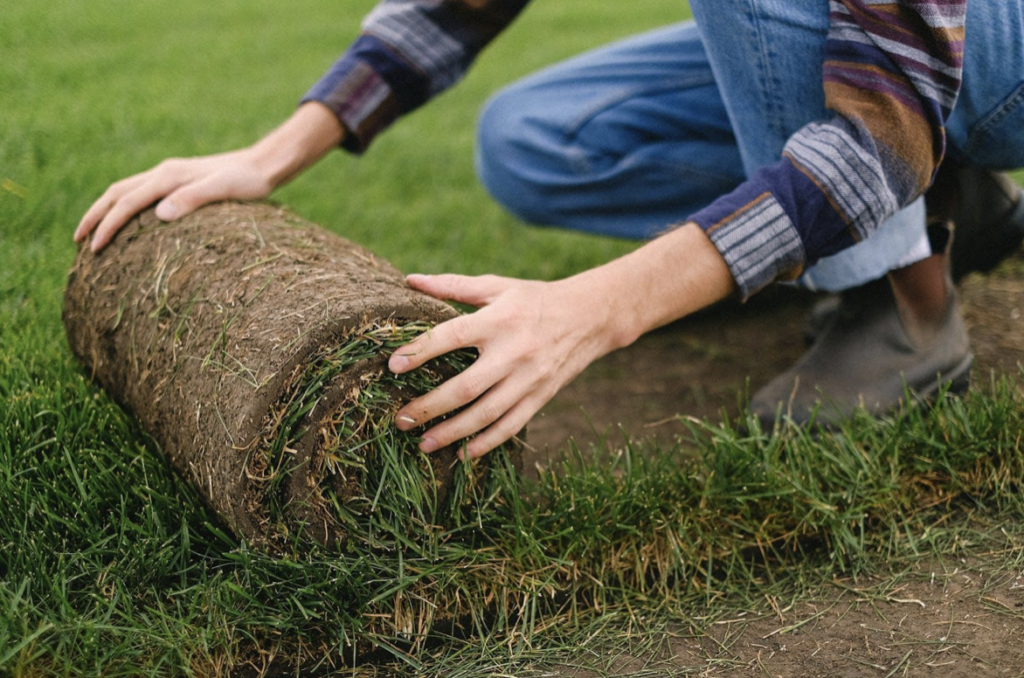 There are two main types of grass you can go for: Natural and artificial. Each one has its own advantages and disadvantages, but generally speaking, artificial grass is recommended for beginners, and people that don't have as much time to deal with lawn maintenance.
The reason for this is very simple: Installing artificial grass is a lot quicker, requires much less preparation, and the level of maintenance it needs in comparison to natural grass is minimal.
Some people would argue that natural grass looks and feels better, and although this is true to some degree, you can definitely find high-quality artificial grass that imitates the natural one to a very proficient level, thus, it is a matter of choosing the right brand.
Of course, it all depends on you, so I would definitely recommend you to learn more about the two categories, and what are the main differences between natural and artificial. 
Why Hire Professional Services
Professional service providers are not only trained in the arts of installing and taking care of a lawn, but they are also well equipped and experienced, so you can (at least, most of the time) expect the highest quality you can get.
This allows you to enjoy the benefits of having a lawn without having to engage in stressful, time-consuming practices, and you'll be more than sure that, when the project is finished, you'll be satisfied.
That being said, it is important to choose a service provider with a good reputation, reviews, and affordable choices for your particular situation. If you don't, the chances of ending up unsatisfied with the results increase drastically.
For that reason, the best thing you can do is take your time and contact the provider you are interested in, to discuss matters more personally, learn about their procedures, prices, and of course, how reputable they are in the market. So if you have a company you are interested in, definitely contact them to learn more about their professionalism and capabilities!