*This is NOT a sponsored post. I did not receive payment or compensation for this post. I want to share this book because I think that it will benefit my readers. The book is called Tell Me A Story – 250 Great Books for Kids by Grace Stanford. The reason that this book is important is because it has recommendations of Great books to buy for children ages babies to teens. Stanford took her list of old and new favorite books for kids and compiled the information in this book to help parents and educators make an incredibly informed decision about each book offers. She answers the general question "why is your child going to love this book" and follows that with research, authorities and reviews. The books are categorized by ages:
Babies to 2 year olds
Preschoolers (ages 3 – 5)
6 – 8 year olds
Older Kids (ages 9 – 11)
Early Teens (ages 12 – 15)
Within these age groups there are other categories and finally, everything is alphabetized. This guide is great to take with you to the book store or while shopping on-line as a reference to get the best book match for your child!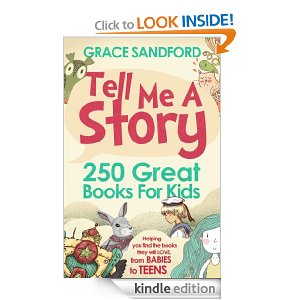 One of my MOST favorite parts of this book is that it has a guide to understanding all the Awards that are given for children's books. Often we see them on the book covers but don't know what strengths the book provides that has won them the honor!
November 21 & 22 you can get your FREE e-book download like I did just in time for holiday shopping. YEAH!! (Thank you Grace Stanford!!!)
http://www.amazon.com/Tell-Me-Story-Great-Books-ebook/dp/B00GKI681G
You can "like" this on facebook too!