Does your little one love Anna from Disney's FROZEN? Then this list is for you. She often seems to be second to Elsa, but Anna is every bit as important! Celebrate everything Anna with over 25 of the best hand picked gifts. Click on the photos to see product details.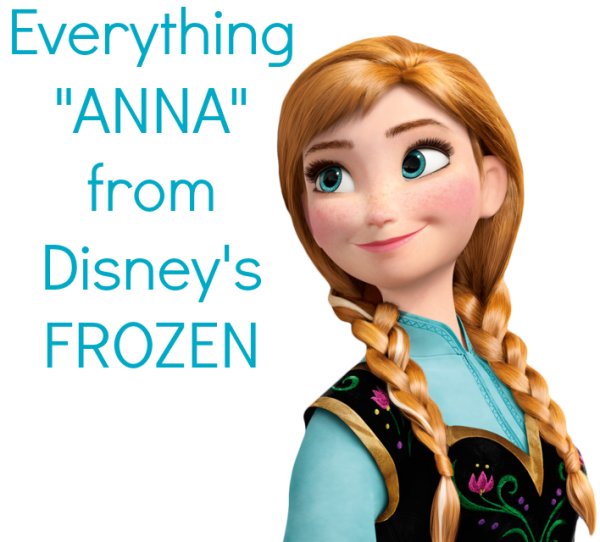 $30 Disney Frozen Exclusive 12 Inch Classic Doll Anna
$17 Disney Frozen Enchanting Dress – Anna
$7 Frozen Anna's Jewelry Set
$13 Disney Frozen Anna's Sparkle Shoes
$34 Disney Frozen Anna Musical Light up Dress
$15 Disney Frozen Anna's Snow Cap and Braids
$16 Disney Frozen Anna Tiara and Jewelry Set
$29 Disney Frozen Musical Magic Anna Doll
$20 Ebuddy ® Anna Sparkle Princess Dress for 18″ American Girl Doll Clothes
$16 Disney Frozen Anna Deluxe Knit Snow Cap Hoodie Hat and Braids by elope
$3 Frozen: The Adventure of Anna and OIaf
$24 Anna Disney Frozen Swirling Snow Sleigh
$19 Disney Frozen Ice Skating Anna Doll
$24 Disney Frozen Anna and Kristoff Doll, 2-Pack
$14 Disney Frozen MagiClip Flip 'N Switch Castle and Anna Doll
$8 Disney Frozen Magiclip Anna Doll
$16 Hallmark Disney Frozen Princess Anna Christmas Ornament
$20 Disneys Frozen Anna Sketchbook Ornament
$21 Disney Frozen Anna 2014 Christmas Heirloom Ornament
$12 Disney Frozen Bean Anna Plush
$21 Disney's Frozen Anna Deluxe Girl's Costume, 7-8
$33 Disney Frozen Anna Toddler Doll
$19 Disney Frozen Color Change Anna Fashion Doll
$20 Disney Frozen Anna Plush, Medium
$13 Disney's Frozen Anna Child Wig Girls Costume, One Size Child
$10 Disney INFINITY Anna
$4 Anna's Best Friends (Disney Frozen) (Step into Reading)
$15 Artistic Studios Disney Frozen Anna Wooden Magnetic Playset (25-Piece)
$21 Walt Disney Animation Series Frozen Princess Anna Giant Wall Decal Stickers
$9 Disney Frozen Magiclip Small Doll Anna Giftset
$10 Disney Frozen Anna 8″ Plush Clip Keychain / Backpack Clip
$32 Anna Disney Frozen Doll Classic Doll
Let's Hear It for TEAM ANNA!!!
Why does your child love Anna from Frozen?