*This is not a sponsored post. Opinions and content belong to jenny at dapperouse. This article contains affiliate links.
We cant all make it to the gym as much as we would like to. Heck, some of can't even find time to make it at all. Or maybe money rather than time is an issue? Whatever the reasons, I ma here to help you find ways to sneak in exercise during the day to help you stay fit and healthy regardless of your schedule or pocketbook!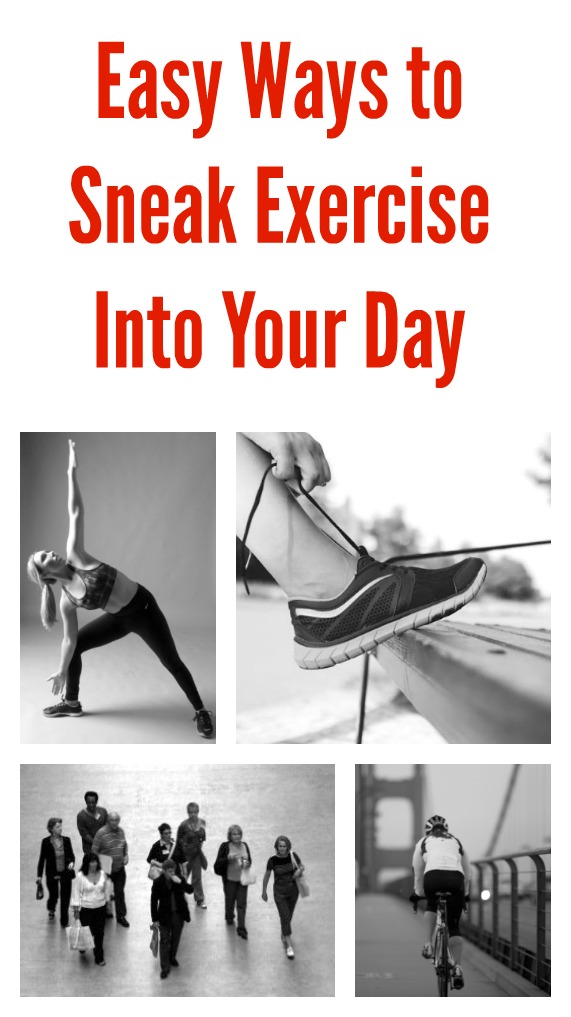 Regular daily exercise benefits you in so many ways, yet the number one excuse for many Americans is that they don't have time to incorporate exercise into their daily life. BUT, there are easy ways to sneak exercise into your day.  It's really all about the mindset – do you actually want to make daily exercise a priority? Are you willing to sneak exercise into your day? If you really do want to learn easy ways to sneak exercise into your day then continue reading and take action!
Wake Up (Not Too Early)
Don't fool yourself into thinking that you will wake up two hours early to go to the gym. Just set your alarm for 20 minutes early (no big deal at all) and do something. Incorporate some yoga poses, push ups or crunches into your wake up routine. Immediately upon rising out of bed, get to those exercises.Keep a yoga mat beside or under your bed and get to it! This only takes maybe 15 – 20 minutes of your morning but makes a huge difference in your day and your health.
Walk on Lunch Break
When you take a lunch break from work, take a walk instead of sitting down to eat. Bring a lunch that you can eat while walking and use that lunch break to get in a daily brisk walk. There is another benefit to this strategy because it is much easier to walk around with a healthy smoothie or carrot sticks and almonds than it is to carry and eat fettuccine alfredo or cheesecake while walking.
Squats or Kick-Ups
Whenever you have a few minutes throughout the day while brushing your teeth or standing around waiting for family to be ready, take this time to do a few squats or kick-ups that can easily be completed during that down time.
Set an Alarm
Using your smartphone, set an alarm that goes off daily to stop, drop and workout. Plenty of people take cigarette breaks so why can't you sneak a little time in for something healthy! Take a break morning and mid-day to get in some short exercises such as crunches, squats or even walking place.
Use a Treadmill
While watching TV or doing work from your laptop, use the treadmill. There are many ways you can get a walk in on the treadmill while at home. Jump in and check emails from your phone. Make phone calls. Pay bills online. There are very inexpensive treadmill desks, so get your walk in while entertaining yourself.
Dance While Working
Even if working in a sit down position, you can easily add dancing while you work into your daily routine. When at work make sure you are constantly moving your body whether it is playing the air drums, tapping your toes or waving your hands in the air like you just don't care. Put on some music or use ear buds to get you in the dance mood.
Walk or Bike to Work
If you live close enough to your job then take advantage of nice days and walk or bike to work. This gives you a bit of exercise during your commute as well as fresh air and blood pumping to prepare for a productive day. I know it is an old tip but parking far away from your work to make a longer walk is a great idea!
As you can see there are many easy ways to sneak exercise into your day, each of these ideas listed can take less than 15  minutes from your day. Whether you set an alarm to take a break for exercise or be creative with the downtime you have, exercise is something that you can easily fit into any schedule. When you use these easy ways to sneak exercise into your day you will start to feel more confident, refreshed and energized to take on any task thrown on your plate, not to mention your body will thank you!
How do you like to sneak in exercise during the day?
Share your tips and tricks in the comments.
You may also like. . .
20 High Energy Songs for Working Out