*This is not a sponsored post but does contain affiliate links. All opinions belong to jenny at dapperhouse
I have always thought garden gnomes were cool and a bit magical. I have a pic of a neighbor's garden gnome on my phone as my screen saver and I just bought my brother a gnome for his birthday that he can take on his travels and photograph! Isn't it cute. . . it comes with a passport too.

Here are a few classy garden gnome gifts that anyone would love to receive. Enjoy!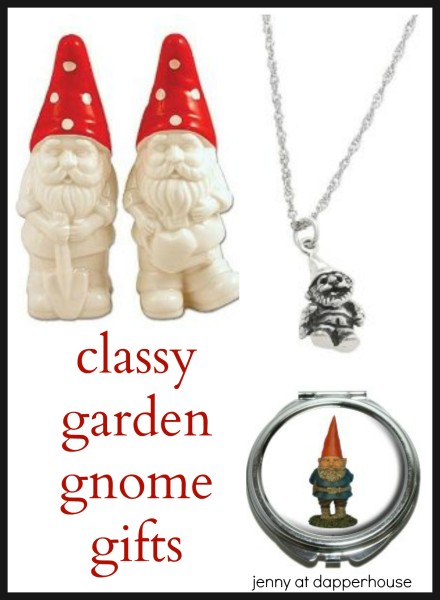 Garden Gnome Salt & Pepper Shaker Set


Retro Style Garden Gnome Salt & Pepper Shaker Set Ceramic Collectibles
Paint Your Own Ceramic Garden Gnome

My Little Garden / Paint Your Own Ceramic Garden Gnome
Streamline Gnome Porcelain Lamp
Garden Gnome Compact Purse Mirror

Garden Gnome Compact Purse Mirror
Sterling Silver Lawn Gnome Charm with Necklace (16 Inches)
Sterling Silver Three Dimensional Garden or Lawn Gnome Charm with Thin Singapore Necklace (16 Inches)