Disclosure: This is a post sponsored by Nature Valley Granola Bars. The opinions in this post are my own.
Health and fitness has always been a way of life for me. My entire childhood memories include outdoor activities. especially long backpacking trips in the Arizona Mountains, State Parks and even the Grand Canyon! My dad and brothers and I would pack everything we needed for days into our backpacks including sleeping bags, matches for fire, food. . . and we always took Nature Valley Granola Bars for snacking along the way. Just like my family, Nature Valley has a long history of a commitment to outdoor activities and nature whether it be connecting with nature on a walking path or going on an all out adventure. I am so excited to be sponsored by Nature Valley in order to bring you the incredible story of adventurer Erik Weihenmayer who is a hero in my book and an inspiration to live a No Barriers Life!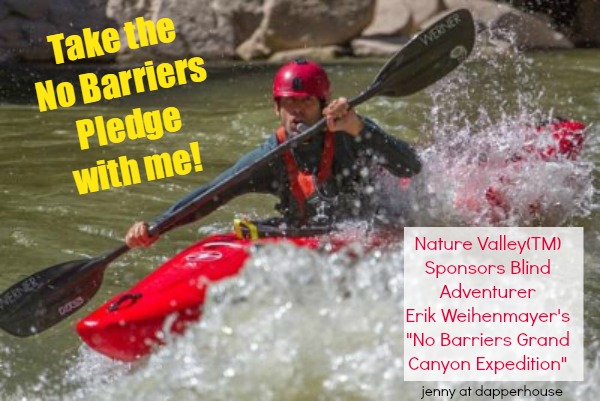 Have you heard of Erik Weihenmayer? I have truly been inspired by him. Not because of what he can accomplish being blind, but for the brave attitude and perseverance he has as a human being. One thing he said that really stuck with  me was (and I paraphrase) that "every person has barriers to overcome. When he went blind at age 13, his barrier was darkness in front of him and not knowing what was on the other side. It is not easy to do, but each of us have the ability to dig deep inside to overcome our barriers and find purpose."
He has already conquered climbing the seven highest summits in the world! He is a founding member of No Barriers USA, an organization who's mission is to empower people with the message, "what's within you is stronger than what's in your way." (Don't you love it?!)
I admire Erik so much because he took the challenge of blindness and turned it into a motivation to push above and beyond his own limits, but also those of his sighted counterparts! He is going to be the first ever to attempt a 21-day, 277 mile journey through the world's most challenging whitewater terrain in the Colorado River. He will be accompanied by fellow blind adventurer Lonnie Bedwell to inspire people to not limit themselves, eliminate barriers in their lives, harness their inner power, and live life to its fullest!!
Here's the scoop!
The trip will begin on September 7 at Lees Ferry, nine miles south of the Arizona-Utah border. Erik and his team expect to complete the expedition on or around September 28 at Pearce Ferry, which marks the boundary between Lake Mead and the Grand Canyon. You can follow along the journey with me
on twitter  @NoBarriersUSA
Weihenmayer is featured as a spokesperson for "Feel Nature's Energy" for Nature Valley, highlighting the unique ways in which Erik experiences nature. PLEASE! Join me,Nature Valley and Weihenmayer in the goal of encouraging one million people to live a No Barriers Life taking the pledge!

I took the pledge and was inspired to get fit with a personal trainer to build my physical strength. It was so difficult to be sore and winded. It was hard to not get really down on myself for being so out of shape. It was hard to even show up to workouts. It was a huge challenge to stay true to my healthy diet. But, I kept my pledge and my promise to myself, fought past my barriers a little each day, and exceeded what I thought I could achieve! I am physically stronger for certain, but mentally I am on top of the world.
Take the pledge and please encourage Erik and his team in this brave and uncertain journey!