Wanna make a NICU mom or NICU graduate mom really happy? Here's one simple way for you to really bless a mom with a preemie who has other kids… Make her older kids a TON of healthy, ready-to-eat snacks that they can get and eat by themselves. (Of course this would also work for any new mom.)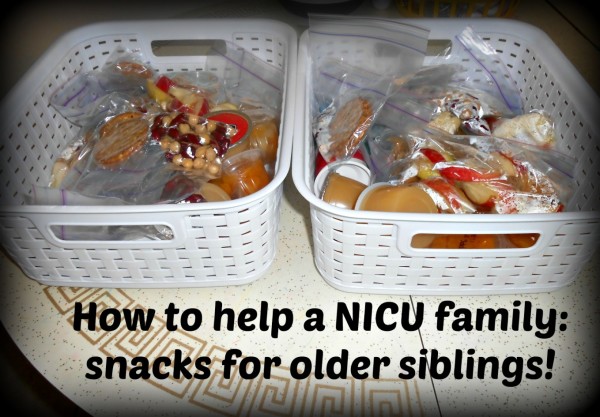 As some of you know, I'm an Arizona native and I recently got to take a trip back home for a very special occasion. My little niece graduated from the NICU earlier this month!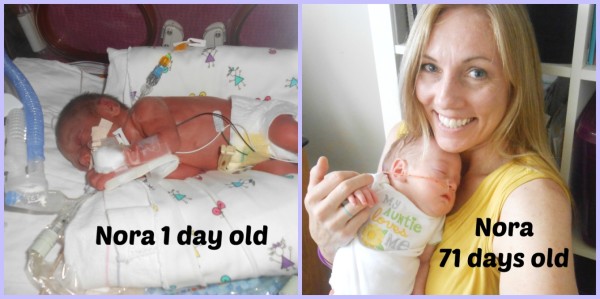 After spending five weeks in the hospital on bed rest because her water broke while she was still in her second trimester (called PPROM), my sister had her baby two-and-a-half months early. Baby Nora was born at 30 weeks weighing barely over three pounds and stayed in the NICU for 71 days. When Nora came home, my sister and her family were overjoyed and when her husband had to go back to work, Mamma found that she was also a little overwhelmed as well.
As the oldest of six children, being big-sisterly comes very naturally to me so I set to work helping where I could and enjoying my tiny niece's first week home. My sister said that this would be such a nice way to brighten a new mom's day and asked me to share it you…
Make her older kids a TON of healthy, ready-to-eat snacks that they can get and eat by themselves!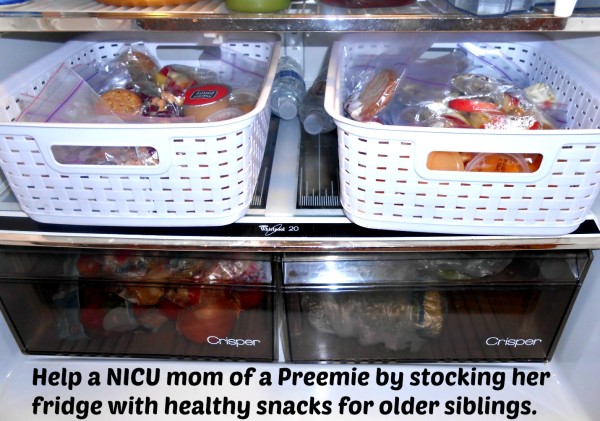 STEP ONE: Call mom and tell her (don't ask) that you're bringing over something for her older kids and ask about her kids' diets and allergies.
STEP TWO: Think up some snack ideas and go shopping. Big box stores such as CostCo have an amazing amount of ready-made snack stuff or you can hit-up the regular supermarket and cut and assemble yourself.
Your shopping list:
Plastic bins to store snacks in the refrigerator
Little plastic cups with lids (disposable please, mom does not need extra dishes!)
Plastic sandwich and snack-sized bags
Permanent marker to date the snacks
Food to make snacks (ask her about her kids' diets and allergies first!)
canned beans
whole grain crackers
eggs
cuties
apples
-peanut butter
hummus
baby carrots
some other ready-made healthy snacks (snack-sized apple sauce, fruit cups, string cheese, squeeze yogurt, etc.)
What other ideas do you have? Maybe peanut butter and jelly sandwich halves, chips with bean and salsa dip, cold cuts and crackers? You should try some "sweets and  beets" sans the chipotle. Kids love them!
 STEP THREE: Prepare and assemble all of the snacks. Those little bodies need some healthy protein so I tried to prepare some kind of protein with each snack. When they are all bagged-up put the date on the outside. It's not likely that they will not be eaten, but we don't want anyone accidentally eating beans that are two weeks old, that new baby's diapers are bad enough.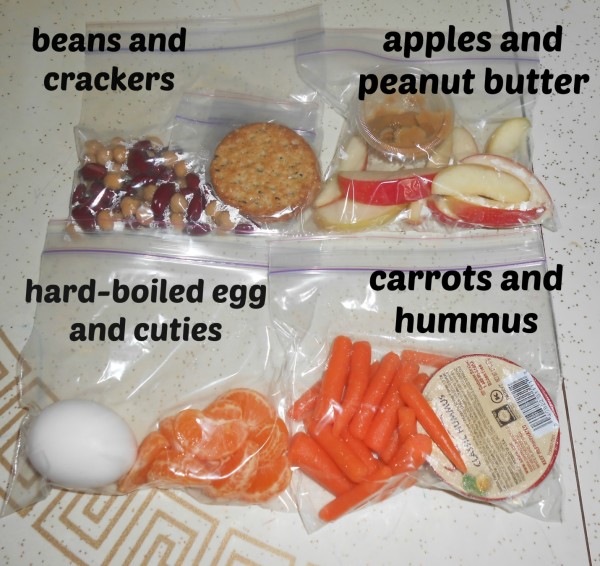 Here are some tips:
If you pair up crackers with something moist put the crackers in their own bag so they don't get soggy.
Toss cut apples in a little lemon juice or apple cider vinegar to keep them from browning.
For hard-boiled eggs, peel them! Little kids just can't do that by themselves.
Boil the baby carrots to make them a little soft if her other kids are toddlers, that makes them less of a choking hazard.
If there are two or more children you might want to make each their own plastic bin for the fridge. That will make them feel a little special and mom can avoid fights 🙂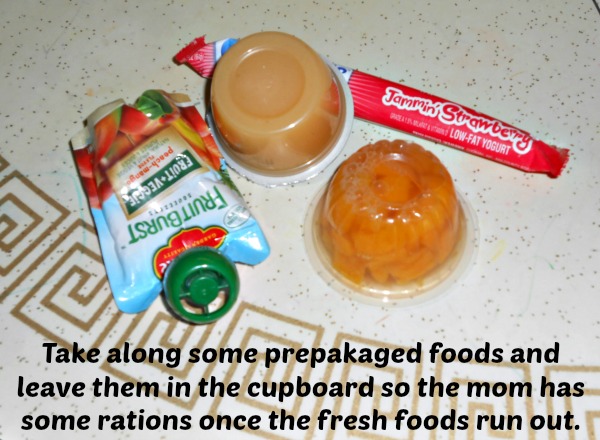 STEP FOUR: Deliver your bounty to her house. When you arrive ask to scrub up with soap and hot water. Oh, and go ALONE, do NOT bring your own kids with you. And tell her how beautiful her baby is, but let her know you're totally fine to look and not touch. Her preemie has barely any immune system and does not need germs from the outside world and it will make Mom feel great to not have to have the "germ speech" with yet another person.
STEP FIVE: Repeat as that mom needs it!